Undergraduate Study in Media and Journalism
Gain professional skills and succeed in the cultural, creative, and media, and communication sectors.
Our undergraduate degrees are rigorous, challenging, and enjoyable. Our media and journalism degrees will give you the critical thinking and technical skills necessary to succeed as a professional in the cultural, creative, media, and communication sectors. We do our teaching in industry-standard working environments, and have strong links with the media, culture, community, creative, and heritage sectors locally, nationally, and internationally. Our graduates and academics form a global network, attesting to the reach and relevance of our programmes.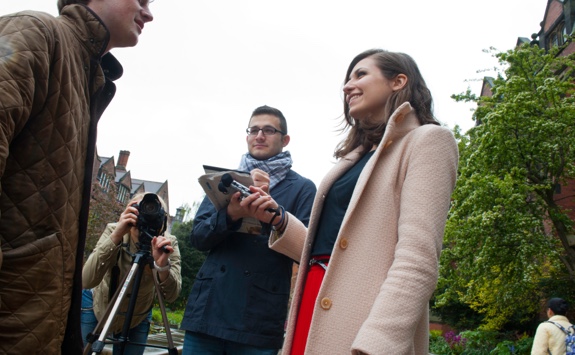 The course balanced academic theory with practical skills to work within the sector — using people working within the field was excellent.
If you wish to combine subjects and study Media and Journalism alongside other subjects, you can do so as part of a Combined Honours degree.
Media, Communication and Cultural Studies BA Honours
Our Media, Communication and Cultural Studies degree will equip you with a knowledge of the role media plays in shaping the world we live in.
This Media degree is regularly ranked among some of the UK's best in the university league tables and will equip you with the professional skills needed to pursue a career in a range of fields, such as:
Journalism
Public relations
Film-making
Marketing
Community work
Activism
Journalism, Media and Culture BA Honours
This journalism degree equips you with the skills needed to be a successful multimedia journalist.
You'll learn what's needed to tailor your writing to different platforms, and how to produce an audio package for radio among other things. Students will also gain an understanding of media law, public affairs, and political communication.
Film and Media BA Honours
This joint degree combines the essential skills of non-fiction film-making with practical multimedia journalism skills. You'll explore media and cultural studies, examining the role of the media in contemporary culture and society.
You can investigate issues, subjects, and themes that interest you. These might include gender, popular culture, or globalisation.
You'll become a sophisticated, creative, and confident documentary film-maker. You'll be able to contextualise your own film practice within media, journalism and creative industries.
Digital Cultures and Media BA Honours
Ever wondered how social media influences our politics, or how AI can discriminate against different ethnicities? Are you fascinated by how apps have affected our lives?

Digital technology now shapes every aspect of culture and society. This degree will make you stand out as a specialist in this field. It will set you up for a career in the digital, media or creative industries.