Music Facilities
We have outstanding specialist music facilities, including state-of-the-art studios, rehearsal spaces, specialist tuition rooms, flexible study spaces, and a music skills suite.
Rehearsal spaces
We have numerous rehearsal and practice facilities, reserved for the exclusive use of our Music students and ensembles. You'll have access to a range of rehearsal spaces, including:
25 acoustically treated practice rooms
five instrumental teaching rooms
a large, acoustically isolated, ensemble/band practice room
two large performance/rehearsal spaces (each seats up to 50 people)
the University's King's Hall (seats 400 people)
Our eight large teaching spaces are also available after teaching hours for ensemble rehearsals and sectional practices. Larger rooms can be booked in advance on our online booking system and we've made sure that each room contains a piano.
Music students also have some access to the rehearsal facilities at the Sage Gateshead.
Studios
Our professional recording and music production suites cater for a wide range of musical approaches. They provide a space for:
full band multi-track recording
electro-acoustic composition
multimedia work
sound art installations.
Our studios allow flexible routing for cross-disciplinary and collaborative work throughout the building.
We have a range of portable recording equipment and tools designed for live electronics and technologically mediated live performance. These are accessible to all music students.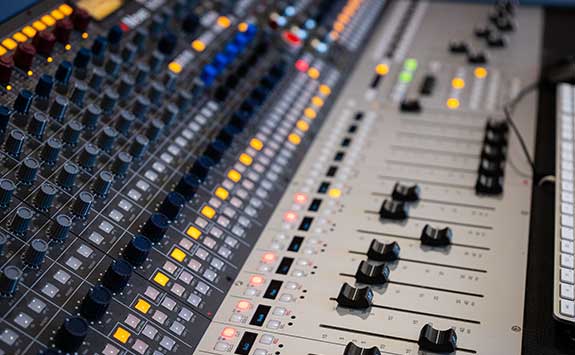 Performance spaces
Newcastle University has three main performance spaces.
The King's Hall is situated at the heart of the Armstrong Building and can seat 400 people. There are regular concerts in here which you can find on the University's Live in the King's Hall page.
We have a dedicated Band Room in the new Music Studios building that is configurable for teaching, rehearsing, recording and live performance and includes a full lighting rig. A comprehensive backline is also provided.
The Recital Room is used for rehearsals and various events organised both by the University and by local promoters.
Culture Lab
Many of our students carry out electronically mediated creative practice and they have workspaces in the University's Culture Lab. This is a unique research infrastructure, it provides an environment for academics and practitioners working beyond traditional disciplinary boundaries.