Careers with a Fine Art degree
Studying Fine Art at Newcastle will help you develop a good range of subject-specific, technical, and transferable skills for your future career.
LifeWorkArt
Integrated with the studio practice and running progressively throughout the four years of the undergraduate BA Fine Art degree is a unique professional development programme – LifeWorkArt. It helps develop your understanding of the art world beyond the university and of working in different areas of the Creative Industries sector.
Run in collaboration with many local and national arts organisations and galleries such as the Baltic, Vane Gallery, the NewBridge Project, Allenheads Contemporary Arts, and Newcastle City Council, this programme gives students vital experience of a broad range of professional arts-based practices and potential career paths.
Skills are developed through live projects such as: exhibitions, placements, public art, collaborations, education and community projects, art therapy, and residencies. Students regularly arrange exhibitions and events within the department and at external venues — in 2016 there were 46 student exhibitions outside the university. This begins in Stage 1 with a major external exhibition by all first years to coincide with the Late Shows in May.
Students initiate projects and collaborate with external partners. Some current collaborations include placements with Newcastle City artists residency programme, residencies with the Welcome Trust Mitochondrial research project in the Medical School, art therapy workshops with the North East Trust for Aphasia, and an exhibition exchange with students at Liverpool John Moores University.
Throughout your studies, you will develop a good range of subject-specific, technical, and transferable skills. These include critical thinking and people skills, creative problem-solving skills, presentation and research skills, and workplace skills. Many employers seek graduates who are lateral thinkers and creative problem-solvers.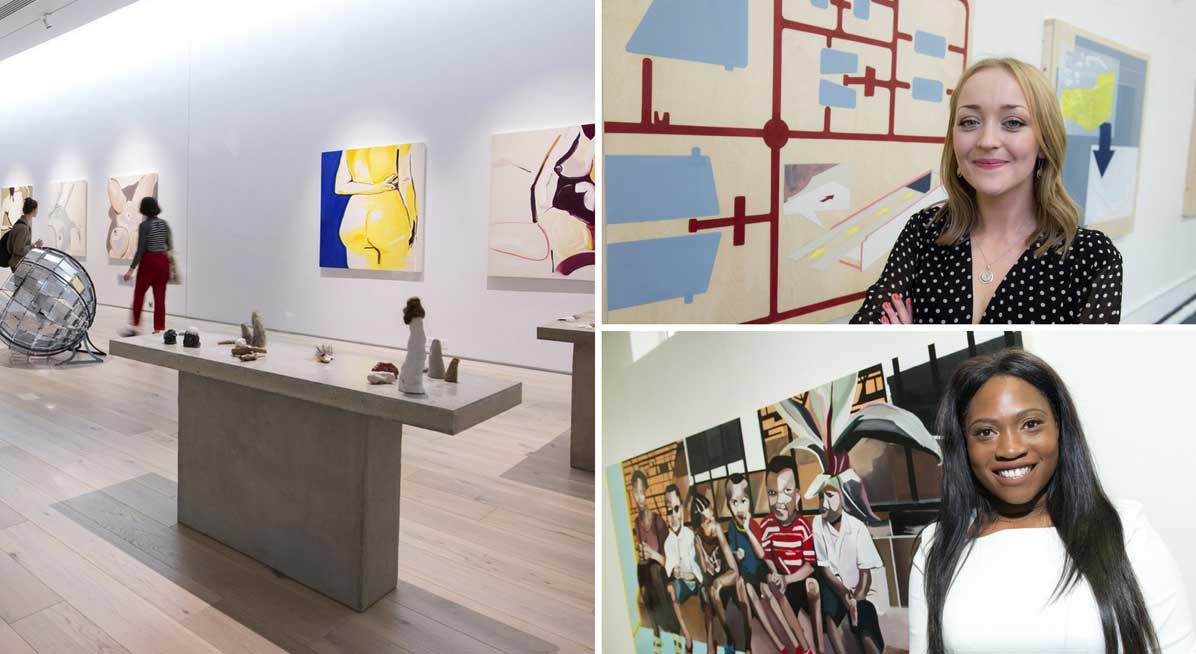 Careers after Art School
Many of our graduates continue as independent practicing artists and many establish their own businesses and organisations. Many have remained in the North East to take up opportunities in our thriving visual arts scene.
Many of our graduates go into jobs in the arts. Arts jobs include running art galleries, acting as arts advisers to local councils, or working as curators, while some graduates find work in arts associations or as teachers and arts specialists in the community. Others will move into primary and secondary school teaching after completing a postgraduate teaching qualification. Other graduates find that their skills allow them to find work in areas unrelated to art and design, in fields such as finance, journalism, advertising, and marketing.
Many of our graduates also continue their fine art education at Postgraduate level, for example undertaking a Master's degree at Newcastle, Chelsea, Goldsmiths', the Slade School of Art, the Royal College of Art in Glasgow, or one of the many courses available internationally. Others go on to study other visual arts-related postgraduate courses. This can include areas such as Art History, Painting, Digital Media, Animation, Film-making, Curating, Museum Studies, Interior Design, Three-dimensional Design, or Theatre Design.