Research Project Title:
The Breath Score: On Poetry and the Performance of Form
Supervisors:
Dr Tara Bergin and Prof Jacob Polley
Contact Details:
Email: a.loulli1@newcastle.ac.uk
Research Interests:
Contemporary Poetry
Writing Experiences of Trauma, Silence and Shame
Representation of Male Violence against Women on the Page and Screen
Breath
White Punctuation
The Poem as Musical Score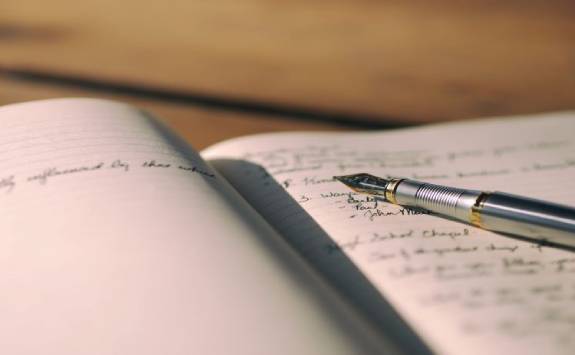 Brief Outline of Research Project:
For this PhD I am writing a book-length sequence of original 'breath-scored' poems which will exemplify and define 'The Breath Score' as a new creative-practice theory of composition and performance. Central to this is my work with the archival recordings held at Newcastle's Centre for the Literary Arts (NCLA), which will allow me to investigate and notate the sound of performed poems in relation to their visual texts. In my critical research I will be interrogating to what extent contemporary poets use the poem as a kind of musical score, focusing on the work of Andrew McMillan and Alice Oswald.
Publications
Primers Volume Four, 2019 - pamphlet of work selected for publication as part of the Primers Mentoring prize with Nine Arches Press.
Poems published in a range of literary journals and anthologies online and in print, including:
The Rialto Magazine, Under the Radar Magazine, Butcher's Dog Magazine, Iamb: Poetry Seen & Heard: a showcase of poems and audio recordings, Marble Poetry, Oxford Brookes Poem of the week, Ink Sweat and Tears Magazine, Lancaster Litfest Anthology.
Funding and Awards
Northern Bridge Studentship Award funded by AHRC 2022-2025
Renwick Travel Scholarship and residency at The British School at Rome, 2022
Newcastle University Board of Examiners Award for best overall performance in the Writing Poetry MA programme, 2021
Northern Writers' Debut Poetry Award, 2021
Arts Council of England - Developing Your Creative Practice Grant, 2020
Prizes
Primers Volume Four, Pamphlet of work. Nationwide publication and mentorship competition scheme run by Nine Arches Press. Under the mentorship of judge and poet Kim Moore and editor Jane Commane.
Waltham Forest International Poetry Competition, Second Prize, 2021
Oxford Brookes International Poetry Competition – Special Commendation, 2021
Café Writer's Competition, Third Prize, 2020 - 'Portrait Without a Sonogram'
Bridport Prize. Shortlist. 2016, 2017, 2020, 2021
Mentorship with poet Fiona Benson for my first full-length collection. (Northern Writers' Awards)
New Writing Northwest Poet, Lancaster Literary Festival, 2021
Rebecca Swift Foundation Women Poets' Prize. Longlist, 2020
Oxford Brookes International Poetry Competition. Shortlist, 2020
Bath Flash Fiction. Shortlist, 2021
Battered Moons Poetry Competition. Second Prize, 2016
Facilitation and Presentation
Freelance facilitator delivering workshops to YR 5 and 6 pupils on the theme of "The Museum of You", New Writing North – January-April 2022
Facilitator for 'Women in Poetry' regular online workshops, Northern Writers' Studio – ongoing
Commissioned to give author Q&As across the county discussing my work and poetry for Cumbria Literary Festival 2022
Commission by The Association for the Study of Animal Behaviour to deliver creative writing workshops at their Easter 2022 conference themed around Communicating Science creatively, January – April 2022
Wordsworth Trust, freelance poet offering workshops to schools across Cumbria
Selected as a participant for the professional development scheme, Inkubator, attending workshops and training on facilitation. New Writing North, 2020
Professional pianist and composer with 20-years-experience performing, composing and teaching piano and theory of music to all ages and abilities