The Newcastle Experience
Newcastle University is situated right in the heart of this bustling city.
Our campus
On the University's campus you'll find Northern Stage, the Students' Union, places to eat, meet and get coffee, and all of the learning facilities you'll need.
There are countless opportunities available to you here including:
events and societies run by the union
the chance to widen your skills in journalism, theatre, creative writing, and the arts
opportunities to gain work experience through the University's JobsOC scheme
As any of our current students will tell you, Newcastle is a fantastic place to live while you're studying.
The city of Newcastle
The city combines superb culture, world-famous nightlife, and a rich heritage. Situated just inland from the beautiful North Sea coast, it is a vibrant, welcoming, and compact city, easy to navigate on foot, by bike, or public transport.
Our students have many opportunities to gain work experience. There are opportunities on and off campus to get actively involved in the performing arts, journalism, student societies, and charitable organisations.
City culture
Home to institutions like the Theatre Royal and the independent Tyneside Cinema, you'll also find hidden gems here like Morden Tower, where poets Allen Ginsberg and Basil Bunting once gave readings.
The Quayside development led the city's post-industrial regeneration in the 1990s. It is now home to The Sage Gateshead, Baltic Centre for Contemporary Arts, and Live Theatre. With all of this going on and so much more, it's one of the most memorable stretches of riverside in the United Kingdom.
At the east end of the Quayside is the Ouseburn Valley, a corner of Newcastle that has become the city's centre for independent music and creativity.
To the north and east, just beyond some of Newcastle's beautiful Victorian parks, are Jesmond and Heaton. Brought to life by bars, cafes, and restaurants, many of our students choose to live in these areas.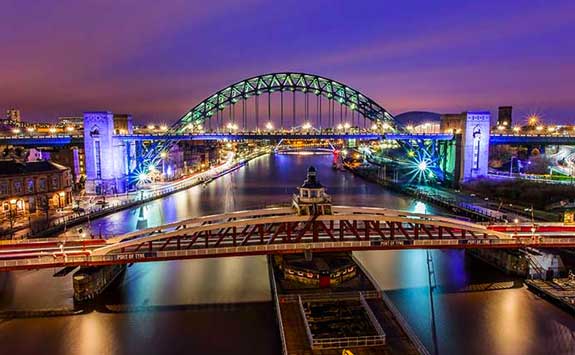 School Facilities
There are a range of facilities at the School of English Literature, Language and Linguistics, which are available to students. These include:
a digital media lab for students involved in documentary and self-reflexive film-making modules
a linguistics lab for students taking modules in language acquisition, experimental phonetics and sociolinguistics
a first-floor common room for socialising and student society meeting
a dedicated postgraduate study area including PCs, kitchen, lockers and common room
a PC Cluster on the first floor of the Percy Building
generous independent study space
Libraries
The Philip Robinson Library is the University's main library and is within a five minute walk of the School. The library is open seven days a week, with 24-hour opening during exam periods. It has more than 1,500 study spaces, including areas for group discussion and silent research.
The School has an extensive collection of videos, which are now available through the Philip Robinson Library. The library's collections include more than 1,000,000 print books, the largest collection of eBooks in the country, 14,000 journals and a wide range of specialist online resources, including:
JISC Historic Books
Literature Online
Linguistics and Language Behaviour Abstracts
the Oxford English Dictionary Online
newspapers from 1600 to the present day
For those studying film modules, it has several hundred feature films from many different countries available for loan.
Special Collections includes material ranging from the 15th to the 21st century. Collections of particular interest include the:
Sid Chaplin papers
Barry MacSweeney papers
Trevelyan papers
Bloodaxe Books archive
Gertrude Bell Collection and papers
Book Trust collection of all post-1970s British children's books
The Marjorie Robinson Library Rooms are also within a 10 minute walk of the School. Opened in 2016, these rooms offer additional space to study, think, learn, collaborate and consult.
Students studying Medical Humanities modules may also use the Walton Library in the Medical School to access specialist texts.
Language Resource Centre
The Language Resource Centre is less than a 2-minute walk from the School, and offers students an excellent opportunity to learn a new language. With access to self-study resources in over 100 languages, and thousands of foreign-language films, this is one of the foremost independent language learning centres in the UK.
Careers Service
Whether you are embarking on an academic career, going on to further study or pursuing other areas of employment, the Careers Service offers a range of support while you are studying and for up to three years after you graduate. With their guidance, all of our undergraduate students have the opportunity to undertake a work placement during their studies.