Research Project Title:
Transcribing Environmental Sound: The Acoustics of Post-industrial Space
Supervisors:
Prof Jacob Polley and Dr Bennett Hogg
Contact Details:
Email: m.s.heslop2@ncl.ac.uk
Research Interests:
Contemporary Poetry
Fragmentary Narratives
Prose Poetry
Liminal/Interstitial Space
Acoustic Ecology
Field Recording/Soundscape Composition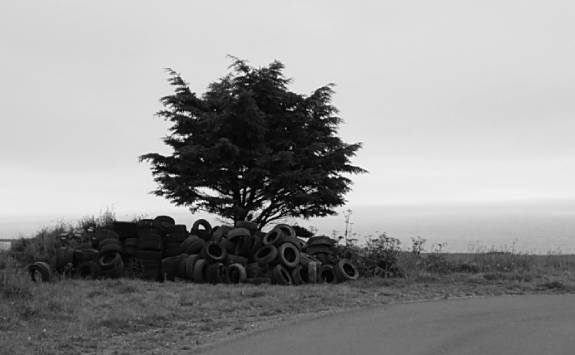 Brief Outline of Research Project:
I am writing a collection of audio-poetic works composed using field recordings of former industrial spaces and recorded voice. The research explores an experimental three-stage creative process of listening, transcription and performance. Focusing on poets who explore environmental sound in their composition, writing and performance processes, my accompanying critical thesis investigates poetic responses to and representations of de-industrialised auditory environments.
Using a process of on-site listening and recording as a source of inspiration for the creative writing, I'm focussing on links between properties of sound and poetic text, particularly the temporal nature of sound and the implications of this for writing in post-industrial, liminal landscapes – and crucially, how a creative exploration can draw these out. I'm looking at ways to realise the work in a fluid combination of text, spoken voice and soundscape/composition, exploring how I can use the interruption of sound (and voice) into written text to fragment, disrupt and also guide narrative.
I'm very interested in the general question of how I define my creative work as research, and consequently, am developing work that attempts to close the gap between the 'critical' and 'creative' strands of my work.
The project is funded by the Arts and Humanities Research Council.
Commissions
Alternating Currents: poetry/music/film work for AHRC-funded 'Poettrio Experiment' at Newcastle University (premiered at Newcastle Poetry Festival, May 2018)
The Lighthouse Invites the Storm: text and music live performance, commissioned by Bluecoat Arts Centre, Arts Council England, and LJMU (first performed at Bluecoat, Liverpool in June 2017, subsequently released on record)
Horny Handed Tons of Soil: multi-disciplinary theatrical work commissioned by Unity Theatre, Liverpool and Arts Council England (national tour from Jan 2017, excerpt performed live on BBC Radio 4's Front Row, March 8th 2017)
Narvik, composer for Lizzie Nunnery's play (Liverpool Playhouse then national tour 2015-2017, Norwegian tour 2019 and ongoing)
Tiergarten: site specific voice and audio work for Edge Hill Train Station, Liverpool, June 2016
Bright Phoenix: lyricist, composer, and sound designer for Jeff Young's play, Liverpool Everyman, Sept-Oct 2014
Spider-Web City: soundtrack for short film, premiered at Uncharted Festival, Albania, August 2014
Residencies
Awarded a two-week artist residency at the Elizabeth Bishop house in Great Village, Nova Scotia, Canada, September 2019 (with poet Helen Tookey)
Artist-in-residence at Metal, Edge Hill train station, Liverpool, 2015
Placements and Funding
An evolving long-term collaboration with poet Helen Tookey funded, in part, by Liverpool John Moores University, work has been featured on radio stations Radiophrenia, Resonance FM, and at the Helicotrema festival in Venice, ongoing.
Conferences
Paper presentation: 'Squall – A Collaborative Process' (with poet Helen Tookey) at Poetry and Sound in Expanded Translation Conference, Bangor University, April 2018
Academic Background:
MA in Creative Writing at Newcastle University
BSc (Hons) in Physics with Astrophysics at University of Manchester
Website: