Innovative technology drives sustainable prawn farming in the North East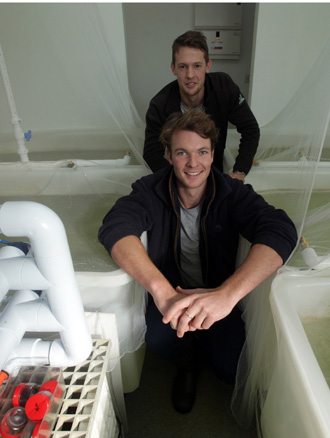 Besides powering our cities, one Northumberland-based power station is fuelling sustainable prawn farming thanks to the business creativity of Newcastle University graduates.
The Fresh Shrimp Company aims to implement a heat recovery system, which re-cycles process heat from the nearby Lynemouth Power Station, to bring the chilly North Sea waters to the optimal growing temperature for tropical king prawns: 28°C.
Through the innovative process, partners Tim Heyes and Ed Tame have developed an on-site process producing high quality local produce and eliminating the issues associated with importing frozen prawns over long distances from Asia and South America.
Tim, 26, said: "What is unique about our technology is that we have a source of heat through our relationship with the power station, which provides a constant supply of fresh, warm and gravity-fed seawater. This offers many environmental and economic benefits. There are many similar sites across the UK, and we hope that our model could become a blueprint for harnessing heat technology from industry into food production."
One of the benefits of the heat recovery technology is that it enables sustainable farming of traceable and antibiotic-free king prawns.
Ed, 25, comments: "The prawns we grow are traceable, which means that we assign an ID and track every batch – from the supplier all the way to the consumer's plate. The disease and pathogen free larvae we purchase come from a known and trusted supplier. We don't add chemicals and we work with organic feed only, all of which ensures that our product is antibiotic and hormone-free."
The duo met while studying for an undergraduate degree in Marine Biology at Newcastle University. But it wasn't until they both enrolled on a MSc Aquaculture Enterprise and Technology course, that they came up with the idea to tap into the process heat recovery technology.
Support for entrepreneurs
With seed funding from family members, and guidance and advice from Rise Up - the University Careers Service support programme for student and graduate entrepreneurs - the duo launched their start-up by purchasing and constructing their own facility.
Ed said: "After we came up with the business model, the University's Rise Up team really loved the idea and offered us their full support, which gave us confidence and structure, and ultimately helped us implement our idea. Rise Up provided us with access to investors and business experts who gave us a great deal of advice and pointed us in the right direction."
Gareth Trainer, Assistant Director of the University Careers Service, said: "While our students are among the most employable in the country with 93.7 percent finding work within six months of graduation, 133 of them found employment in their own businesses just like Ed and Tim. We always encourage budding entrepreneurs to explore their business ideas and turn them into successful ventures with the help and advice available from the University.
"By combining academic knowledge, business awareness, expert advice and entrepreneurial drive, Tim and Ed are on the right track to commercial success with their unique enterprise."
The business partners will be supplying their product to local restaurants in Northumberland, with the first batch of prawns from the Fresh Shrimp Company becoming available in December 2014 – January 2015. With an already renowned seafood heritage in the North East, the pair seek to strengthen the local industry with the supply of their sustainable product.
Immediate business growth plans involve the delivery of a new batch of 25,000 larvae in November and the installation of a 14 cubic meter re-circulation system, which will help the enterprise produce over 2,000 prawns per month. The short-term expansion strategy includes the development of a higher-capacity, two and half tonne facility, consisting of eight large tanks.
Longer term, using the Fresh Shrimp Company as a flagship, the partners hope to develop their relationship with other process industries, combing expertise in food production and process heat recovery technology to replicate similar systems not just in the UK, but worldwide.
To help raise funds to support the growth of their venture, Ed and Tim are launching a crowdsourcing campaign via Kickstarter.
Seafood imports
According to data from the Marine Management Organisation, in 2013 shrimp and prawns were the third-most imported seafood species in the UK, behind cod and tuna, with over 85,000 tonnes. Over half the shrimp and prawns imported into the UK were from Asia. The largest exporters to the UK were Thailand (15,000 tonnes) and India (10,000 tonnes).
The business model of the Fresh Shrimp Company helps address the scarcity of locally grown seafood, while simultaneously utilising surplus process heat from industry. This removes the need of flash freezing the products before shipping, which limits their quality and flavour.
And yes, they eat a lot of shrimp. Their favourite: seasoned with garlic butter and a tiny bit of chilly.
Photo caption: From top: Tim Heyes and Ed Tame
published on: 6 November 2014