Armed Forces experience can give students employab
Armed Forces experience can give students an employability boost
Published on: 22 October 2015
Participating in University Armed Service Units can help students develop key skills, yet knowledge of these units and what they do is low across the higher education sector, researchers say.
First comprehensive study
A team from the School of Geography, Politics and Sociology at Newcastle University have completed the first comprehensive study of the University Armed Service Units – the Officer Training Corps (OTC), the University Air Squadrons (UAS) and the University Royal Naval Units (URNU).

Students felt that their participation in a University Armed Service Unit (USU) had developed skills such as planning and organisation, decision making, problem solving, communication, teamwork and leadership more than they had anticipated. The majority of students surveyed as part of the research (58%) felt that the skills development activities they took part in through their units also helped them progress through their degree.
In terms of employability, 90% of USU participants felt that being part of a unit would help them get a job when they graduated. Graduates interviewed as part of the research confirmed that USU participation had helped them during the application process in a competitive graduate labour market.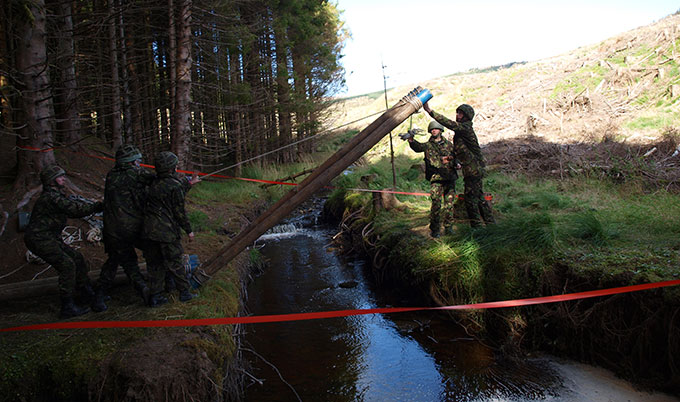 Experience of the British Armed Forces
USUs provide military training and experience of the British Armed Forces to students attending UK universities. The OTC, URNU and UAS are managed and overseen by their respective parent services - the British Army, the Royal Navy and the Royal Air Force. Although technically classed as Category B Reservists, members of USUs cannot be deployed on operations. Students are not required to join the Armed Forces when they graduate, nor do they receive any contribution towards their university fees although they are paid for their participation in USUs, such as when they attend drills nights and training events.
The research, which was funded by the Economic and Social Research Council, and is published in a new book, 'The Value of University Armed Service Units', found that awareness of what the USUs are and what they do is low across the Higher Education sector, among both administrative and academic staff. However, when discussed, university staff could see the potential value to students.
Rachel Woodward, Professor of Human Geography at Newcastle University, said: "Students, graduates and USU Commanding Officers all shared the view that the activities carried out by USU participants help develop skills that build self-confidence and employability. While USUs are not the only route available for gaining these skills, their military context makes them distinctive from other student activities.
"There are some good examples of where USU Commanding Officers have been proactive in communicating with employers in their local area about the value of USUs in developing the employability of students. There are also examples of good practice at an individual university level of effective strategies for communicating the value of the USU-derived skills to employers. However, employers themselves may be unfamiliar with USUs or may even have a degree of antipathy towards military-focused activities which may make students cautious about highlighting their participation to potential employers."
In April 2014 there were 6,371 students in USUs across the UK, predominantly drawn from Russell Group universities. The varying levels of access to information about USUs across universities mean that not all students have an equal opportunity to join a unit and consequently some units have a far higher number of students from some universities than others in the same catchment area, the researchers say.
Ensuring an informed debate
Although it is recognised that USUs provide an opportunity for students to test out the possibility of pursuing a career in the Armed Forces after graduation, the fact that students may use their USU experience to decide against a military career is seen as a positive aspect of the units by students, graduates and commanding officers alike. However, the USUs continue to have a significant role in recruitment to the Armed Forces, particularly the Reserves.
Prof Woodward added: "Exposure to USUs and access to information about what they do are important aspects of ensuring an informed debate about military-university links. There is no doubt that the USU experience is a valuable one for those students who take part. As we were doing the research, it was eye-opening seeing how poorly this experience of participation was understood within many universities. It may be the case that universities could get much greater benefit from the units that recruit their students than they currently realise."
'The Value of the University Armed Service Units' by Rachel Woodward, K. Neil Jenkings and Alison J. Williams is published by Ubiquity Press and available at http://dx.doi.org/10.5334/baq
---
Latest News