Celebrating the impact of former Children's Laureate
Published on: 23 October 2015
Newcastle University and Seven Stories, The National Centre for Children's Books, are to collaborate on a ground-breaking project to celebrate the work of Michael Morpurgo.
Transferring knowledge
Coinciding with the news that Seven Stories has been given custodianship of the Morpurgo archive, the organisation has embarked on a Knowledge Transfer Partnership (KTP) with the School of English Literature, Language and Linguistics (SELLL).
KTP is a Government-run programme which helps businesses improve their competitiveness and productivity through the knowledge and skills that reside within UK universities. This new project is one of very few KTPs between a university English Literature department and an external organisation, and is being funded by the Arts & Humanities Research Council (AHRC).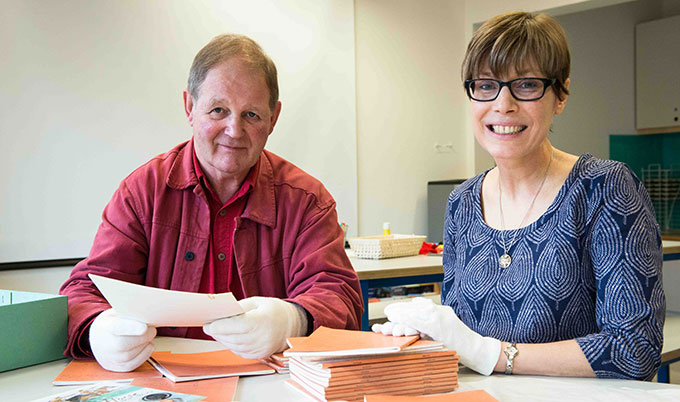 Expert insight
The Morpurgo archive contains draft manuscripts, photographs, notebooks and related correspondence from his body of work.
As part of the KTP, Dr Jessica Sage from SELLL, along with Dr Anne Whitehead and Dr Lucy Pearson, with work with Seven Stories to provide expert insight into the ways in which the former Children's Laureate constructs his stories and the implications this has for our understanding of children's literature.
The project will culminate in a brand new exhibition that will open in Newcastle in July 2016, followed by a national tour. The exhibition will explore Morpurgo's storytelling and will celebrate the impact of his poignant tales on a nation of young readers.
Dr Sage said: "There is already a strong connection between the University and Seven Stories which is illustrated by the annual David Almond Fellowship award and the fact that a number of SELLL graduates are now employed at Seven Stories.
"This new KTP project will cement that relationship further by helping to build new and more diverse audiences for the exhibition, both academic and non-academic, for this exhibition and for Seven Stories' public programmes."
---
Latest News