Future generation of electric vehicle batteries
£26.5m to produce a future generation of electric vehicle batteries
Published on: 21 January 2016
Newcastle University is to play a key role in the development of the next generation of electric vehicle batteries in the UK.
Supported by the UK's Advanced Propulsion Centre (APC) the funding will support leading edge manufacturing research focussed around Nissan's Sunderland battery manufacturing plant - the largest full scale automotive Lithium-ion battery manufacturing facility in Europe.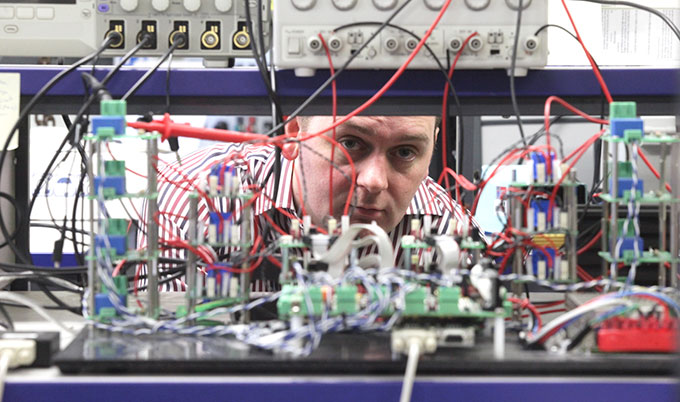 Newcastle University to play a key role
Last month, Newcastle University was announced as a Centre of Excellence in Electrical Machines and the Electric Machines 'Spoke' for the UK's Advanced Propulsion Centre (APC) last month.
Led by Dr Simon Lambert in the School of Electrical and Electronic Engineering, working closely with the Nissan battery plant team as well as North East SME Hyperdrive Innovation, the Newcastle team will play a key role in helping take forward this opportunity.
Dr Lambert said: "We're delighted to be involved with this project and to continue the long-standing relationship we have with Nissan who continue to be pioneers in electric vehicle technology.
"Our collaborations with Nissan and Hyperdrive Innovation give us a real opportunity to see our research underpinning new engineering products, contributing to the growth of the North East as a centre for excellence in battery and EV technology."
Future generation of EV batteries
Paving the way for future generation batteries, this new £19.4m project teams Nissan with academic and technology partners in the UK, and is supported with a £9.7m grant from the UK's Advanced Propulsion Centre (APC).
The consortium members are Newcastle University, Hyperdrive Innovation, Warwick Manufacturing Group, University of Warwick and Zero Carbon Futures, who will work together on key areas of battery development covering pilot projects, product diversification and process improvement.
UK Business Secretary Sajid Javid said: "This investment from Nissan is a further vote of confidence in our thriving automotive sector.
"The UK is fast becoming a world leader in low carbon automotive technology and the government is backing the industry. We committed an extra £225million funding to the Advanced Propulsion Centre in the Autumn Statement.
"This Nissan project, which is benefiting from that funding, shows what can be achieved."
Paul Willcox, Chairman, Nissan Europe, added: "With 200,000 customers around the world already, the Nissan LEAF has transformed the performance and perception of EVs and made Nissan the undisputed leader in EV technology.
"Today's announcement reflects Nissan's intention to remain EV leaders for many years to come, with our UK operations at the heart of our future innovations."
---
Latest News