Newcastle University academic announced as a New Generation Thinker
Published on: 30 May 2016
Dr Katherine Cooper has been named as one of this year's New Generation Thinkers.
Dedication to the cause
She is one of just ten early career researchers from institutions across the UK selected from the prestigious competition, organised by the Arts and Humanities Research Council (AHRC) and the BBC.

Sometimes academics find their research all-consuming but few go to the lengths of Dr Cooper. As part of her pitch to the AHRC, she admitted she'd just spent a large part of her savings on a 19th century Arts & Crafts antique desk once owned by author Margaret Storm Jameson.

Jameson, who was President of English PEN (Poets and Essayists and Novelists Club) from 1938-1944, has been Dr Cooper's passion for many years. She first became interested in Jameson while working as a journalist and she was also the subject of her PhD at Newcastle University.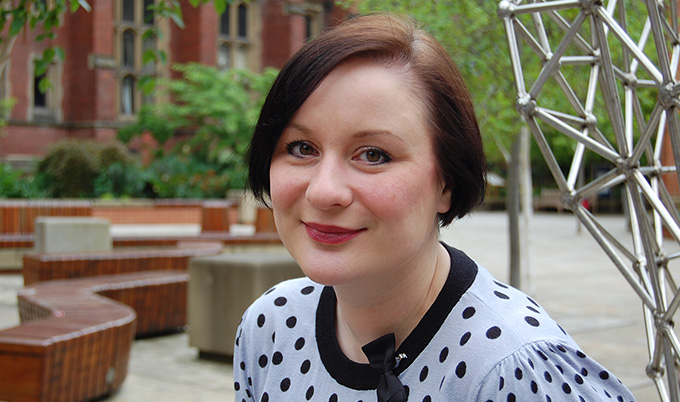 Preserving a piece of history
The author wrote hundreds of letters from the desk Dr Cooper now owns, pleading for the lives of writers facing persecution across Europe.

The desk, which is 157cm wide, is so large that it's even caused Dr Cooper to move house to accommodate it. But with all the upheaval comes an upside, as she explains. "I didn't want somebody to just buy it and forget it was hers," she says.

"I had no real plans for it, just to preserve it for the future as Jameson's desk. Then a friend pointed out that since I'd bought it at auction, not only had I secured a New Generation Thinkers place on the back of it, but I'd also got a fellowship to study Jameson's archives in Texas, so you could say it's brought me a lot of luck."

Jameson was one of many British writers who were working with refugee writers in exile from Europe. This was not simply on humanitarian grounds, but also because of a larger desire to preserve European culture at a time of crisis. Jameson's story, and those of the other writers such as Graham Green and H.G. Wells who were part of this network, forms the basis of Dr Cooper's radio programme idea.
Developing ideas
The scheme is a nationwide search for the brightest minds who have the potential to share their cutting edge academic ideas through radio and television. Dr Cooper was selected from hundreds of applications from scholars keen to demonstrate their passion to communicate with wider audiences.
Dr Cooper, a research associate in the Newcastle University Humanities Research Institute and who also works in the School of English, Language, Literature and Linguistics, will be invited to make regular contributions to the BBC network throughout the year as a resident New Generation Thinker on BBC Radio 3. She will spend a year working with radio presenters and producers to develop her idea - The Battle for Europe: British Writers and the Refugee, 1938-45 – into broadcasts.

As part of the application process, she had to give a short pitch about her proposal as well as take part in a debate in Manchester in March 2016. "It was like the best conference you've ever been to," she says. "Everyone was so friendly, sociable and supportive and had such interesting research to talk about – I thought they were all so good that I didn't stand a chance."

Next year she will be returning to the Harry Ransom Centre in Austin to study the Poets and Essayists and Novelists Club (PEN) archives in more depth.
Research that stimulates curiosity
Dr Cooper's appointment was announced at the Hay Festival on Sunday 29 May.

Professor Andrew Thompson, Chief Executive of the AHRC, said: "Over the last decade we've seen a golden age of dramas and documentaries on our screens and airwaves, underpinned by high quality research, communicated by passionate academics.

"The New Generation Thinkers Scheme feeds this huge appetite for experts to share their specialist knowledge that helps illuminate our lives and stimulates our curiosity. This year's ten are a superb example of the broad range of subjects and insights that the arts and humanities give to our lives, helping us to understand the past, the present and the future."

Dr Cooper, who is from Newcastle, trained as a journalist with the Press Association before leaving the city to work for the Eastern Daily Press. She returned in 2007 to study for an MA at Newcastle University in Modern & Contemporary Literature and went on to do her PhD on Jameson.


---
Latest News