Legendary folk rock band backs Future Fund campaign
Published on: 8 June 2016
Members of the legendary North East band Lindisfarne have pledged their ongoing support to Newcastle University's Future Fund.
More than £4.2m has so far been raised by the campaign, which aims to develop paediatric oncology laboratories at the University's main campus under the umbrella of Newcastle Centre for Childhood Cancer.
Lindisfarne band members were shown around the Northern Institute for Cancer Research – whose experts will continue their work at the new laboratories – to see the research carried out in the region.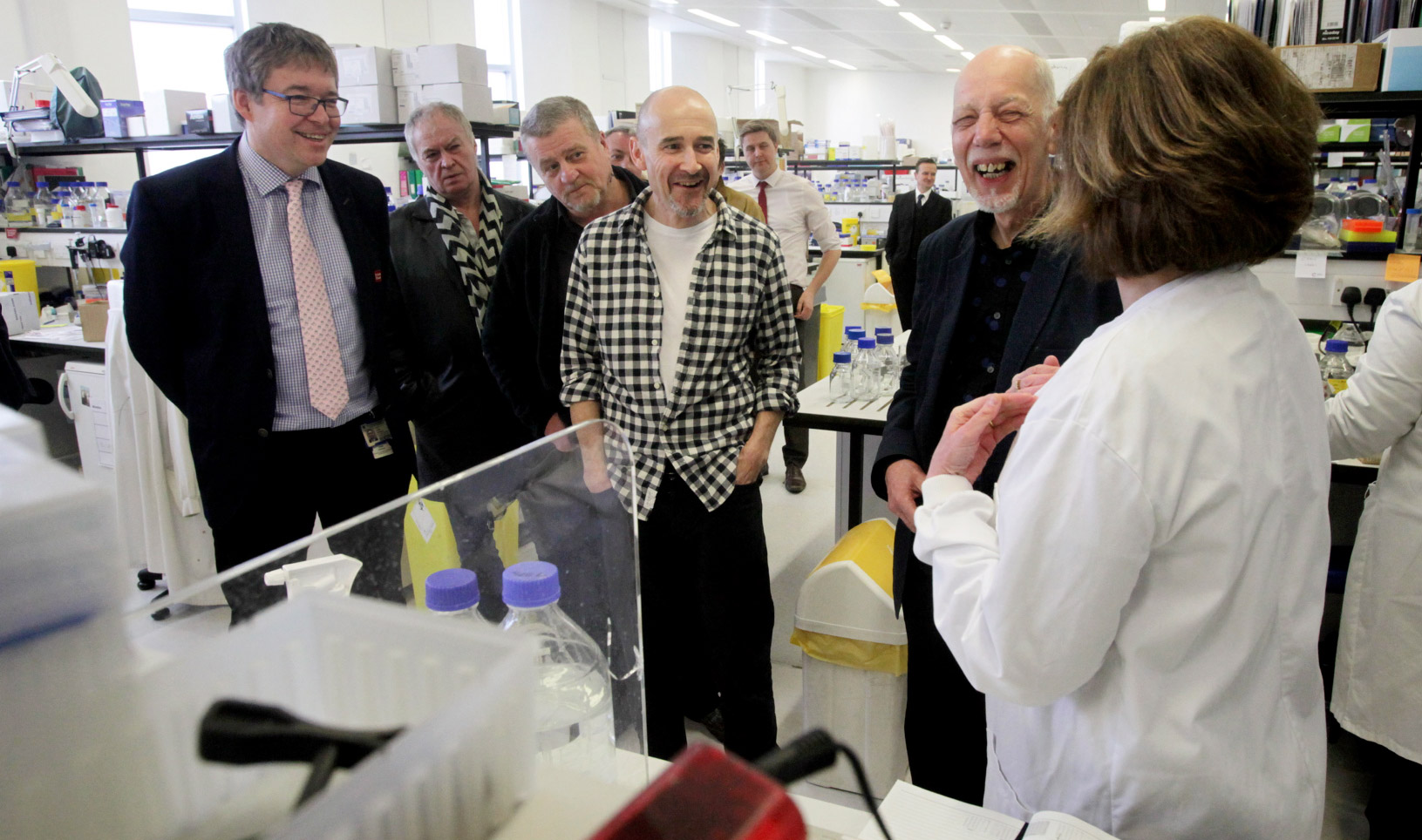 Raising awareness
Rod Clements, founding member, said: "It was an honour to witness the cutting-edge research that's going on at Newcastle University as it truly is excellent.
"People know us as a North East band so we're delighted to support and raise awareness of such a worthwhile cause in the region. We are immensely proud to be associated with such a successful project as the Future Fund.
"The Newcastle Centre for Childhood Cancer will help improve the quality of life for youngsters with the condition. It will allow a greater understanding of cancer to help develop and refine treatments, hopefully one day finding a cure."
Cancer is the main cause of death in children from one to 15 years of age. Each year, around 1,600 children are diagnosed with cancer, and one in 700 young adults is now a survivor of childhood cancer.
Survival rates are improving due to advances in diagnosis and treatments, but the side-effects associated with current medications are recognised as a major problem and it is hoped that in the years to come more effective and less harmful treatments will be developed.
Newcastle Centre for Childhood Cancer
The Future Fund aims to raise £5.5m to create the Newcastle Centre for Childhood Cancer, a laboratory research facility where academics and clinicians can advance and accelerate children's cancer research and treatment. The centre will be operational later this year.
Professor Josef Vormoor, director of the Northern Institute for Cancer Research at Newcastle University and honorary consultant paediatric oncologist at the Great North Children's Hospital, said: "We are delighted that Lindisfarne's members have kindly said that they will give the Future Fund their ongoing support and spread the word about our campaign.
"Our fundraising target has almost been reached and it's exciting to be nearing the Centre's opening and be able to ensure more children with cancer have a positive future."
For the last two Christmases, Lindisfarne have used their popular Christmas Shows at Newcastle City Hall as a way to raise awareness and encourage support of the Future Fund.
In partnership with Tyneside-based energy firm Utilitywise, tickets gifted from the band for their 2015 Christmas performances helped raise more than £3,750 for the charity.
Helping youngsters with cancer
Andy Buyers knows first-hand the importance of research into childhood cancer as his daughter, Erin, 14, was diagnosed with acute lymphoblastic leukaemia two years ago. Erin is doing well thanks to the outstanding treatment she has received in the North East.
Mr Buyers, 47, from South Shields, said: "The Future Fund is close to my heart as it's important that as much research as possible is done into childhood cancers so that enhanced treatments can be established.
"It is great that the members of Lindisfarne are supporting the campaign as this will help to generate interest and continue to raise the profile of such a worthwhile cause.
"When your child is diagnosed with cancer it turns your life upside down and you want to know that key research is being done to help youngsters with the condition live long and healthy lives. It's fantastic that this research is being led in the North East."
Meanwhile, a sponsored walk was organised by Vicky Chisholm, who runs The Lake pub in Marsden, South Shields, and participants stopped at pubs along a similar route to the Great North Run, raising money for the Future Fund.
On Saturday (June 4), the team of walkers left from the Great North Children's Hospital and carried collection buckets along the way.
Support the Future Fund
For information on the Future Fund visit www.futurefund.co.uk
To donate visit www.justgiving.com/futurefundnewcastle, text NCFF01 plus the amount of your donation to 70070 or telephone 0191 208 7250.
Support the fund on Facebook www.facebook.com/futurefundnewcastle and on Twitter @
---
Latest News