Michael Morpurgo exhibition
Newcastle University research informs new Michael Morpurgo exhibition
Published on: 13 July 2016
One of Britain's best-loved children's authors is the subject of an exhibition informed by Newcastle University research.
First of its kind
Michael Morpurgo, A Lifetime in Stories is on show at Seven Stories: The National Centre for Children's Books, in Ouseburn, Newcastle. It is based around his archive, which University research associate Dr Jessica Medhurst has been working on. She has helped to uncover hidden treasures in his archive, which was donated to Seven Stories last year and her efforts have supported the curation of the exhibition.
The collaboration – a Knowledge Transfer Partnership where businesses work with universities to innovate – is believed to be the first of its kind between a University English department and an external organisation.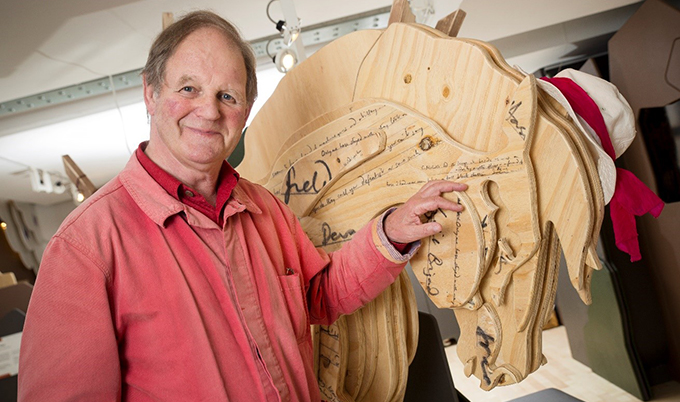 Inform and contribute
Dr Medhurst explains: "The Knowledge Transfer Partnership has presented the opportunity to experiment with the ways in which academic research can inform and contribute to a public exhibition.
"Looking at Michael's archive with the needs of Seven Stories' exhibition and visitors in mind has turned the idea of public engagement on its head – it has shaped the research agenda of the project rather than coming out of it."
The exhibition showcases the original notebooks and manuscripts behind Michael's stories, including Private Peaceful, Kensuke's Kingdom and The Butterfly Lion.
A handwritten draft of War Horse will be on display for the first time, showing how the story evolved from first draft to publication of the book, to adaptation for the National Theatre and Steven Spielberg film scripts.
Enchanted and moved
Michael Morpurgo, a former Children's Laureate, was 'enchanted and moved' by the exhibition at Seven Stories. He said: "I think there's no other place in the country which understands the importance of literature for children as well as this place does. The people here care deeply about what they're doing."
The Knowledge Transfer Partnership is funded by the Arts and Humanities Research Council and is supported by InnovateUK, the Arts Council England and the Vital North Partnership between Seven Stories and Newcastle University.

Michael Morpurgo, A Lifetime in Stories is open daily at Seven Stories in Newcastle until Sunday 2nd July 2017, before touring nationally.
---
Latest News