Professor awarded prestigious research prize
Published on: 5 September 2016
An academic who is being hailed as a future leader in biomedical research has received a prestigious award to help further her important work into the immune system.
Professor Muzlifah Haniffa, who is a Wellcome Trust Senior Research Fellow in Clinical Science at Newcastle University, has been awarded a Lister Institute Research Prize Fellowship for her outstanding work.
Professor Haniffa will receive £200,000 which she will use to support her research for five years as she strives to make significant medical advances in vaccination strategies and understanding skin diseases.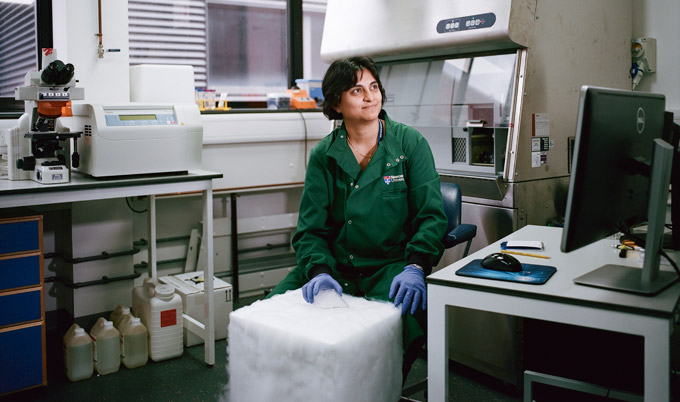 Lister Institute Research Prize Fellowship
The award will be used to fund a full-time PhD student and part-time research project manager, who will help Professor Haniffa investigate human mononuclear phagocytes, a family of white blood cells which initiate and regulate immune responses.
Professor Haniffa said: "It is a huge honour to receive a Lister Institute Research Prize and I am over the moon to be given such a prestigious award at this stage in my career.
"This funding will allow me to pioneer new research avenues to enhance existing vaccination strategies for infection and cancer."
The Fellowships are one-off awards which help to support and nurture future leaders in biomedical research. These awards are for those in the early stages of their career.
Professor Haniffa was part of a rigorous application process which placed her in competition with almost 100 leading young career researchers from across the country.
Up to five prizes are given each year following a written application process and subsequent interview with members of the Lister Institute's Scientific Advisory Committee.
International reputation
Professor Haniffa, who is already known internationally for her research on mononuclear phagocytes, has worked at Newcastle University since 2002, and completed her PhD in 2009.
She was appointed as Wellcome Trust Senior Research Fellow in Clinical Science last year and has received a number of high-profile accolades for her work.
Professor Haniffa has received the European Society for Dermatology Research LEO Pharma Silver Prize for Research, the British Society for Investigative Dermatology Young Investigator Award, and the Sue McCarthy Prize of the UK Medical Research Society Young Investigator Awards.
An Honorary Consultant Dermatologist at the Newcastle upon Tyne Hospitals NHS Foundation Trust, Professor Haniffa's past research has focused on human mononuclear phagocytes in the context of debilitating skin diseases such as psoriasis and eczema.
Professor Chris Day, Pro-Vice-Chancellor for Newcastle University's Faculty of Medical Sciences, said: "For Professor Haniffa to be awarded a Lister Institute Research Prize Fellowship is a huge achievement and testament to the quality of her research into the immunological basis of debilitating skin diseases.
"She is the first clinical scientist ever to be awarded a Lister Fellowship in Newcastle and we are particularly pleased to see such an outstanding example of someone who has come through the Newcastle Clinical Academic Training pathway which is now being used as a template for similar schemes across the UK.
"Professor Haniffa is one of the outstanding clinician scientists of her generation and has rapidly, in her short career, established an international reputation in her field."
Kate Law, Director of the Lister Institute, added: "The Lister Institute has been funding top-quality research for 125 years and this is a highly prestigious award.
"This year we received 99 applicants for five awards, 35 of which underwent an international peer review, so it really is a great achievement for Professor Haniffa."
Exhibition
Professor Haniffa's research is the focus of an exhibition called Inside Skin: Conversations Between Art and Science, at the Great North Museum: Hancock. The exhibition is open to the public from tomorrow until Friday, September 9.
For the five writers and artists involved in this project with Professor Haniffa, the main challenge was how to provide a response to this specialised research via their own artistic medium without attempting to explain or oversimplify it.
The exhibition, in collaboration with the Great North Museum: Hancock and Newcastle University, is funded by the Wellcome Trust.
---
Latest News