See Our Campus
Book now for our undergraduate Open Day on Saturday 19th September.
Meet staff and students
Hear subject talks
Tour the campus and accommodation
Discover our vibrant city
International Welcome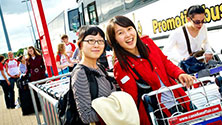 Welcome Week for all new international and EU students runs from 22 to 25 September 2015.
View the International Welcome Week programme.
We offer a free airport meet and greet service for international students – book your free airport pick-up.
Latest News
Newcastle University spin-out secures six-figure investment
Life-science start-up Newcells Biotech Ltd has successfully secured seed investment to build a provision of products and services using stem cells for drug discovery and development.
'Kerplunk' system slows the flow
A runoff and water quality project inspired by the childhood game Kerplunk is being used to slow the flow of water, reduce flood risk and improve water quality in a Northumberland river.