Choose from a wide range of undergraduate and postgraduate courses.
Find out about information for: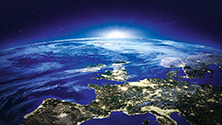 Our academic research is focused on having impact on an international scale.
Find out about our:
Latest News
School in the swamp
Getting teachers into remote places is at the heart of Prof Sugata Mitra's work and the latest addition to his School in the Cloud fits the bill perfectly.
Recommended levels of sugar halved
The World Health Organisation (WHO) has halved its recommended levels of sugar intake, thanks to a study carried out by Newcastle University academics.