Scientists show for first time how early intervention can help autism
Published on: 26 October 2016
Scientists have revealed how early intervention to help parents and their autistic children communicate better can help reduce autistic symptoms in the long-term.
Publishing in The Lancet, experts from Newcastle University and Northumberland, Tyne and Wear NHS Foundation Trust, along with colleagues from across the UK, are behind the first study to show early intervention helping parents communicate with their child can have a long-term effect on reducing the severity of autism symptoms.
Tracey Sawyer-Copus, of Philadelphia, Houghton-le-Spring, is mum to Aaron, 13, and Alex, 18. Both boys have autism, and Alex also has ADHD.
For Tracey, who took part in the study with Aaron, the results of this research could really help parents of autistic children.
The 44-year-old said: "If they know that this form of intervention works then they can use it – get it in schools and in the home. They can show parents how to do this.
"I always knew this study won't be for my boys, but will be for somebody else's. Why wouldn't you get involved if it's for somebody else's children, for the next generation?"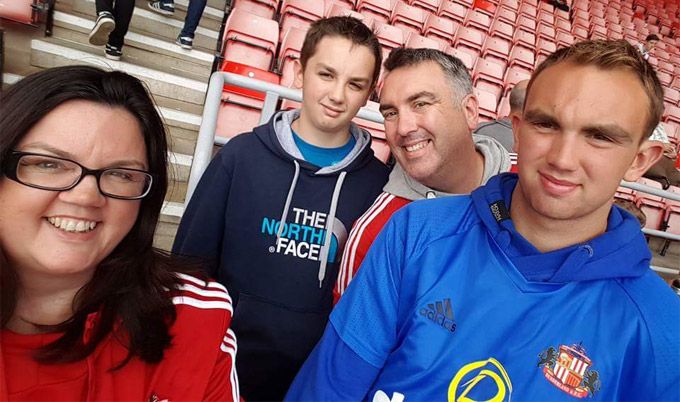 Landmark autism study
Researchers found that children who had received early intervention aged two to four had less severe overall symptoms six years later, with improved social communication and reduced repetitive behaviours, although no changes were seen in other areas such as language or anxiety. However, they say that difficulties remain and additional ongoing support will usually be needed as the children get older.
In the Preschool Autism Communication Trial (PACT), 152 children aged two to four with autism were randomised to receive the 12 month early intervention or treatment as usual. The study published is the follow-up analysis of the same children approximately six years after the end of treatment.
As many as 80% of the 152 original trial participants were assessed as part of the follow-up study. Of these, 59 children had previously received the PACT intervention and 62 had received treatment as usual.
Autism severity was measured using the international standard measure of autism symptoms (ADOS CSS), which combines social communication and restricted and repetitive behaviour symptoms into an overall measure of severity scored 1-10, with 10 being the most severe.
At the start of the trial, both groups had similar ADOS CSS scores (8.0 in the intervention group, 7.9 in the treatment as usual group). At follow-up, children in the intervention group scored an average of 7.3 and 46% of the group were in the severe range.
By comparison, children in the treatment as usual group scored an average of 7.8, with 63% in the severe range. This corresponds to a reduction of 17% in the proportion of children with severe symptoms in the intervention group compared to treatment as usual.
Play therapy sessions
PACT saw Tracey and Aaron attend play therapy sessions after Aaron was first diagnosed, aged four. Mum and son would be videoed, so Tracey could watch the session back. With feedback from therapists, Tracey could enhance her awareness and response to Aaron's unusual patterns of communication.
The Sawyer-Copus family were one of 48 families in the North East to take part in the study.
Tracey, who works as a practice nurse, said: "Aaron was non-verbal and had very limited speech. He wasn't interested in people or toys or playing. He was in his own little world.
"When we were asked to take part in the study, we said 'definitely'. After the diagnosis we hadn't really known what we were going to do, so any help we were going to take.
"The play therapy was really good. It taught him to play – that was the biggest thing. He didn't play with toys, but by the end he was playing by himself. It was just wonderful.
"We noticed a big difference. In that year he went from being non-verbal to being able to talk. He doesn't always, but at least now he has the choice.
"It's just the best thing in the world. As a parent you just want your child to be happy and safe and have friends. Now, if he does want to be sociable, he can be."
Not a 'cure' for autism
Ann Le Couteur, Professor of Child and Adolescent Psychiatry at Newcastle University, said: "This is a landmark study as it is one of the first studies to identify a relatively long-term benefit - the follow-up period is just under six years - of an early intervention for autism.
"Our findings suggests that helping parents to focus on early social communication skills with their child through play can lead to improvements in autism symptoms.
"It is important to note that this is not a 'cure'. These children will continue to show symptoms, but the improvements are evident over this time period.
"However, we still need to support children with autism and their families as they deal with a range of challenges over time, including additional behavioural and mental health problems."
This study is an example of the importance of Newcastle Academic Health Partners, a collaboration involving Newcastle Upon Tyne Hospitals NHS Foundation Trust, Northumberland, Tyne and Wear NHS Foundation Trust and Newcastle University. This partnership harnesses world-class expertise to ensure patients benefit sooner from new treatments, diagnostics and prevention strategies.
Reference
Parent-mediated social communication therapy for young children with autism (PACT): Long-term follow-up of a randomised controlled trial
Press release adapted with thanks to Northumberland, Tyne and Wear NHS Foundation Trust
---
Latest News