Catherine Storr Experience
Dreams, doubles and doppelgangers
Published on: 5 November 2016
Newcastle University designs new virtual reality author exhibition for mobile phones
Spooky stories
The clocks have gone back and the nights are drawing in - now is the perfect time to delve into the unsettling world of Catherine Storr.
Her spooky stories have been brought to life in a new exhibition experience designed especially for mobile phones.
Experts from Newcastle University's Culture Lab have been working with Seven Stories, The National Centre for Children's Books, which houses the writer's archive, to create an online experience about her work.
Catherine Storr is probably best known for her novel Marianne Dreams and the Clever Polly series. Her stories often revolve around children confronting fears and feature recurring themes of doubles, doppelgangers and dreams.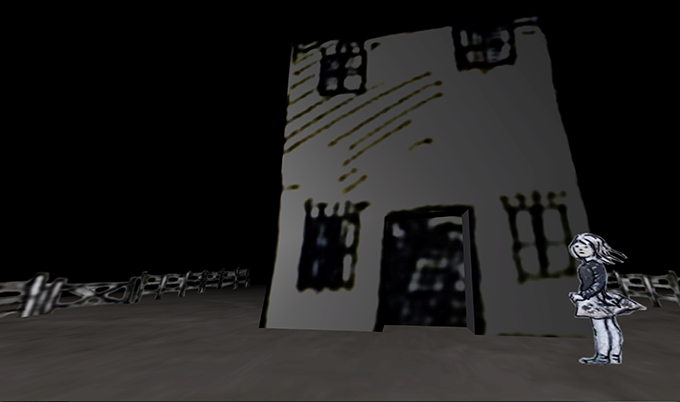 Marianne's Dream
The Catherine Storr Experience is loosely based around the house Marianne draws in Marianne's Dream. Mobile phone motion sensors let the user navigate around the 3D property, learning more about Storr's work as they visit the different rooms and examine different items.
Kim Reynolds, Professor of Children's Literature, in the University's School of English, Literature, Language and Linguistics, provided the content for the experience.
She said: "Storr is an author whose work lends itself perfectly to a project like this. She trained as a doctor, worked as a psychotherapist and was married to a psychiatrist. She understood what was going on inside the minds of children and young people - their fears and desires.
"This made her exactly the kind of subject we needed for this innovation. We wanted to do something really new, which could help audiences get inside the creative process behind great children's books.
"Using mobile phone technology means that people anywhere in the world can explore some of the wonderful material held in the Seven Stories archives in Newcastle. The three-minute Virtual Reality experience is accompanied by additional materials based on the archives and additional objects and memories provided by Storr's daughters."
Digital innovation
The experience uses experimental technology to combine animation with the idea of a guided tour, allowing you to stop at set points and hear more about objects you're looking at. While this technology is still in its infancy it is already proving very powerful for creating web-based experiences like this.
Dr Tom Schofield, Lecturer in Digital Cultures at Newcastle University said: "This contributes to our ongoing work into the fusion of cultural heritage with new forms of creativity through digital technologies.
"We hope that this experimental work encourages new experiences of Catherine Storr's books and the characters and environments and the Catherine Storr archive at Seven Stories."
Kris McKie, Archivist at Seven Stories: the National Centre for Children's Books said: "Working with Culture Lab on this project has given us the opportunity to use digital innovation to present our Catherine Storr archive in a completely unique and highly original way. We're excited by the potential for future projects and collaboration."
---
Latest News