Newcastle researcher stars in new TV advert
Published on: 21 December 2016
The work of a Newcastle University researcher is being brought to our screens in an emotional TV advert this Christmas.
Dr Rachel O'Donnell, a researcher at Newcastle University, and cancer surgeon at the Queen Elizabeth Hospital in Gateshead, will appear in a new series of films for Cancer Research UK's 'Right Now' campaign, which launch on Boxing Day and will be on air during Christmas and New Year.
Viewers will see Dr O'Donnell as she studies cancer cells through a microscope and explains the need for research to help beat the disease.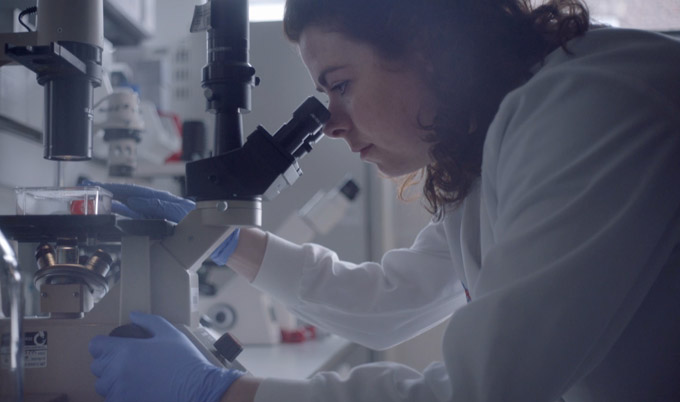 'Right Now' campaign
Cancer Research UK's powerful and emotive 'Right Now' campaign features TV, poster and radio adverts and aims to show the reality for people diagnosed with cancer, their friends and family.
It features a series of moving films - showing real patients in real-life moments - which call on supporters to take action in the fight against cancer.
Dr O'Donnell who is an Academic Clinical Lecturer and Honorary Subspecialty Registrar and Training Fellow at Newcastle University, graduated from medical school in 2005 and since then has dedicated her working life to finding out more about cancer, in particular ovarian cancer.
She said: "Cancer is such a challenging time in anyone's life and I feel so privileged to be able to help people with their care and treatment.
"It's easy to think research just happens in a lab, but it's much more than that. It's all about caring for someone and striving for the best for each person that you meet. Without research everything else is standing still.
"I'm driven to do better next time and I am always looking to see how we can do more. I'm so pleased to be part of the 'Right Now' campaign.
"Just like I say in the film, no one person can cure cancer by themselves. It's about us all - doctors, researchers, the public - coming together to help people beat the disease."
Inspiring people to get involved
Dr O'Donnell's film will be on air until 22 January 2017 and features teenager Dan Mattison, 16, from Cramlington, who is being treated for leukaemia at Newcastle's Royal Victoria Infirmary.
The footage was filmed at Newcastle University's Northern Institute for Cancer Research and Newcastle upon Tyne Hospitals NHS Foundation Trust. It captures documentary-style footage of doctors, nurses, scientists, researchers, cancer patients and their loved ones.
Cancer Research UK hopes the 'Right Now' campaign will inspire people to get involved in whatever way they can, to help fund the charity's life-saving work.
Teenager Dan knows from personal experience just how crucial new discoveries and breakthroughs that researchers like Dr O'Donnell are making are to help people like him survive.
He was diagnosed with cancer in September 2014 when he was 14 and had just started studying for his GCSEs at Cramlington Learning Village.
His mum Angela, 46, who works as a Project Administrator at Newcastle University, said: "Throughout his treatment Dan has never complained. He's so strong, determined and resilient. He's been a real inspiration to us all. Because of his experience, he now wants to be a doctor."
Dan's treatment will end in January 2018 two weeks before his 18th birthday. He said: "I want to give something back and help others who are facing their own cancer journey that's why I'm happy to be part of this 'Right Now' campaign and hope people support the work of Cancer Research UK and take action to help fund vital research."
Professor Josef Vormoor, Director of the Northern Institute for Cancer Research, said: "It is great that the Northern Institute for Cancer Research at Newcastle University was chosen to be at the forefront of the Cancer Research UK campaign 'Right Now'.
"All our staff are committed and passionate about improving the outcomes for patients with cancer. The 'Right Now' films are very powerful and show the world-class research that takes place at Newcastle University as we help to deliver the best care possible for patients and their families."
Press release adapted with thanks to Cancer Research UK.
---
Latest News