It's time for tea – Civil War style
Published on: 28 February 2017
Afternoon tea with cakes which have not been baked for over 300 years are on the menu today at Newcastle University.
NU Food training kitchen
Pupils from Bedlingtonshire Community High School are visiting the University's NU Food training kitchen to rustle up treats from the 1700s.

The cakes, which date back to the Civil War era, include seed cake which is like a muffin flavoured with caraway seeds; small cakes which are similar to rock buns; cake bread which is like a fruit loaf; and Naples biscuits made with lemon.

They come from a manuscript written by Jane Loraine and another recipe book held in the University's Philip Robinson Library Special Collections. Loraine's book, from the 1680s, includes 771 recipes for a variety of foods – but also for medicinal remedies, preventative medicines and beauty treatments. The author lived in Northumberland and was probably a member of the Fenwick family.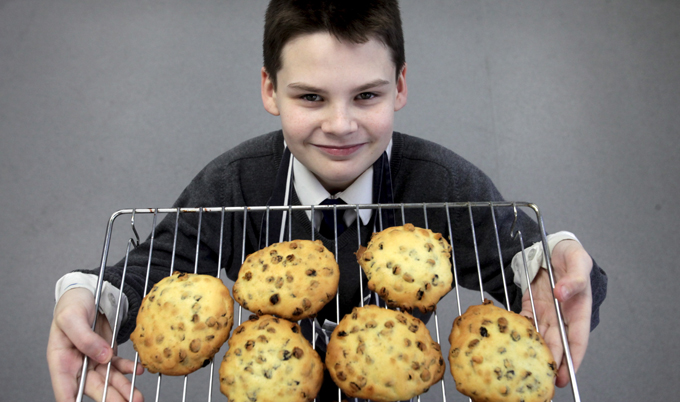 Recipes for a wealthy household
Library education officer Sara Bird who has organised the event said: "From the manuscript, we can tell the recipes were written down for a large and wealthy household. The recipes are for up to 30 people and the spices used in them, at the time, would not have been available or affordable for poorer people."

Chris Seal, Professor of Food and Human Nutrition, is supervising the session for the 11-year-old students. "It's great for the kids to be able to make bread and cakes from these old recipes, learning what a 'peck of flour' is, and that the mace and nutmeg used in the recipes came from spice trading with Indonesia dominated by the Dutch East India Company," he said. "Caraway seed cake used to be very popular but is rarely made nowadays; caraway, or cumin, is now more commonly used as a spice in South Asian cooking," he added.

The sessions are part of a wider scheme to use the historical books and documents held in the University's Philip Robinson Library Special Collections to inspire more than 400 young people.


Bringing the Civil War era to life
Pupils from Monkseaton Middle School, in North Tyneside, will learn about the effect of injuries sustained during fighting in the war, with scientists who will teach them about the science behind blood clotting.

A pop-up museum will be created by pupils from Kenton School, in Newcastle, who will be working with university historians, while Longbenton High School pupils will learn about one of the most tumultuous periods in British history through English and drama.

"We are really fortunate to have such amazing resources in our library, said Sara Bird. "And by running these sessions we can use the books and manuscripts in our Special Collections to bring the Civil War era to life.

"The students get to learn with academics who transport them back in time by creating a history trail or designing handbills for a play, baking cakes or teaching them how blood clots. The pupils really enjoy themselves and we get to share our expertise with them and show them that University is a fun and exciting place to be."

The project, which has been funded by the Heritage Lottery Fund (HLF) and is being supported by English Heritage, will end with a celebration at Tynemouth Priory in June, where there will be Civil War re-enactments and the school pupils will wear costumes and showcase their work.
---
Latest News