Leading by example
Published on: 13 June 2017
Newcastle University staff join students for a street clean up as part of a new initiative to help improve relations between residents and students in Jesmond.
Staff, students and local police officers joined forces this week to take part in a litter pick and general street clean-up as part of the annual Leave Newcastle Happy campaign.
Pounding the streets of Jesmond to help clean up the front gardens and back lanes following the end-of-term departure of many students, the team spent four hours collecting rubbish.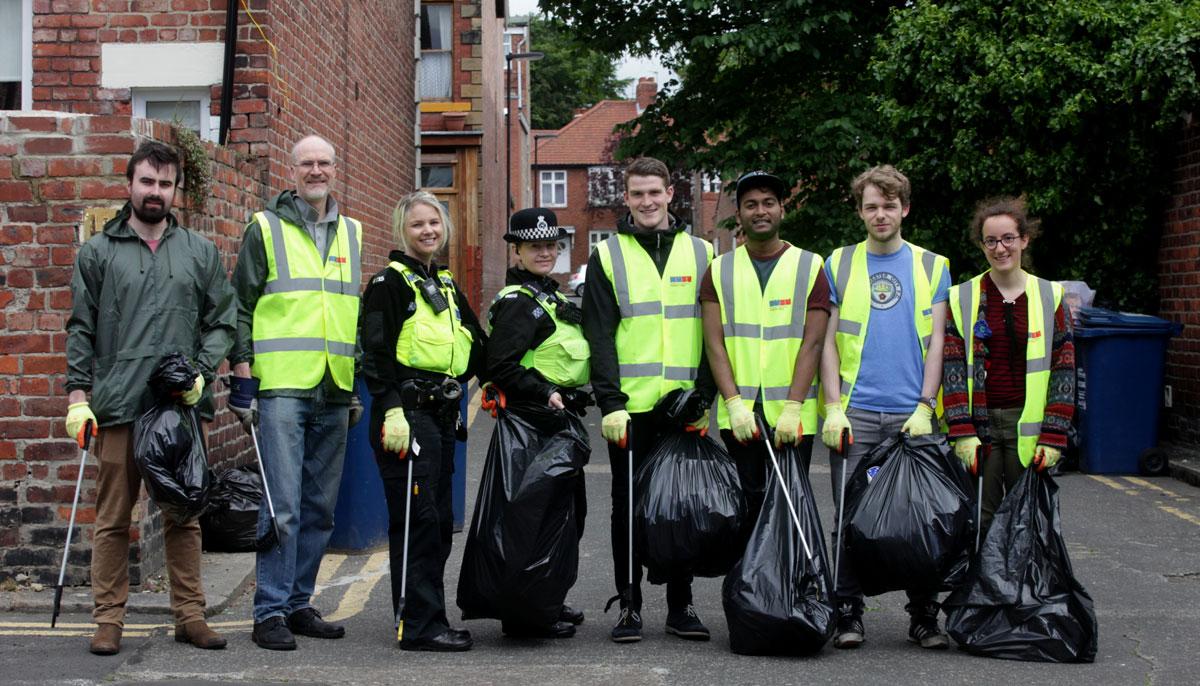 Everyone's responsibility
Newcastle University Registrar John Hogan said:
"There's quite a bit of concern about how students leave the properties at the end of the year.
"So we are trying to do our bit to help get the message out that everyone has a responsibility for keeping the community in a clean and reasonable state and make Jesmond a great place to live, as it always has been."
President of NUSU Jack Taylor added:
"We understand the houses here in Jesmond have between seven and nine people living in them and that can create a bit of a litter issue.
"So we are getting students and staff together to try to alleviate that problem."
Tackling anti-social behaviour
The Leave Newcastle Happy campaign is organised by Newcastle University's Student's Union and is part of a new initiative to help tackle the anti-social behaviour of some students living in residential areas.
Bringing together Newcastle University and its Student's Union, Northumbria Police, Newcastle City Council, Northumbria University and local councillors, the action plan includes a new 'Halls to Homes' campaign for students moving out of student accommodation to live in the community; a series of hard-hitting postcards highlighting the impact of anti-social behaviour on people's lives; and a push to encourage more student volunteering in Jesmond.
The two universities will also continue to fund additional policing in Jesmond through Operation Oak.
The revised action plan has been drawn up in response to a recent increase in the number of large house parties in Jesmond and concerns from residents around anti-social behaviour.
Marc Lintern, Newcastle University's Director of Employability and Student Success who chairs the Jesmond Anti-Social Behaviour Task and Finish Group, said:
"Newcastle University has a long-standing commitment to encouraging good relationships between students and residents in Jesmond, but we recognise that anti-social behaviour is an ongoing issue and that large house parties during the past year have added to this.
"The majority of our students are considerate, respectful young people who make a valuable contribution to the communities in which they live.
"Sadly, there is a minority whose behaviour is sometimes unacceptable and we hope that by working with our partners in the city and drawing up this action plan we can work together to tackle this problem."
Read the full press release about our Jesmond initiative.
---
Latest News