Newcastle University and Seven Stories partnership wins THELMA award
Published on: 23 June 2017
Newcastle University picked up the Knowledge Exchange / Transfer Initiative of the Year trophy last night at this year's THE Leadership and Management Awards.
Outstanding work
The THELMAs, now in their ninth year, recognise outstanding work across the professional services and administration of the UK's world-leading higher education institutions.
When Seven Stories: The National Centre for Children's Books wanted to appeal to a wider audience but lacked the expertise to do so, it reached out to Newcastle University's School of English Literature, Language and Linguistics.
The pair created what is believed to be the UK's first English literature Knowledge Transfer Partnership, which has gone on to provide a model for further Knowledge Transfer Partnerships in arts and humanities at Newcastle University.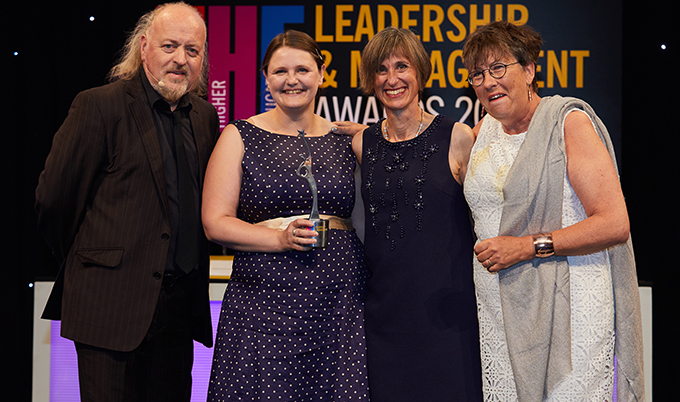 A good relationship
The Knowledge Transfer Partnership (KTP) produced two exhibitions at the centre, including developing the concepts, content and interpretation of a major display on author Michael Morpurgo, as well as instigating a related learning project, adult events programme and digital resources.
Seven Stories now uses the same approach to develop future exhibitions, and the partnership has helped the centre to acquire additional prestigious archive material.
At Newcastle, the relationship has benefited research and teaching in several areas, including new teaching approaches for a third-year module on children's literature. It has also spurred the creation of two new knowledge partnerships for the school with a poetry publisher and a housing developer.
Professor Julie Sanders, Pro-Vice-Chancellor for the Faculty of Humanities and Social Sciences, at Newcastle University said: "'I am immensely proud that the work of the School of English Literature, Language and Linguistics with Seven Stories has been recognised in this way.
"The KTP project is a model of what purposeful partnerships and collaborative working can achieve. My thanks to everyone who contributed."
Kate Edwards, Chief Executive of Seven Stories said: "It's wonderful to have won this award. It recognises that Seven Stories and Newcastle University are leading the way in bringing together research and engagement expertise to create rich, authentic and people-centred experiences that explore literature for children.
"Jessica, our KTP Associate, took the application of research and interpretation of Michael Morpurgo's archive to a different level, culminating in a landmark exhibition, that opened at Seven Stories in 2016. Our unique collections and curatorial experience, alongside the School of English Lietrature, Language and Linguistics' subject knowledge and research rigour are opening up new opportunities for experiment, with the goal that research and our collections are shared with the public in ways that are relevant, accessible and engaging."
An exemplar of knowledge transfer
Awarding the Knowledge Exchange/Transfer Initiative of the Year prize to Newcastle, the judges said that the University's partnership with Seven Stories was "an exemplar of how a school of English could engage in knowledge exchange".
"The initiative has transformed the way staff seek to apply their knowledge and unlocked a number of additional collaborations in the area of English literature," the panel said.
THE editor John Gill said: "Once again we've seen examples of exceptional performance in the most important areas of university leadership, management and administration. At a time of ever greater competition in higher education, our hope is that by shining a light on these winners, institutions will learn from one another to improve the quality of what they do across the board.
"Anyone working in a UK university will know how dedicated and resourceful their colleagues are, but it's our great honour to be able to showcase these examples from across the country."
The KTP was funded by the Arts and Humanities Research Council and InnovateUK.
---
Latest News