Leading the way in deep-sea engineering
Published on: 28 June 2017
Northern Powerhouse Minister visits Newcastle University's world-leading National Centre for Subsea and Offshore Engineering.
Northern Powerhouse Minister Jake Berry was in the region this week for a VIP tour of Newcastle University's newly-launched deep sea research facility.
Visiting Tyne Subsea: National Centre for Subsea and Offshore Engineering, the Minister met with the region's leading subsea experts from academia and industry and heard how the centre will help drive up skills and develop the innovations needed to fuel growth.
Built on the banks of the Tyne, the new facility houses one of the world's largest hyperbaric chambers – with an internal length of 6.75m, mimicking a depth of 6,000m below sea level.
Testing new technologies that can withstand one of the world's harshest environments, the new Centre is also equipped with an environmental test chamber which allows for testing of extremes of temperature, saline conditions and for the preparation of test specimens.
Building on the University's world-leading engineering expertise and working in collaboration with BEL valves, Tyne Subsea brings together industry and academia to create Northern England's Hub for hyperbaric research and testing.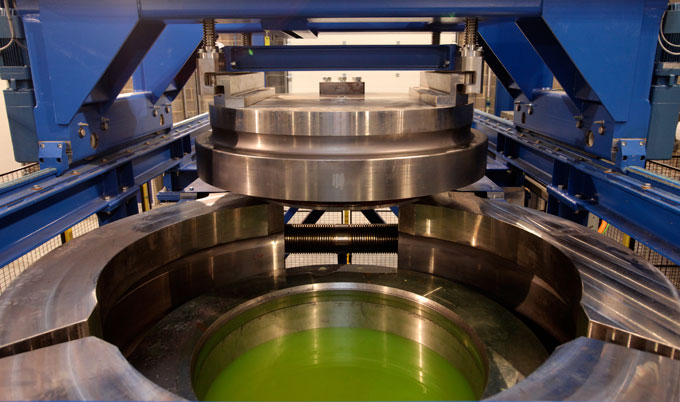 Driving up skills and innovation
Professor Nick Wright, Tyne Subsea Director and Newcastle University's PVC Innovation and Business, said:
"This National Centre together with the existing subsea and offshore infrastructure and expertise that we already have here in the North East really puts us at the forefront of this area of research.
"Tyne Subsea is a two-way partnership between industry and the University, an opportunity to share knowledge and expertise and drive up skills in this important field of research.
"It's great to welcome the Minister here today. What we would like to see is the Government supporting more subsea and offshore research and for money to be more aligned with the needs of industry."
Diving deep with underwater robotics
During his visit, the Minister also met the team of scientists and engineers who are in the running for a $7m prize to design an underwater robot that can map the ocean floor.
Team Tao, which is made up of staff from Tyneside-based Soil Machine Dynamics (SMD) and academics from Newcastle University, has reached the semi-final of the Shell Ocean Discovery XPRIZE, a competition to create tools for unmanned underwater exploration.
The UK team is developing an autonomous swarm system that is used for rapid surface and deep ocean exploration.
Team Tao will now compete against 21 teams from 13 countries to take home a share of the $7m prize pot. Along with Team Tao the competition includes teams from Canada, China, France, Germany, Ghana, India, Japan, New Zealand, Portugal, South Africa, Switzerland, and the United States.
Prof Wright, who is also part of the team, said:
"Historically, access to the deep ocean has been limited by the extraordinary physical challenges of exploring this extreme environment, high cost, limited technological advancements and lack of investment.
"More than two-thirds of our planet is covered by water yet we have only explored 5% of the ocean. This physically challenging environment prohibits today's mapping technologies from exploring the ocean.
"Team Tao represents industry and academia working together to solve a global problem. If we can increase awareness and understanding of our oceans there are significant and wide-ranging economic and environmental opportunities from eco-tourism to bio prospecting. A recent OECD report projects a value of $3tn by 2030, therefore improving our understanding of what lies beneath our oceans means we can also take better care of them too."
Building the Northern Powerhouse
Jake Berry was in the region to re-affirm the government's commitment to building the Northern Powerhouse.
Visiting Carlisle, Newcastle and the Tees Valley, he heard how devolving greater power and investment from Whitehall to Town Halls is helping to create jobs and strengthen economic growth.
"Building the Northern Powerhouse is a long-term government priority and central to our plans to rebalance the economy," he said.
"I am determined to ensure that people in every part of the North – from large cities to small rural communities – enjoy stronger, more sustainable economic growth.
"That's why I will continue to champion the North in government and support major investments to unlock the potential of the region."
---
Latest News