Third generation medic graduates from Newcastle University
Published on: 26 July 2017
A love of medicine runs through the veins of Louisa Murray's family as she becomes the third generation of doctors to qualify at Newcastle University.
The 23-year-old follows in the footsteps of her mother Dr Jennifer Lund, who graduated in 1985, and her late grandfather, Dr John Fraser Lund, who qualified in 1953.
Louisa said: "I felt proud at the graduation ceremony. I was very much thinking of my grandpa, who passed away a few years ago. This would have been a very proud moment for him."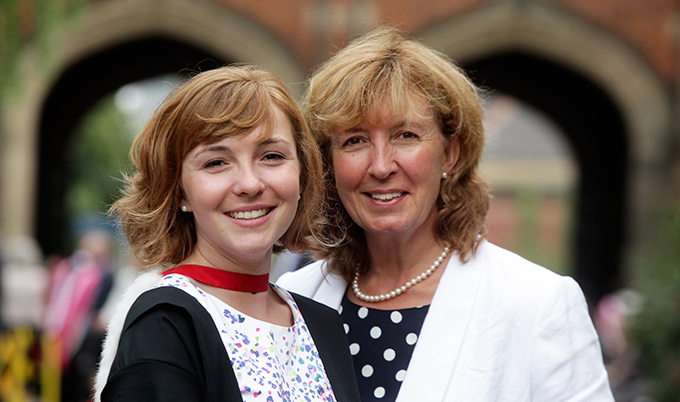 Proud moment
Louisa joined approximately 4,800 students at the University's summer congregation ceremonies, of whom 310 graduated with a degree in medicine.
Mother-of-two Dr Jennifer Lund said: "I feel very proud of my daughter. It's a fantastic thing - it's a very hard course and very hard work.
"It makes it extra special that Louisa is the third generation of our family to train at Newcastle University Medical School.
"My father knew that she'd completed her first two years and he was so proud of her. It was a lovely thing to him. He didn't have any doubt that once Louisa got in she would see it through. He would have felt rightly proud at her graduation day."
The medical profession runs in Louisa's family as her father David Murray, is also a doctor.
Louisa, from Harrogate, Yorkshire, added: "There was never any pressure to study medicine. I've heard a lot of positives from my mother as she's enjoyed her career and the same from grandpa.
"Studying medicine is something I'd wanted to do from quite early on. I've always felt quite drawn to it as a career as it offers so many opportunities. There are lots of different options to travel and meet different people, so it seemed like a good fit for me.
"The Medical School at Newcastle University is great. There's camaraderie amongst the medics and it's quite an active student group. There's also great nightlife in the city and we do lots of events with other students in the city, but also getting out of the city around Northumberland.
"I've been involved in the Newcastle Wilderness Medicine Society, encouraging people to get out of the city and to go and explore. Northumberland is amazing and many people don't realise all of this is on our doorstep."
Medical tradition
After her graduation, Louisa is staying in Newcastle to work with Northumbria Healthcare NHS Foundation Trust.
Dr Jennifer Lund retired 18 months ago after working 25 years as a GP in Otley, Yorkshire.
She said: "It's lovely to think the next generation of our family will continue the medical tradition.
"My advice to Louisa and her fellow graduates is to enjoy their careers. Just always remember that you're there to listen to the patients and they are there because they need help. It's very important that you listen to what they are saying.
"The oath that you took on your graduation day is very much about that focus on the patient, and that's exactly how it should be."
Newcastle University has a long-standing reputation for being one of the best places to study medicine, dentistry and biomedical sciences in the UK and in the world. The Faculty of Medical Sciences received a 97% in the last national review of teaching quality.
Newcastle University was given the highest rating in the Teaching Excellence Framework. Its TEF Gold score means the University is one of only eight research-intensive Russell Group universities to achieve a gold.
---
Latest News