Newcastle University to welcome thousands to Open Day
Published on: 14 September 2017
Newcastle University, UK, will be showcasing its city centre campus and friendly student community to 18,000 Open Day visitors this Saturday.
The Autumn Open Day features 60 different subject sessions to highlight Newcastle's undergraduate degrees, along with general information events covering topics such as applying to Newcastle.
Prospective students, and their families and friends, will have a chance to visit the Urban Sciences building on Science Central - the recently opened £58 million new home of the School of Computing Science and its 1,395 staff and students.
The Autumn Open Day comes on the back of a number of recent surveys which place Newcastle as one of the best universities in the UK for the experience it offers to students. The University received the highest rating: TEF Gold in the Teaching Excellence Framework, while the National Student Survey shows that 88% of students are satisfied with their experience – placing Newcastle joint 15th in the UK when considered against comparator institutions.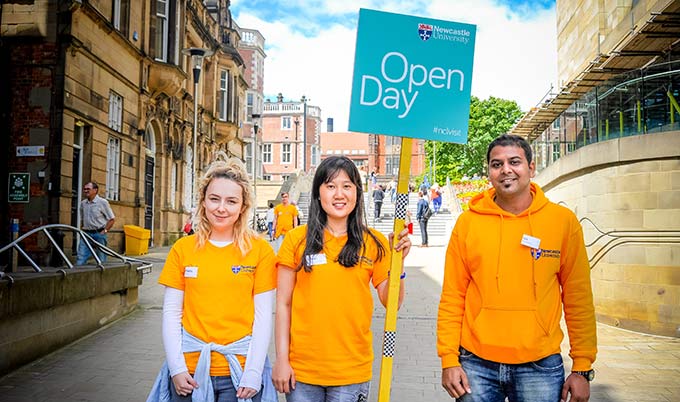 Welcoming visitors from across the UK
Professor Suzanne Cholerton, Pro-Vice-Chancellor, Learning and Teaching, Newcastle University, said: "The Open Day is a great opportunity for visitors to explore our vibrant campus, discover more about the many opportunities on offer and experience student life at Newcastle University.
"Last year, 95% of visitors said they were more than or just as likely to apply to Newcastle after attending one of the Open Days. This is a credit to all students and staff who help our visitors to explore Newcastle University's campus and discover more about the many opportunities on offer."
Seven of Newcastle University's 11 undergraduate accommodation sites will be open for potential students and their parents to look around. The accommodation tours will include a show flat of the University's newest accommodation - the £75.5m Park View Student Village, which replaces the former 'Ricky Road' student block to become home to 1,300 future students in September 2018.
Professor Cholerton added: "To build on our excellent reputation for teaching and student experience, we are continuing to invest in those areas that matter most to our students. Over the past five years we have invested or committed over £500m to improve our campus and to recruit 400 extra academic staff.
"These projects include a £32m investment in new state–of-the-art sports facilities on our main campus and at Cochrane Park, and the opening of the Marjorie Robinson Library Rooms last year.
"We are also investing in a £34m Learning and Teaching Centre on Science Central. Opening in autumn 2019, the new centre will feature state-of-the-art learning facilities for up to 2,200 students across three floors and a 750-seat auditorium."
Various activities will be happening to encourage potential students to share their experience of the Open Day on social media, including a gif booth, where they can create their very own animated image and a competition to share the best photos of the day.
Around 300 current students will be working alongside staff on each day to welcome visitors to the city and the campus, lead campus tours and showcase the friendly student community here at Newcastle.
---
Latest News