The sounds of singing sands uncovered
Published on: 28 September 2017
The phenomenon of singing sands is being explored this week - at an event miles away from the coast.
On Friday (29 Sept), visitors to Science Uncovered at the Great North Museum: Hancock, will be able to hear the sounds sand makes when it is walked on – and they'll be able to try to make it sing themselves.
Tim Shaw, from Newcastle University's CultureLab, the hub for research in digital creative practice and Sylvia Humphrey, assistant keeper of Geology at Tyne and Wear Archives and Museums, have put the installation together.
They were inspired by a study investigating musical sand, which was carried out at the University in the 1960s.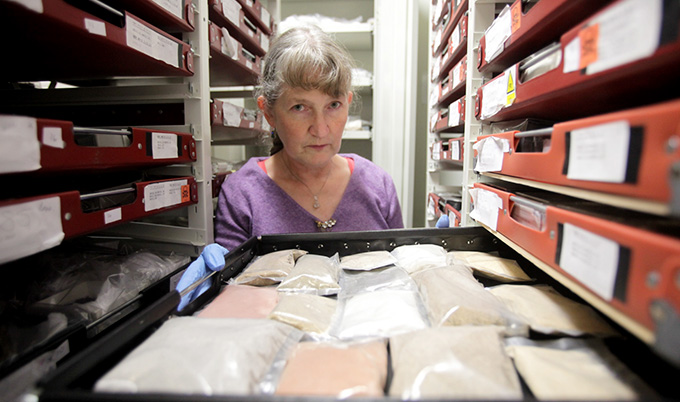 Musical sand from around the world
Academics carried out acoustic experiments on samples from around the world, striking the grains with a pestle to create a noise. The starting point of their studies was an investigation to examine the physical properties of the sand grains – sphericity, absence of dust on the surface of the grains and uniformity of grain-size. They published a number of papers and concluded that dry beach sand would not sing in the absence of any one of these conditions.
After the experiments were over, the samples were put away and forgotten about until Sylvia found them a few years ago.
"They were in a cabinet," said Sylvia, "But it wasn't until a retired researcher contacted me about the musical sand collection that I realised what they were." The little bags of silica came from as far afield as Japan and as close to home as Holy Island, Druridge Bay and Brierdene near Whitley Bay. Some bags were labelled with notes which suggested the kind of sound they made, such as 'sings well, indifferent note.'
The discovery inspired Sylvia to contact Tim to see if they could come up with some new ideas of working with the samples.
Tim, a lecturer in digital media whose work is based around recording the sounds of the natural world, headed to Brierdene with Sylvia to record the noise. "A lot of people don't know that the sand there sings," said Tim. "And that's probably because the conditions have to be right for it to happen. So, you could go looking for it and not hear it at all."
The sands at Briar Dene were referenced back in 1888, in Tomlinson's Guide to Northumberland. It stated: "Singing sands are to be found at Whitley, on the way to St. Mary's Island. This sound is not musical, but rather a harsh whirring, or as Miller, in his Cruise of the Betsy, calls it, a 'woo, woo, woo'. It is most marked when walking over, or rather through, the high dry oolitic sand beyond the slipping stones at the Briar Dene, just below where the volunteers encamp'."
"For someone who is interested in the natural world, this is a fantastic project to be involved with and I'm so happy Sylvia came to me with it. There are so many more things we could do in the future."
Sylvia, recently visited the Isle of Eigg in the Inner Hebrides and took photos, recorded and took samples from its famous Singing Sands beach.
Science Uncovered takes place from 6pm to 10pm on Friday, 29 September at the Great North Museum: Hancock. Entry is free.
---
Latest News