'FREEDOM' the rallying call as politically-charged exhibitions open
Published on: 17 October 2017
Two politically-charged exhibitions inspired by Dr Martin Luther King Jr's 1967 speech at Newcastle University have opened at the Great North Museum: Hancock.
Innovative response
The hard-hitting exhibits are part of the Freedom City 2017 cultural programme currently taking place in NewcastleGateshead and respond to the themes of racism, poverty and violence that form the central ideas of Dr King's historic address.
FREEDOM, the larger of the two exhibitions, is a brand-new cinematic installation across three 5m-wide screens. The innovative film has been directed and produced by Newcastle University's award-winning scholar-filmmakers Ian McDonald and Geetha Jayaraman.
The 22-minute feature interweaves archival footage of Dr King's Newcastle speech with clips of modern day protests on both sides of the Atlantic. Rallies against the likes of US President Donald Trump feature alongside unseen footage of the storm surrounding Enoch Powell's controversial visit to Newcastle's Rutherford College in 1969.
In his speech, Dr King imagines a "beautiful symphony of brotherhood" and a time when "all over the world justice will roll down like waters and righteousness like a mighty stream." Fifty years on, this new film suggests that many of the challenges of Dr King's day persist.
Dr Ian McDonald, Founder of Film@Culture Lab and Director of FREEDOM, said:
"It's easy to moralise about racism but what we wanted to do with the film instead was to use King's radical legacy to prompt the viewer to ask questions about the nature of freedom: What is freedom? What is the relationship between freedom and activism? How do we achieve freedom today?"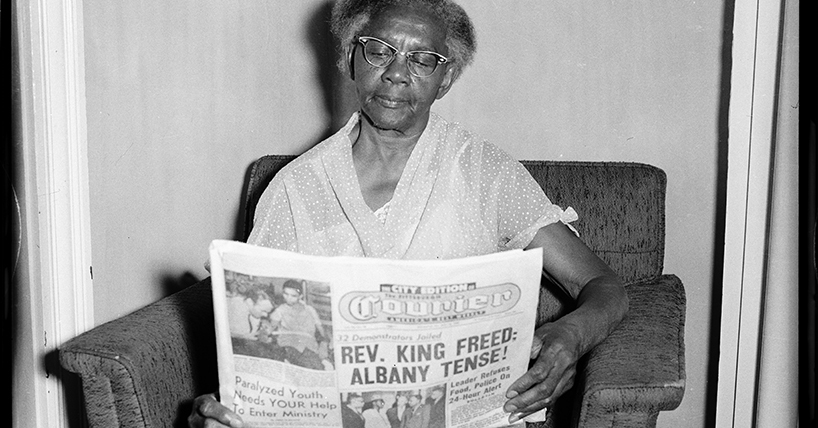 Capturing the impact of racism and poverty
Next door, FREEDOM's sister exhibition Not as it is written: Black Pittsburgh in voice and image takes us back to Civil Rights era USA via 25 photographs from the outstanding Charles "Teenie" Harris Archive at the Carnegie Museum of Art and accompanying oral histories from Carnegie Mellon University's Center for Africanamerican Urban Studies and the Economy.
The images and recorded stories paint a complicated picture of lives afflicted by racial intolerance and poverty yet at the same time full of joy and humanity.
Recollections of segregation, flagrant racism (in spite of state laws) and the outrage felt when Martin Luther King Jr was assassinated in 1968 are juxtaposed with Harris's vivid photographs, which earned him the nickname 'One Shot' due to his ability of capturing something essential at the first time of asking.
Dr Ben Houston, Senior Lecturer in Modern US History at Newcastle University and curator of Not as it is written, said:
"Teenie's work is highly relevant today because in every shot he captures the real humanity of his photographic subjects.
"Racism and segregation still persist in places around the world today as they did in the Civil Rights era and to me, rooting these difficult conversations in the real humanity of black people is tremendously powerful – and necessary."
Pittsburgh and Newcastle upon Tyne have a number of characteristics in common, including their former industrial prowess and intense sense of regional pride. They are also cities that share a spirit of activism and their connections with Dr Martin Luther King Jr; he visited Newcastle once in 1967 and Pittsburgh a handful of times during the 1950s and 60s.
A mobile app has been developed to accompany the Not as it is written exhibit. Available for download on iOS and Android, the app contains the full content of the exhibition and also allows users to respond with their own reflections by either recording memories or adding photographs.
Both exhibitions run at the Great North Museum: Hancock until Friday 1 December.
Photo: 'Elderly woman holding Pittsburgh Courier newspaper with headline reading "Reverend King Freed: Albany Tense" seated in armchair', July 1962
Charles "Teenie" Harris
American, 1908–1998
black and white: Kodak Safety Film
H: 4 in. x W: 5 in. (10.20 x 12.70 cm)
Carnegie Museum of Art, Pittsburgh: Heinz Family Fund, 2001.35.7018
---
Latest News