Success for Newcastle University start-up casting a wide net
Published on: 29 November 2017
A premium sportswear business launched with support from Newcastle University's START UP Founderships has received a £1.2m investment from a group led by the founder of New Look.
Newcastle University graduate Phil Beahon and his brother Tom set up their company, Castore, with the help of a START UP Foundership offered by the University's Careers Service and supported by its START UP Team.
Part of the 2016-2017 cohort, Phil and Tom were two of ten founders and co-founders selected by a special panel of University alumni and friends to receive a START UP Foundership and the associated support and funding as a fledgling business.
Phil, who was awarded a law degree from Newcastle in 2014, and Tom are both in their 20s and used their experience as semi-professional athletes as inspiration to set up their sportswear brand.
Tom Beahon said: "Phil and I are both former athletes; he was a cricketer and I was a footballer. Pursuing our passion for sport meant intensive training, and living in sports clothes, day-in and day-out. When you put clothing through its paces, you start to notice its quality. We found that mass-market sportswear brands were of average quality. This was our gap in the market."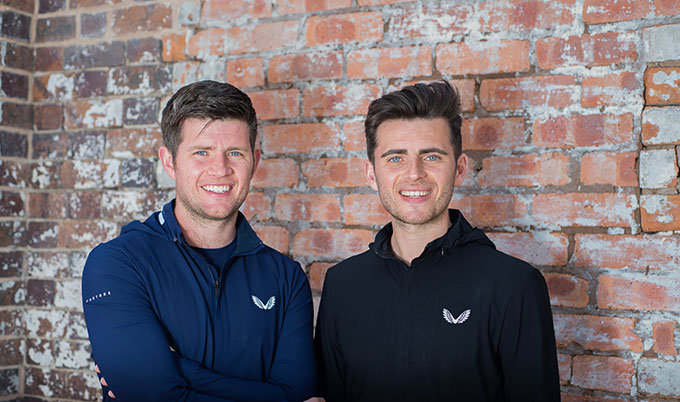 Worldwide expansion
Castore already sells to 18 countries from its website, but plans to open three shops in London. With the help of this most recent tranche of investment from a group led by Tom Singh, of New Look, Castore hopes to invest further in its online platform and also open stores in Hong Kong, Shanghai and New York.
Castore's turnover is set to be £650,000 this year, rising to £2.1m next, with overseas sales accounting for 45 per cent of the total.
The business employs 12 people and works with a Portuguese textile factory to create its products. Worldwide distribution is handled from its Merseyside headquarters.
Phil Beahon said: "The START UP Foundership from Newcastle University was integral in helping Castore secure our first round of fundraising. As a small, fast-growth business, the first six months are usually the hardest and the University provided all the necessary support to help us navigate the inevitable challenges you face and I will be forever grateful."
Selection process
START UP Founderships were introduced in 2014 and a total of 26 businesses have been supported across four cohorts.
Each Foundership begins in September and lasts six months. Applications are accepted in April each year and a shortlist of the most promising businesses pitch to a selection panel made up of Newcastle University alumni and friends.
Successful applicants are offered extended access to the START UP Space, a co-working facility in the University's King's Gate building, living expenses of £7,500, support from a business adviser and a business development budget of up to £10,000, which can be drawn down in tranches as founders pitch to put forward their business needs and ideas.
Newcastle University graduates can apply for a Foundership for up to three years after their degrees are awarded; many, like the Beahons, take part in events to promote the START UP programme and the University around the country both during and after successfully completing their Foundership.
Katie Wray, Lecturer in Enterprise and Founderships Manager, said: "START UP Founderships have been a great success and we are very proud to have been able to offer graduates who have the vision and determination, the time and support to make their business ideas a reality."
Support from benefactors
START UP Founderships and the programme of support around them are made possible by the Benefactors' Fund for Entrepreneurship, which uses donations from alumni and friends of Newcastle University to support entrepreneurial projects and activities at the University.
Graeme Elliott, Philanthropy Manager for Newcastle University, said: "We've been fortunate to receive significant support for START UP Founderships and success stories, like that of Castore, really demonstrate the value that this experience adds. Our volunteers and donors have a genuine passion to support graduate entrepreneurs and young businesses and there is great satisfaction for everyone involved in helping to provide a platform at Newcastle from which these businesses can go on to realise their potential."
To find out more about the Benefactors' Fund for Entrepreneurship and START UP Founderships, email: founderships@ncl.ac.uk
Founderships are just one part of Newcastle University's START UP support programme for student and graduate entrepreneurs. To find out more information about the whole programme visit: www.ncl.ac.uk/careers/startup
---
Latest News