Student expedition studies vulnerable species
Published on: 24 November 2017
Newcastle University students came up close and personal with one of the world's most feared predators during a research expedition to the pristine wetlands and dry forest habitat of Costa Rica.
Max Henderson, Alexander Liddington and Yannick Thompson embarked on the expedition to study the effects of environmental change on crocodiles, insects and amphibians. The trio arranged the trip independently, with help from the Expeditions Committee and the School of Natural and Environmental Sciences, and funding from the Royal Geographical Society, Newcastle University Expeditions Committee, the James Marshall Trust and the Hertfordshire Travel Fund.
BSc Biology student Max researched factors affecting chronic stress levels in American crocodile populations. He captured and measured crocodiles in Palo Verde National Park, and analysed blood samples in the field laboratory.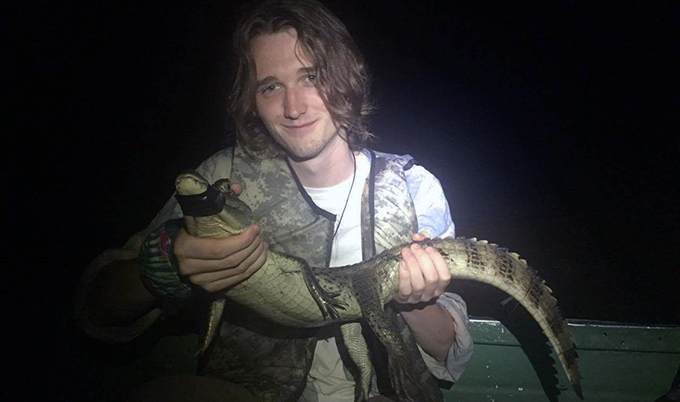 Crocodile Conservation
The 21-year-old, from Whitley Bay, said: "I am studying stress physiology in American crocodiles. Chronic stress affects reproduction, behaviour, and immune system function in crocodilians, but little research has gone into the environmental causes of this stress. I'm looking to investigate links between chronic stress levels and age, as well as variation in this stress throughout the wet season.
"I have been passionate about crocodiles as long as I can remember. My mum was really supportive of it and actually took me to Florida to see alligators when I was three. I also made an appearance on "Junior Mastermind" when I was about 11, with crocodilians as my specialism."
Crocodiles play an extremely important role as ecosystem engineers, apex predators, and keystone species for conservation efforts, and chronic stress levels could provide a valuable insight into the health of populations once causal mechanisms are better understood.
While the crocodiles that Max studied can grow up to five metres, he worked with smaller, two-metre ones, as bigger crocodiles tend to be more evasive and "harder to get close to". He is hoping to work with crocodilians again next year as a PhD thesis, in Central America or West Africa.
Max added: "It has been great to work with so many professional researchers who are equally passionate about the subject. My supervisor, Dr Richard Bevan, and the team at Palo Verde, have been incredible in helping me to succeed with this project."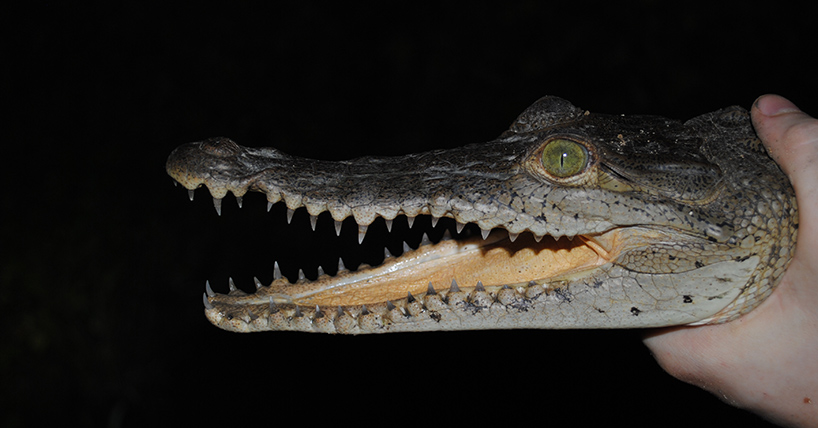 Celebrating Research Scholarships and Expeditions
Alexander, an undergraduate Zoology student, investigated the spread of chytrid fungus, an infectious disease, between amphibians occupying different habitats. He swabbed specimens and will be analysing these swabs in the laboratory at Newcastle University after the expedition.
The 21-year-old swabbed amphibians to test for the presence of Chytrid fungus, a widespread disease which is destroying global amphibian populations. Due to little being known about factors affecting spread of chytrid through different habitats, Palo Verde and its habitat diversity provides a near-perfect site to study drivers of spread among different species, habitats, and populations.
He said: "I have had a keen interest in amphibians and reptiles since a young age, keeping and breeding species from all over the world for 12 years. I have done numerous talks and presentations, and even had my own segment on channel 4's Animal Madhouse. Costa Rica was the perfect opportunity to study my favourite animals, and perhaps even discover something that would benefit their survival."
Yannick, also a Zoology student, focussed on the effect of environmental changes such as habitat fragmentation on pollinator networks in tropical forest, by observation, photography, and collection of pollinator specimens.
The Stage 3 student said: "I used baited pitfall traps to study the community composition and abundance of dung beetles in various different habitats, such as mango groves, meadows, and secondary forest. Dung beetles can act as pollinators, nutrient cyclers, and improve fertility of soil. Assessment of their habitat preference can provide information to help predict and mitigate environmental impacts of land development."
Alexander, Max, and Yannick are among the Newcastle University students who will be presenting at the Celebrating Research Scholarships and Expeditions 2017 event at Newcastle University. The presentations will be held at 4:30 pm on 29 November in the Lindisfarne Room, Hadrian Building, starting with a display of posters demonstrating the breadth of research projects undertaken.
---
Latest News