Newcastle University graduates help bring popular video games to life
Published on: 23 January 2018
In an industry that is typically male dominated, female graduates from Newcastle University are forging their way in the video gaming profession.
Gaming is usually associated as a predominantly male-dominated industry with fast cars, action-sports and fighting.
But three talented female Newcastle University graduates have bucked this trend and landed their dream jobs with a top video games developer.
Nina Campbell, Ruth Caulcott-Cooper and Aishling Mulhern joined TT Games to work on several highly-anticipated titles of the LEGO franchise, including LEGO Star Wars: The Force Awakens and The LEGO Ninjago Movie Video Game. The trio are now employed full-time, helping to bring popular video games to the market.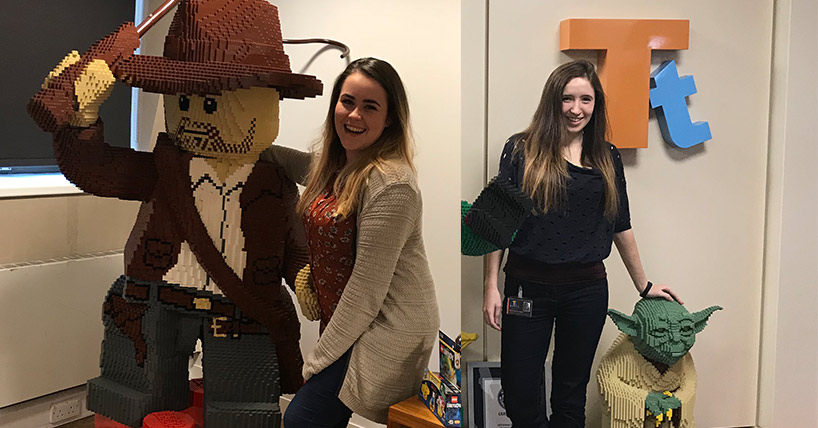 'A unique challenge'
Ruth, 22, from Warlingham, Croydon, joined TT Games in April 2017, while also studying for a postgraduate degree at Newcastle University, and has worked on the LEGO Marvel Super Heroes 2 and The LEGO Ninjago Movie Video Game. She is a Junior Game Mechanics Programmer, which means she works on the more global mechanics for all the LEGO games.
The MSc Computer Game Engineering graduate said: "I started a career in gaming firstly because I really enjoyed playing videogames, and have done so since a very young age.
"Secondly because it was a unique challenge that no one in my social circles or at my all-girls school took interest in. It was exciting to pursue a degree and career which the majority of people I knew had little or no experience or knowledge in - it felt like an adventure not many women had taken before me.
"Women need to publicly show their success in the science, technology, engineering and mathematics (STEM) industry to encourage other women to pursue it, and to progress the relevance of women in STEM roles.
"My advice for prospective students considering a career in gaming is to focus more on the underlying techniques and base code that creates a game engine. The knowledge of this is vastly significant in understanding what you are creating yourself.
"Also, don't worry if people are coding a lot more than you in your free time. Even if you are not coding in your free time at all, it is not compulsory to do so - and enjoying other hobbies are more important in university towards finding out what you love and developing into a knowledgeable adult."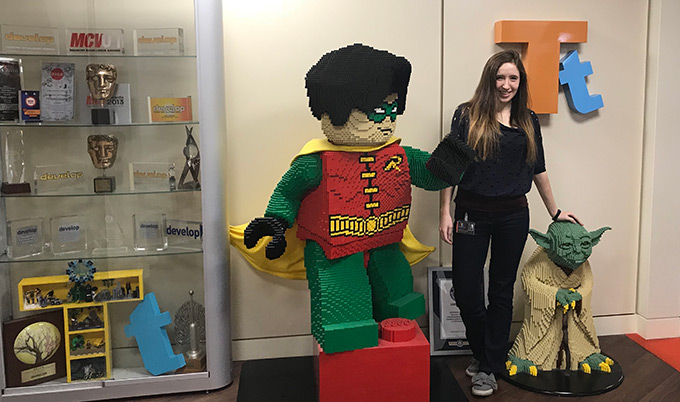 Developing careers in gaming
The Computer Game Engineering MSc course at Newcastle University is one of the first of its kind in the UK, and has a graduate employment rate of 97%. It is delivered in the School of Computing, which recently moved it its new home: the £60m Urban Sciences Building on Science Central.
Nina, from Grimsby, joined TT Games in March 2016, while pursuing an MSc degree in Computer Game Engineering. Now working full-time as a Junior Tools Programmer, the 24-year-old develops new technology for the artists to use. Her current projects include The LEGO Ninjago Movie Video Game and LEGO Marvel Superheroes 2.
She said: "Pursuing a career in gaming was a bit of a late decision for me – in the final year of my Physics degree I had a 'why didn't I do a degree in computing?!' moment as it perfectly suited my interests and hobbies.
"Surprisingly, the games industry had never occurred to me as a career option but deciding to go into it was a no-brainer as I already spent a large amount of my time playing video games and figured it'd be pretty awesome if I could have a career in the industry.
"The degree at Newcastle University was very intensive, as you'd expect from a one year course. When I joined I had zero programming knowledge. All the lecturers were fantastic and extremely helpful, and the course had great links to the industry."
'I have always wanted to make video games'
Aishling Mulhern, 25, from Southampton, spent the last seven months working on LEGO Marvel Superheroes 2. The Gameplay Programmer graduated with a MSc degree in Computer Game Engineering in August 2016. She works full-time coding high level elements that the player will interact with. Her role involves teaming up with tech artists to make sure everything triggers at the right moment to progress the story.
She said: "My team is responsible for bringing together lots of different elements - animations, visual effects, special effects - and creating attacks out of them. Generally, if we think something will look cool in the game, we have the green light to give it a go. At the moment, I am focusing on LEGO Marvel Super Heroes 2, submission is just around the corner and I'm very excited for my first game release!
"I have always wanted to make video games since I spent most of my weekends as a kid "helping" my friend progress through Zelda on the N64. I now think games are an important tool for teaching, learning development and even political/societal statements.
"There is a bright future for the gaming industry and I am excited to see where it leads and be a part of it. Originally, I wanted to have a career as a concept artist, but as my studies progressed I realised I was very drawn to the puzzle solving and very logical nature of programming more."
Women in gaming
Chris Stanforth, Head of Game Mechanics, TT Games, said" Many of the most talented people I studied alongside were women, and it has been such a failure that they weren't encouraged into the Games Industry during its fledgling days. I, and TT as a company, will do what we can to change that and our association with Newcastle has been a successful step towards that goal.
"One of their strengths is that the course attracts people from a more varied background than the stereotypical coder, people that have explored other options before coming to games and coding. We really need that variety and the skills that come with it if we're to remain competitive and successful going forwards."
In 2007, Dr Graham Morgan, Senior Lecturer at Newcastle University School of Computing, and a number of top video game developers embarked on the creation of courses at Newcastle to address the shortage of highly technical programmers in the global video games industry.
Dr Morgan said: "What started with only 20 students in the first couple of years has now grown into modules, courses and degrees with over 100 undergraduates and 50 masters students currently studying video game programming at Newcastle. Due to the success of the students and close working links with industry partners, Newcastle enjoys a reputation for delivering high quality talent to the video games industry across many international markets."
The Times Higher Education World University Rankings 2016-2017 by subject shows that Newcastle University is among the best for Computing Sciences, placing it 76th in the world. Newcastle achieved high scores across a number of criteria, including 83.4 points out of 100 for international outlook and 88.7 for citations.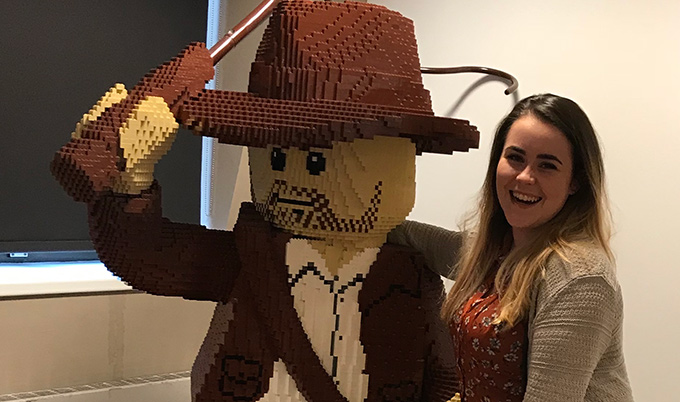 ---
Latest News