Student volunteers show support for the City
Published on: 23 February 2018
Over 300 Newcastle University students worked with residents and helped charities across the city as part of the Raising and Giving (RAG) Community Day.
Smashing their original fundraising target, RAG student volunteers collected over £7,500 during Community Day. Organised by the RAG Society Committee, the successful campaign follows on the outstanding 2016/17 academic year in which RAG helped raise over £76,000 for many worthy causes, 13 charities and numerous projects throughout the year.
Students also ran a tech workshop at Jesmond Library, showing residents how to work with electronic devices, such as tablets and smart phones.
And Newcastle University students and residents teamed up for the biggest-ever litter pick in Jesmond. Coordinated by RAG and members of Keep Jesmond Clean, over 200 students worked with local residents around the area of Manor House Road area, collecting 150 litter bags over five hours.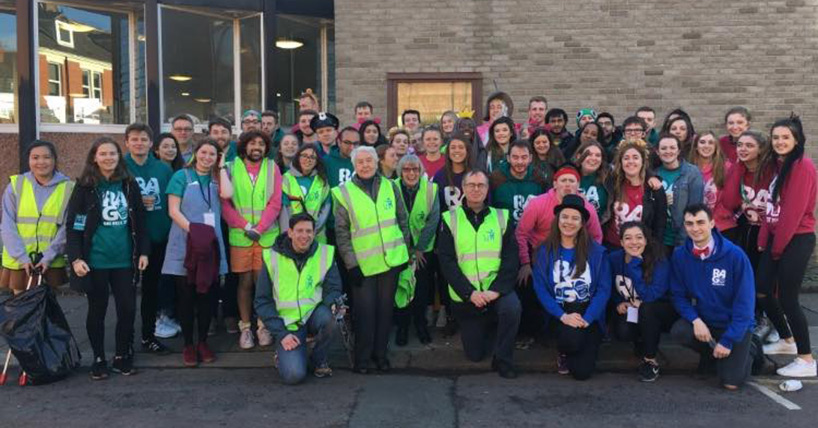 Supporting students to enrich the local community
Sarah Craggs, Welfare and Equality Officer, Newcastle University Students' Union, said: "Voluntary and community work is key in our focus to support students in enriching the local community and building strong relationships with residents.
"Newcastle University students are working hard in collaboration with the City Council, local residents groups, Newcastle University and the Students' Union on community projects, and the RAG Community Day is an amazing example of the how proactive and enthusiastic our students are."
Marc Lintern, Director of Employability and Student Success, added: "While permanent residents often focus on the negative aspects of students living in residential areas, I'm always blown away by the volunteering that students do in the city. Students' participation in activities such as RAG Community Day are a reminder of the hugely positive contribution which most of our students make to the life of our city."
This was one of the first litter pick initiatives of the year involving student volunteers. At the start of the winter break, 25 students joined forces with Jesmond residents to help clean up areas in the neighbourhood before Christmas. Before that, students and residents worked together to clean up after Freshers' Week. This litter pick was followed up with a Fenham clean-up, organised in conjunction with the Newcastle University Women's Football Team.
Best Neighbour on Campus
The RAG Community Day coincided with the launch of Best Neighbour on Campus (BNOC) award. Designed to celebrate the great work students do within their communities, residents from across the city are being asked to nominate students or households who have had a positive impact on the area where they live, either through volunteering, supporting local residents or simply by being considerate, responsible neighbours.
Marc Lintern said: "BNOC is a competition designed to promote the many good things which our students do across the city, and to celebrate and reward our best student 'household. The initiative will go a long way towards helping build bridges between students and local residents."
The winning households will receive up to £1,000 to help towards their rent and living costs in recognition of being good neighbours.
---
Latest News