French scholar to lead Humanities and Social Sciences faculty
Published on: 20 March 2018
Newcastle University has appointed Professor Nigel Harkness as its new Pro-Vice-Chancellor for the Faculty of Humanities and Social Sciences.
Enhanced international profile
An expert in 19th Century French Literature, Professor Harkness has been the Head of the School of Modern Languages at Newcastle University for the past four years.
During his time as Head of School, Professor Harkness has overseen an increase in student enrolment by 25% against a national backdrop of decline in Modern Languages, with almost 600 undergraduates and over 170 postgraduate students now studying at Newcastle. In addition, he has overseen significant growth in the School's research profile, with Newcastle Modern Languages researchers securing significant funding from both UK Research Councils and European Research schemes.
Professor Harkness chairs the management group of the Confucius Institute based at Newcastle University, and the partnership between Newcastle and China's Xiamen University which is delivering joint staff development programmes and exploring joint education and research projects.
Professor Harkness has also played a key role in the University's European Union working group which is overseeing the institution's preparedness for Brexit.
Professor Harkness said of his appointment: "I am very excited at the prospect of heading the Faculty at such an important phase of its development. As the largest Faculty, Humanities and Social Sciences (HaSS) is fundamental to delivering the aims and ambitions of the new Vision and Strategy for Newcastle University.
"I am incredibly fortunate to work with outstanding colleagues and students right across HaSS and indeed the University, who are really focussed on collaboration across disciplines to create something new and distinctive here.
"I want to build on this as Faculty head by creating an environment that fosters these connections within the University and also with external partners as we have a real opportunity to enhance our international profile and develop our students as global graduates by deepening our existing partnerships with overseas universities and establishing new ones."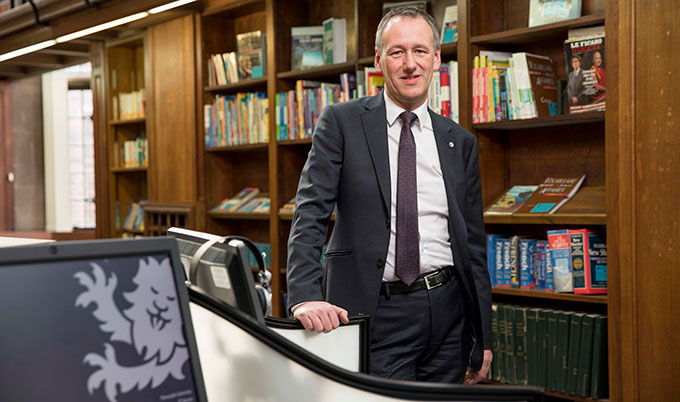 Inspirational leadership
Prior to joining Newcastle University in 2014, Professor Harkness was Director of Education in the School of Modern Languages at Queen's University Belfast.
A Fellow of the Higher Education Academy since 2001, Professor Harkness has held numerous External Assessor roles in Modern Languages with universities across the country. He is also the current president of the Society of Dix-Neuviémistes, the UK scholarly association for nineteenth-century French studies.
Vice-Chancellor and President of Newcastle University, Professor Chris Day, added: "Nigel is an incredibly talented academic and an inspirational leader who has helped develop the reputation of the School of Modern Languages and, in doing so, attract a growing number of exceptional staff and students to Newcastle.
"As we prepare to launch our new long-term strategy for the University, it is essential we have the leadership in place to make it a reality and to empower our staff and students to be central to it. I have every confidence that Nigel will do this and I am delighted to be working alongside him as part of my senior team."
Professor Harkness's appointment will be ratified by the University's Senate and Council and he will take up his post in September.
---
Latest News