UK team reach the final of the Shell Ocean Discovery XPRIZE
Published on: 8 March 2018
Subsea engineers from Newcastle University and Soil Machine Dynamics (SMD) have reached the finals of the Shell Ocean Discovery XPRIZE to find new ways to map the ocean floor.
Team Tao, which is based in SEALab and the National Centre for Subsea and Offshore Engineering, both at Newcastle University, will compete against nine other teams from seven countries to represent the UK in the final to win the $7M Shell Ocean Discovery XPRIZE.
Team Tao brings together industry experts from UK-based subsea engineering specialist Soil Machine Dynamics (SMD) and Newcastle University. Together they have developed an autonomous swarm system for rapid and unmanned deep ocean exploration.
Professor Nick Wright, Pro-Vice-Chancellor for Innovation and Business at Newcastle University and part of Team Tao said:
"Historically, access to the deep ocean has been limited by the extraordinary physical challenges of exploring this extreme environment, high cost, limited technological advancements and lack of investment.
"More than two-thirds of our planet is covered by water yet we have only explored 5% of the ocean. This physically challenging environment prohibits today's mapping technologies from exploring the ocean.
"Team Tao represents industry and academia working together to solve a global problem and we are delighted that our entry into the XPRIZE has made the final of this globally prestigious competition.
"It highlights the outstanding quality of innovative engineering that the team have achieved in a remarkably short timetable and speaks volumes about the remarkable collaboration between the University and this world-leading company."
Read the full story on BBC online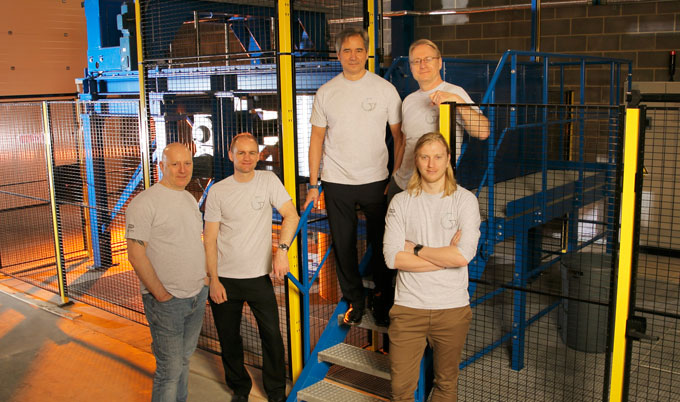 Mapping the ocean floor
Ninety five percent of the ocean is unexplored; we know more about the surface of Mars than what exists thousands of meters below the waves.
Sponsored by Shell, the competition calls for teams to develop underwater robots that can fully map and discover the wonders of the deep-sea like never before by advancing the autonomy, scale, speed, depths and resolution of ocean exploration.
To advance to the final round, Team Tao and the semi-finalist teams had to pass a Round 1 Technology Readiness Test, which comprised of a site visit by XPRIZE staff and judges.
The team's technology was tested against rigorous measurement criteria to show its approach was capable of meeting operational requirements necessary for rapid, unmanned and high-resolution ocean mapping and discovery.
The final, Round 2 testing will take place during October and November of 2018. Finalists will have an opportunity to demonstrate their technologies in the real-world in a deep sea environment, where they will have to map the sea floor at 4000m depth and bring back ten images from the ocean.
Mike Jones, SMD CEO, said:
"We are delighted to make the final of the competition and represent the UK in such a prestigious arena.
"Together with Newcastle University, we have engineered an innovative, cost effective way of rapidly mapping the ocean floor and water column.
"We've also received some fantastic support from a number of other partners and sponsors, which really goes to show what can be achieved when you give a team of ambitious, bright and courageous engineers the space and freedom to tackle a problem.
"There's still a lot of hard work to do and some very good competitors, but we believe we have the team and idea to win."
Tyne Subsea
Team Tao operates with a core team of four engineering experts from SMD, Newcastle University and CRRC TEC Ltd and is backed by a panel of seven industry and academic advisors.
Their approach to the Shell Ocean Discovery XPRIZE involves international collaboration through partnerships with companies in China, the US and France, as well as research and innovation experts at Newcastle University through its Tyne Subsea National Centre for Subsea and Offshore Engineering.
The first of its kind in the UK, Tyne Subsea brings together academia and industry in a world-class engineering research facility. SMD is a world-leading designer and manufacturer of specialist subsea remotely operated vehicles (ROVs) and CRRC TEC is the world's largest provider of propulsion and power control systems.
Chris Wilkinson, Team Tao advisor and chief technology officer at SMD UK, explains:
"The challenge is significant and being part of the competition is very much about taking part in a journey of learning and innovating. The technologies that will come out of the XPRIZE will give us the ability to finally discover underwater resources, geological features, new species and safer methods of mapping and exploring the world's oceans."
Finalists will be formally recognised at Oceanology International's Catch the Next Wave conference in London on March 15.
In addition to Team Tao representing the UK, other teams competing in the final represent Germany, Japan, Portugal, Switzerland and the United States. Teams in the final begin Round 2 in September 2018 undergoing deep-sea tests challenging the teams to operate their solutions at depths of 4,000 meters. The winning team will be announced in December 2018.
---
Latest News