Newcastle University rises in influential Higher Education guide
Published on: 25 April 2018
Newcastle University has moved to a higher position in a prestigious national league table.
Rising for the third consecutive year, Newcastle is ranked 22nd out of 131 UK universitiesin the Complete University Guide table - moving up one place from last year.
The University has the region's highest number of courses featuring in the subject tables, at 38 - with 17 placed in the country's top 10. It ranks among the best for subjects such as Art and Design, Agriculture and Forestry, Food Science, Dentistry, Communication and Media Studies, Medicine, Archaeology, Architecture, English, Linguistics, Marketing, Aural and Oral Sciences, Creative Writing, Anatomy and Physiology, French, German, and Iberian Languages.
Professor Suzanne Cholerton, Pro-Vice-Chancellor for Learning and Teaching, Newcastle University, said: "We are delighted that the University continues to rise in the table and that 17 subjects are ranked in the top 10. This is a great achievement and a credit to the hard work and commitment of our staff and students.
"This ranking highlights our key focus on investing in and delivering the best possible environment for education."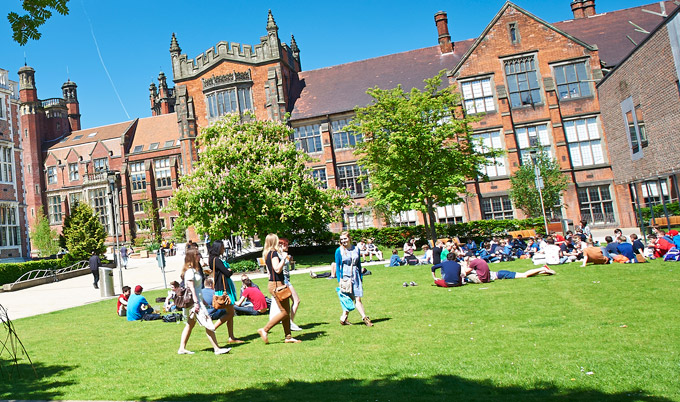 Graduate Prospects
The North East has shown an improvement in graduate employment prospects, with an average score for the Graduate Prospects measure higher than all other regions in the UK (76.9%, compared to a national average of 73%).
Ruby Gyler, BA English Language student, said: "The teaching quality is high on my course, with lecturers and seminar leaders clearly experienced in the field of English language and happy to pass that knowledge onto us as students. Lectures are informative and full of useful material, while the lecturers themselves are always happy to answer any questions or queries, either within the lectures themselves or during their office hours."
The Complete University Guide League main table is based on 10 measures: Student Satisfaction, Research Quality, Research Intensity, Entry Standards, Student: Staff Ratio; Spending on Academic Services; Spending on Student Facilities; Good Honours Degrees; Graduate Prospects and Completion.
Ellie Burn, BSc Hons Agriculture undergraduate, said: "The teaching quality is faultless. Every one of my lecturers is extremely knowledgeable due to their positions in industry or research, and are all extremely friendly and approachable.
"I went into my degree open minded about what area of agriculture I'd like to work in. However, as I'm progressing, I have looked at the idea of being a Farm Business Consultant.
"Being at Newcastle is helping me achieve my career goals as the first and second years of the Agriculture course are general and, therefore, cover all topics over a wide range of agricultural practices.
"By doing this I will have a better understanding of what modules I would like to do, and I'll have a better understanding of which ones will help me achieve my career goal."
Sustained rankings success
This latest league table results are consistent with the University's strong performance in a number of teaching and learning rankings, such as achieving a Gold Award in the Teaching Excellence Framework (TEF).
Ray Panesar, a Dental Surgery student, said: "It really does make a difference when the people teaching you are not only passionate about their subject, but passionate about ensuring you get the most out of the sessions.
"I really enjoy how varied the teaching methods are, with lectures, seminars and practicals in the first two years. The following three years incorporate plenty of clinical experience on top of all of this, and so you're never just doing the same thing over and over again."
The 2017 National Student Survey found that 88% of Newcastle University students were satisfied with their time at Newcastle, while the International Student Barometer Autumn 2017 (ISB) results demonstrate a high level of satisfaction among students from around the world, with 93% of respondents stating they were satisfied with the University.
Published last month, the Student Experience Survey 2018 positions Newcastle joint seventh in the UK, which is the fourth consecutive top 10 ranking for the University.
---
Latest News