Newcastle United Foundation MOU
University and Newcastle United Foundation announce new partnership
Published on: 25 June 2018
Newcastle University and Newcastle United Foundation have kicked off a unique partnership to work together on outreach, education and research programmes across the region.
The partners have developed a number of joint projects to encourage learning and promote healthy lifestyles that will make a significant difference to the lives of communities across the North East.
A key area of the partnership is identifying work placement and volunteering opportunities and supporting Career Insights – a Newcastle University programme designed to improve employability outcomes for widening participation students.
Set to run initially for three years, the collaboration includes a jointly-funded PhD studentship, which will involve the development and evaluation of a 12-week community-based exercise and education programme run by Newcastle United Foundation. The programme will focus on both physical and mental health and wellbeing in overweight and obese men in the North East region.
The PhD student is Oliver Bell, who currently works at the Foundation as a project officer and will be conducting the doctoral research part-time, alongside his role at the Foundation.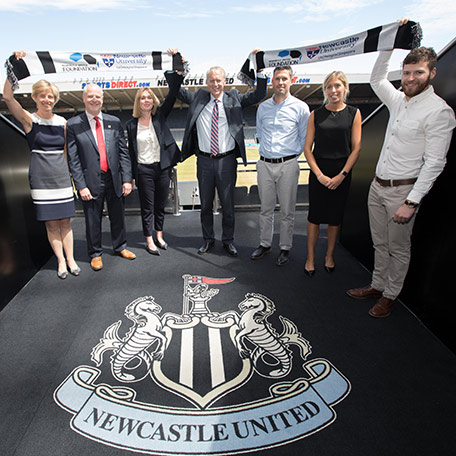 One Team
Emma Stevenson, Professor of Sport and Exercise Science at Newcastle University will supervise the PhD project. She said: "This PhD is a great opportunity to further develop health and wellbeing research with Newcastle United Foundation. The Foundation run fantastic programmes and have a significant impact on communities all across the north east.
"The PhD will enable us to quantify the potential health benefits of their new programme and also assess the longer-term behaviour change implications. We look forward to developing this relationship with the Foundation over the coming years."
This is not the first time Newcastle United Foundation and Newcastle University have teamed up to deliver joint projects. The Foundation supports FutureMe, a programme delivered as part of a collaborative project led by the University involving all five universities and 17 FE colleges in the North East.
Kate Bradley, Head of Newcastle United Foundation, said: "We're extremely proud of our collaborations to date with Newcastle University and are delighted to have formalised our association. This partnership will support our commitment to having a positive impact on the lives of people living in our community and hopefully help us identify more ways we can improve health and wellbeing in adults, and raise awareness of higher education opportunities available to young people from the disadvantaged areas we engage with."
Delivering outreach activities
In partnership with FutureMe, the Newcastle United Foundation has helped to develop and deliver the FutureMe Enterprise Challenge. Based on Premier League Enterprise, this programme of activity for young men supports young people to develop skills and knowledge relating to higher education and their own personal development.
Lucy Backhurst, Director of Student Recruitment, Admissions and Progress, Newcastle University, said: "Through working in collaboration with the Newcastle United Foundation, we've been able to deliver an innovative programme of outreach for young men under-represented in higher education – a particular issue for this region.
"Working with the Foundation has increased the number of young men we have on the programme. As a result, the partnership has already helped more young people understand the opportunities that higher education can offer them.
"The Foundation's flexible approach and willingness to incorporate higher education content alongside their Premier League Enterprise Programme has supported the delivery of a fun, engaging and impactful programme in the region's schools."
The Newcastle United Foundation is improving the lives of over 50,000 people in the local community each year, with record levels of participation across its Football, School and Community programmes. Using the Newcastle United brand, the Foundation can engage, inspire and motivate people that others cannot reach.
The new partnership will broaden Newcastle University's efforts to recruit and support the brightest and best students, regardless of background.
Photo: (L-R): Kate Bradley, Head of Newcastle United Foundation; Lucy Backhurst, Director of Student Recruitment, Admissions and Progress (Newcastle University); John Marshall, Chair of Trustees (Newcastle United Foundation); Steve Beharall, Operations Manager (Newcastle United Foundation); Professor Chris Day, Vice-Chancellor & President (Newcastle University); Professor Emma Stevenson, Professor of Sport & Exercise Science (Newcastle University) and Oliver Bell, PhD student (Newcastle United Foundation and Newcastle University).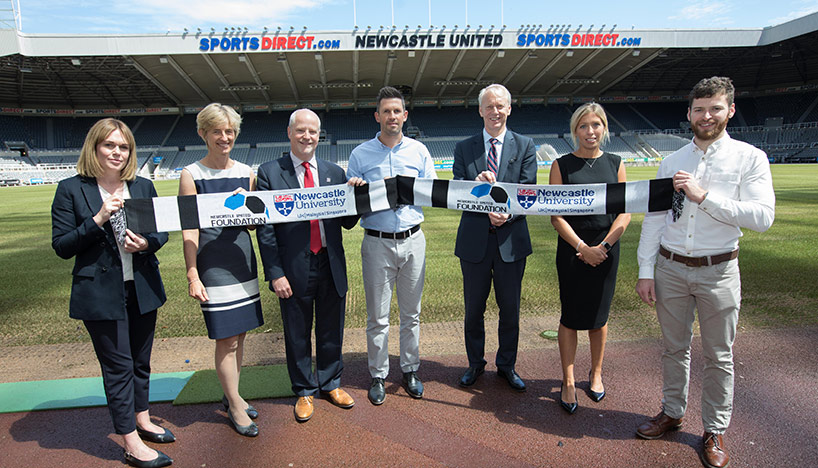 ---
Latest News