Success for student lawyers as community project wins award
Published on: 13 June 2018
A student-led scheme that helps young people gain an understanding of the legal system and how it affects them has won Pro Bono/Community Initiative of the Year at the Northern Law Awards.
Young people's legal rights
The Street Law initiative involves students from Newcastle University Law School volunteering to deliver free sessions to children and young adults aged 6 – 17 to raise awareness of issues relating to the legal system, children's rights and the law.
Since the project started in 2011, student Street Law Ambassadors have created materials to deliver interactive sessions to children and young people on legal issues such as police powers, access to legal advice, rights at school, street drinking and dispersal powers, homelessness, changes in legal status as young people move into adulthood, internet safety and awareness raising around child sexual exploitation and domestic abuse.
To date the group has delivered sessions with local groups including West End Women and Girls Centre, the Royal Air Force Air Cadets, Northbourne Youth Initiative, Safetyworks, the North East Solidarity and Teaching Project, Young Women's Outreach Project, North East Young Dads and Lads project, Investing in Children (Durham), Youth Homelessness North East as well as many local schools in the area.
The Street Law project is co-ordinated by Jenny Johnstone, Dr Hélène Tyrrell, and Jasmine Winter. To help them deliver the interactive sessions, Youth Focus North East provides training to Street Law Ambassadors to develop their communication and presentation skills.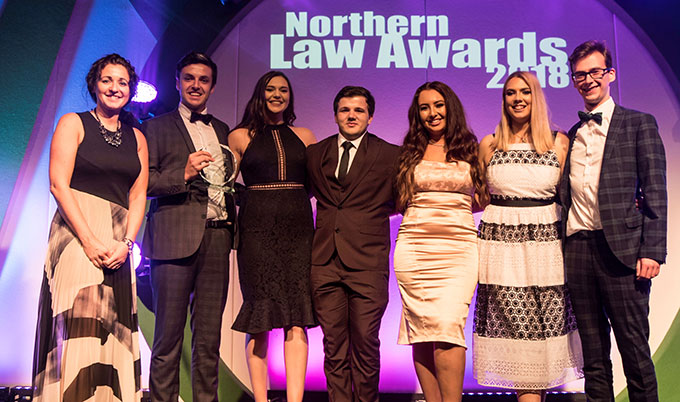 Recognising talent
Second year Law student Caitlin Stiles has been a Street Law ambassador for a year and was at the event along with several other SLAs to accept the award. She said: "Being a Street Law Ambassador has been a great opportunity to make a difference in Newcastle's community, allowing us to work with different groups and tailor our delivery to each group's needs. It has also improved our confidence, allowing us to take responsibility for our own research, and adapt to different circumstances."
Dr Tyrrell also won Law Teacher of the Year at the awards. Dr Tyrrell, a leading specialist in the area of comparative law and human rights, won the award for her innovative work and her rapport with students, including how she has supported them to develop their careers.
Another Newcastle Law School lecturer, Jennifer Stephens, was shortlisted for Law Teacher of the Year. She was appointed the first Senior Tutor in the school and led on the development of student support services in Newcastle Law School.
Professor Rhona Smith, Head of Newcastle Law School, added: "These awards not only recognise the wealth of talent our students have but are also a ringing endorsement of the quality of our teaching. For our students, this success at the Northern Law Awards is a great opportunity to recognise the valuable contribution they can make to the local community through pro bono projects. Schemes like Street Law also significantly help our students to develop and enhance their skills to prepare them for their careers ahead."
Visit our website for more information about studying Law at Newcastle University.
---
Latest News