Virtual opening for award winning Urban Sciences Building
Published on: 27 June 2018
Newcastle University's pioneering 'building-as-a-lab', which will pave the way for more sustainable, efficient developments in the future, has been officially opened in a rather unusual way.
In a move away from the traditional plaque unveiling, The Rt Hon Matt Hancock MP, Secretary of State for Digital, Culture, Media and Sport, was instead asked to unveil a 'digital' plaque - a nod to the building's role as not just a home for world-leading research but an experiment in itself.
Speaking at the launch, the Minister, said:
"I'm now feeling very nervous. In my eight years in public life I have pulled many strings to open buildings but I have never pressed a space bar to do a virtual opening."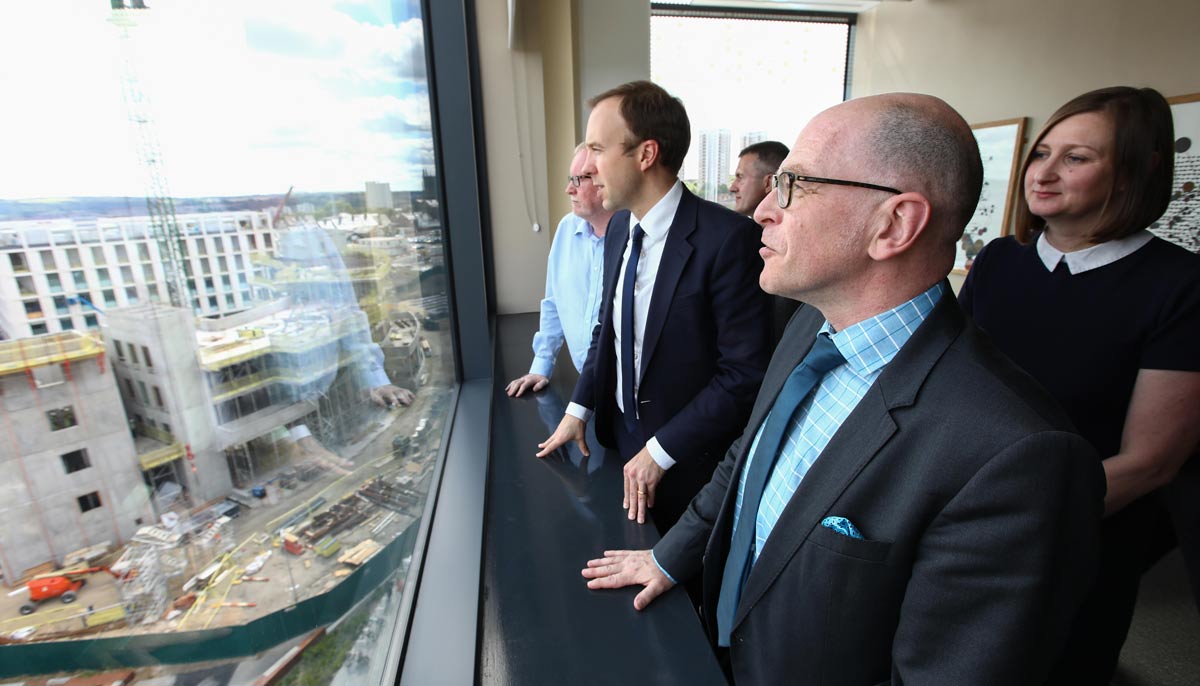 World-leading School of Computing
Based on the Newcastle Helix, a £350M urban regeneration project and the largest of its kind in the UK, the Urban Sciences Building is home to the University's world-leading School of Computing.
With more than 1,000 sensors connecting its walls, windows and fittings, this 'intelligent' building is the central hub for the UK's first Urban Observatory and a testbed for technologies and solutions that will tackle some of the most pressing challenges facing cities around the world.
Designed by Hawkins\Brown, the USB is home to more than 1,400 staff and students, with new joint labs enabling students and researchers to better create products and environments that improve our quality of life and prosperity in a changing world.
Opening the USB, Matt Hancock said:
"Winston Churchill said 'we shape our buildings and afterwards they shape us' and you have clearly put a great deal of thought into this building so that it can define the research and learning here over the years ahead.
"I know of the world-wide reputation Newcastle has, particularly in the fields of data science, technology and computing, and it is a pleasure to be here to officially open this amazing Urban Sciences Building."
Multi award-winning building
Welcoming the Secretary of State, Professor Richard Davies, Pro-Vice-Chancellor Engagement and Internationalisation, said:
"At the USB and across this site there is a focus on collaboration – both with our academic colleagues and with industry, such as the MindSphere Lab which is a partnership between Newcastle University and Siemens.
"We are incredibly proud of this multi award-winning building and delighted the Secretary of State is here to officially open it for us."
Professor John Fitzgerald, Head of the School of Computing, added:
"We're delighted that the Secretary of State joined us to celebrate the USB's completion. With the amazing developments in and around the building on Newcastle Helix, we'll give the next generations of technology professionals a uniquely lively environment in which to learn computing and data skills for careers in a technological future that today we can hardly imagine."
Newcastle Helix
Formerly Science Central, the Newcastle Helix site is a partnership between Newcastle University, Newcastle City Council, and Legal & General.
Already home to the USB and The Core, a seven-storey home for knowledge based science and technology SMEs, the third building on the site – the 'Newcastle Laboratory' – will open later this year, providing laboratories and offices for a wide range of science-based companies, primarily life science and healthcare.
The next two years will see the opening of the National Innovation Centres for Data and Ageing, and Newcastle University's £29m Learning and Teaching Centre.
Bringing together academia, communities, business, industry and the public sector, the aim is for Newcastle Helix to improve the lives of people not just in Newcastle, but all over the world.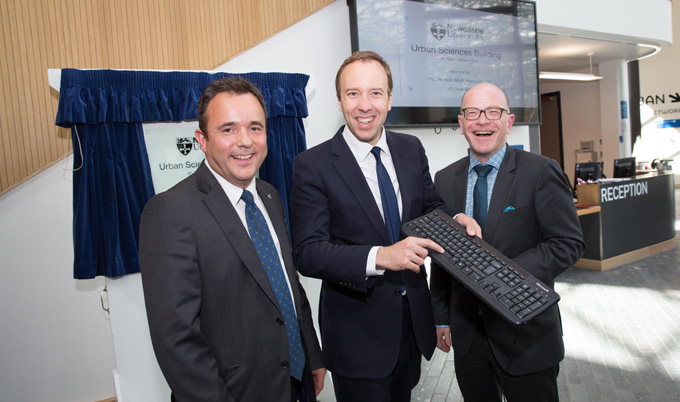 ---
Latest News