Graduating archaeologists uncover family happiness
Published on: 24 July 2018
It's a family affair as a proud father graduated with his daughter and son at Newcastle University.
Joining almost 5,000 students at the University's summer congregation ceremonies, John and Henry Bowman graduated together with degrees in Archaeology. A week before the duo's special day, John's daughter, and Henry's sister, Charlotte, graduated with a degree in Zoology.
John, from Hexham, Northumberland, returned to Newcastle University following his undergraduate degree in History of Archaeology in 2011. He gained a PhD after investigating the iron and steel industries in the Derwent Valley.
He said: "As a family, this is a chance to come together and celebrate the achievements and hard work we've all made over the last few years.
"The experience on the course, and at the University, has been very positive. For me the highlights were all the research digs, usually as a supervisor. The chance to see things that people haven't seen for probably hundreds or thousands of years is amazing."
Following his graduation, John will be focussing on research. He has already had an article published in an academic journal and is currently working on several academic papers. He is hoping to become a university lecturer.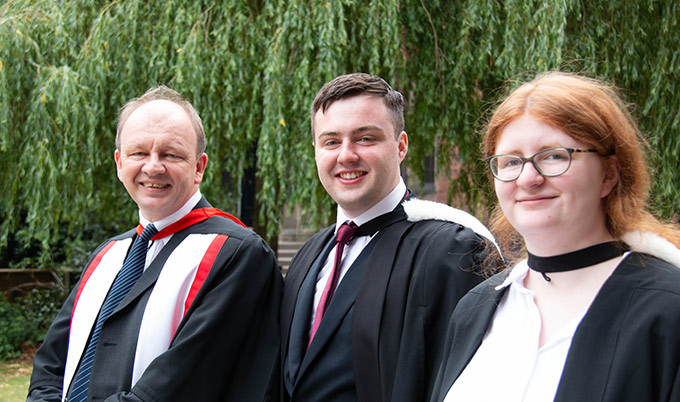 Top-ranked student experience
Henry used to go the digs and help his father as a schoolboy, thanks to his excellent drawing and surveying skills.
For his dissertation, the BA Hons graduate analysed tree carvings in the region, to determine whether people who lived in this region can be identified by these carvings.
Henry said: "We've been waiting for our graduation day for an incredibly long time. Since my A Levels, I've been working towards this moment, and my dad has been working for a very long time for his PhD as well.
"I enjoyed all the research digs in the past three years. I've also been enjoying all the social activities at the University, such as the Art Club and the Debating Society.
"It was great to meet many people in my course and across the University. At the digs I was also able to meet people from all over the world, some of whom I'm still in contact with."
Despite the strong family interest in Archelogy, Charlotte enrolled on a BSc (Hons) Zoology programme at Newcastle University. She analysed bird songs for her dissertation and now plans to pursue her interests in Palaeontology.
Charlotte said: "I'm happy that we are graduating together as a family. There wasn't any pressure for me to study Archaeology, so I decided to focus on Zoology and Palaeontology.
"I chose Newcastle, because with dad having studied here, I knew it is a very good university. Newcastle is an excellent area and the experience has been very good, with practical course work and many field activities."
Extracurricular projects
Charlotte and Henry took advantage of the range of extracurricular projects available at Newcastle University. Charlotte took a year-long placement at the Great North Museum: Hancock, while Henry taught Art at the Newcastle School for Boys for two days per week during his placement.
Henry said: "I would urge anyone considering Archaeology at Newcastle University to go for it. It's been a good a good experience and staff are very helpful."
Henry is considering doctoral training, but at the moment he intends to focus on finding a job for the next few years. He is planning to seek support from Newcastle University Careers Service and his tutors to help him land his 'ideal job' in artefact illustrations.
Newcastle University will have Clearing places available for high-achieving applicants. Students can visit the Clearing website: http://www.ncl.ac.uk/clearing/ to check available courses. Clearing hotlines open at 07am on Thursday 16 August.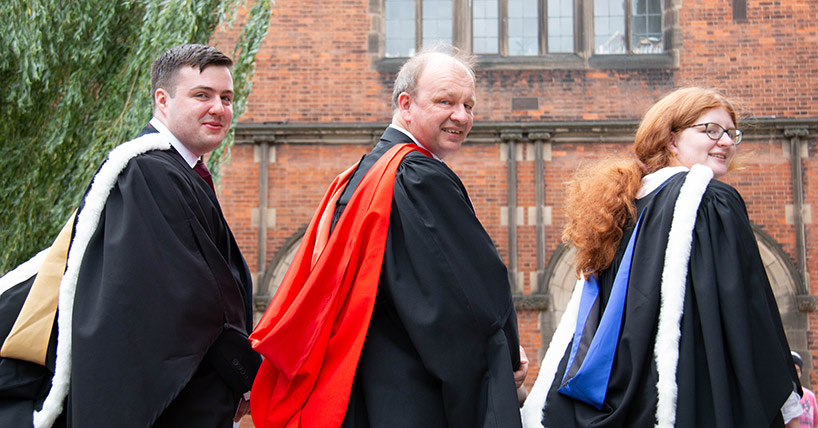 ---
Latest News