Great Exhibition campus art
Unique art showcased on campus
Published on: 24 July 2018
A special programme of art created by staff at Newcastle University, many of whom are leading artists in their own right, is being showcased on campus this summer.
Thriving artistic hub
The University's main campus is already home to a number of permanent public artworks by noted artists. Over the coming weeks, these will be joined by several pieces that are being temporarily installed as part of the University's 'Inspired by' Great Exhibition of the North programme.
One of the first works to go on show is Vessels by Professor Andrew Burton, a leading visual artist with an international reputation for his work in ceramics.
Vessels was originally made for an outdoor sculpture exhibition in Sydney before moving to Barcelona. The work can now be seen in the courtyard in front of Merz Court.
Working with some of the University's recent Fine Art graduates, Andrew made each vessel from thousands of tiny ceramic bricks, each one handmade and individually fired. Many of these bricks had been used in some of Andrew's earlier, temporary sculptures. Scraps of paint, cement and glaze often remain on these broken up bricks and over time they begin to convey a sense of history and memory of the earlier work, provoking questions about recycling and sustainability.
Other work planned to go on display is Who we are – a sculpture by Katie Cuddon, a Reader in Fine Art. The ceramic sculpture has been conceived and created especially for the Old Quadrangle outside the King Edward VI building, where it will be placed. Much of Katie's work explores psychological representations of the body and this latest piece depicts a female figure with their arms upstretched in an empowered, celebratory pose. It is due to be installed in August and can be viewed until the Autumn.
Professor Eric Cross, Dean of Cultural Affairs, Newcastle University, said: "Even during the holiday period, the University continues to be a thriving artistic hub where staff, students and graduates, as well as visiting artists, can showcase their creative work. The Great Exhibition of the North is an excellent opportunity to highlight the wealth of talent on campus, and I would encourage anyone working or studying at the University or just visiting to take time out to explore some of the amazing work on show."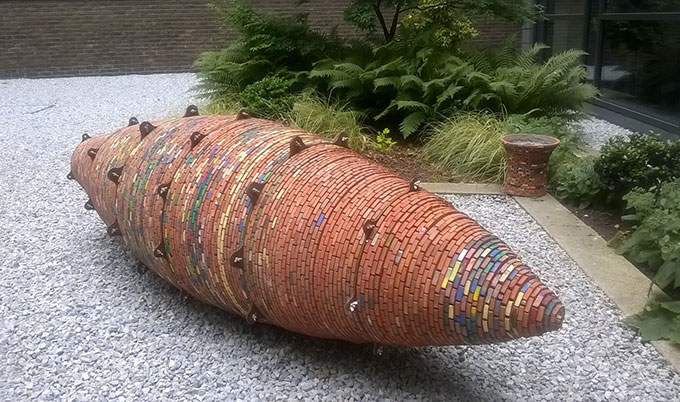 Unique performances
The programme also includes a number of innovative sound installations and performances.
On 26 July, Orchestra of rocks: Not a rock concert will take place in the Boiler House, King's Road. An immersive installation combining sculpture and sound by Uta Kogelsberger, senior lecturer, and developed in collaboration with Atau Tanaka, this event takes its cue from Uta's previous work Playing the Cave, which was developed in the mouth of a disused slate mine in the Lake District. Featuring live performances by sound artists, the audience will be able to listen to Orchestra of Rocks: Not a Rock Concert through giant, free standing 'rock' speakers that evoke the environment inside the cave.
This will be followed on 18 August by a unique performance by experimental sound group Drone Ensemble in the Boiler House. The group, which includes Joe Sallis, technician in the University's Fine Art department, uses hand-built instruments inspired by musical traditions from around the world but that are unique in their construction and sound, producing complex, rich sounds and thunderous rhythmic patterns. Drone Ensemble will be joined by special guests at various times throughout the performance, and audience members are welcome to experience the seven hour performance in its entirety or drop in to the Boiler House throughout the day.
A sound installation exploring the sounds and voices of the bridges that span the River Tyne will take place from 8 August to 9 September in the Long Gallery, accessed via the Hatton Gallery. Created by David de la Haye and James Davoll, technicians in the School of Arts and Cultures, Bridges is a series of recordings exploring how the iconic crossings resonate during their daily interaction with the ebb and flow of people, transport and the river itself. Using bespoke controllers, audiences will be able to make their own sonic exploration of the bridges to create a unique soundscape.
For details of these and other events on campus taking place as part of the University's 'Inspired by' Great Exhibition of the North programme see our 'Inspired by' events listing.
---
Latest News