What is the role of a university in society? New book explores this
Published on: 30 July 2018
Former Vice-Chancellor, Professor Chris Brink, has returned to Newcastle University to launch his new book which explores the role of higher education in society.
The Soul of a University: Why excellence is not enough, provides an in-depth analysis of why universities should have a social purpose as well as achieve academic excellence.
The book builds on two fundamental questions that were key to Professor Brink's leadership during his nine year tenure at Newcastle University: "What are we good at?" and "What are we good for?"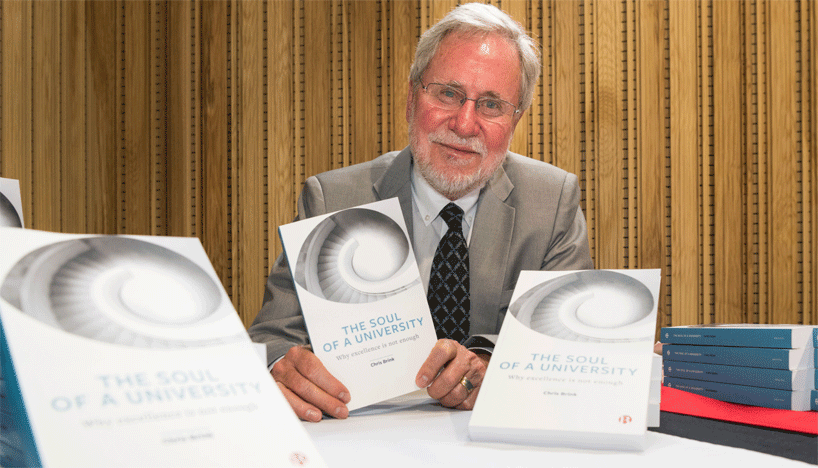 Societal challenges
At a time when an obsession with rankings and league tables has fuelled inequality and is preventing social mobility, Professor Brink highlights how universities can – and should – respond to societal challenges and promote positive social change.
Professor Brink, who now lives in Franschhoek, South Africa, said: "I am delighted to be back in Newcastle for this event.
"My book deals with the role of a university in civil society. This is a topic on which there is a long history, a firm commitment and a lot of expertise at Newcastle University, so the launch is happening in exactly the right place."
As Newcastle University's Vice-Chancellor, Professor Brink was credited with leading a transformational project that put teaching quality, diversity and research for public good at its heart.
He championed the vision of a world-class civic university, ensuring that the institution's research and teaching focused on tackling some of the major challenges facing global society.
Through his leadership, the University gained world-renowned recognition for its work in addressing the challenges of ageing, sustainability and social renewal.
Professor Brink's notable achievements include the Government's backing for two new National Innovation Centres, one in Ageing Science and the other in Big Data. Both will be housed in a new Innovation Building at Newcastle Helix, formerly Science Central, which is a test-bed for urban sustainability research and is itself one of the big advances for the city and the University arising from Professor Brink's time in office.
At the book launch, Professor Brink was joined by Professor Julie Sanders, Deputy Vice-Chancellor at Newcastle University, and Dianne Nelmes, a broadcasting consultant, for an informal panel discussion and question and answer session around the key themes in the book, such as rankings and league tables, quality in higher education, and the role of a civic university.
The discussion was chaired by Professor Mark Shucksmith, Director of the Newcastle University's Institute for Social Renewal.
'Good university' vision
Professor Shucksmith said: "Professor Brink inspired many of us at Newcastle University with his vision of a 'good university'.
"His vision was a university which considers not only what it is 'good at' but what it is 'good for', addressing the challenges facing our society while also pursuing excellence in research and teaching.
"For several years, I was privileged to work with Professor Brink in this noble endeavour and I hope this book will help his vision to endure, despite pressures from rankings and marketisation to conform to a narrower model of universities.
"His inspirational new book places all this in a deeper historical, philosophical and political context and enriches his powerful argument. The book is also a delight to read, full of humour and insight."
A number of influential commentators have reviewed the book and say it has a "good sense and wisdom" and is "brave and timely".
Nicola Dandridge, Chief Executive of the Office for Students, said: "This is a profoundly original and inspirational book, written with erudition, wit and uncompromising integrity. It is a joy to read."
Publisher
The Soul of a University: Why excellence is not enough is published by Bristol University Press.
The book is £14.99 and can be ordered here: http://bristoluniversitypress.co.uk/the-soul-of-a-university
Bristol University Press offers a 20% discount on their website, or 35% if people sign up to their mailing list: http://bristoluniversitypress.co.uk/signup-bup-pp
---
Latest News