£5 million to tackle UK's fastest rising cause of cancer
Published on: 20 September 2018
Scientists at Newcastle University are set to spearhead a multi-million pound research project that could revolutionise treatment for people with liver cancer.
Professor Helen Reeves and her team at Newcastle University will lead a joint UK and European project with around £5 million funding from Cancer Research UK and two of Europe's leading cancer research charities to help find better treatments for liver cancer – the fastest rising cause of cancer death in the UK.
Liver cancer deaths have more than tripled in the UK since the 1970s. The disease is linked to smoking, infections, drinking too much alcohol, and being overweight or obese.
Every year around 300 people are diagnosed with liver cancer in the North East and the incidence rate of liver cancer in the North East is higher than England average.
While prevention measures are critical for tackling this disease, more research is urgently needed to improve treatments and outcomes for patients. Liver cancer is one of the hardest cancers to treat, with only 11 % of patients in Europe and 9 % in England surviving their disease for five years or more.
To accelerate progress into liver cancer research, Professor Reeves will lead a project to establish a European and UK network of clinicians and scientists specialising in hepatocellular carcinoma (HCC) – the most common primary liver cancer in adults in the UK.
The researchers' aim is to adapt immunotherapy treatments, which have shown an increase in survival in other cancer types, to treat HCC.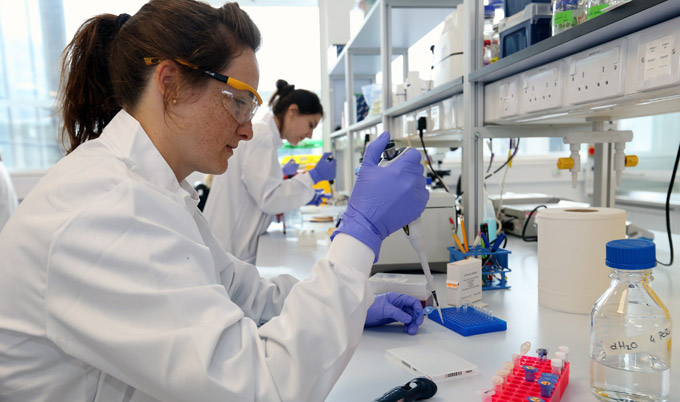 Targeting immunotherapy
Professor Helen Reeves, who is Professor of Liver Cancer at the Northern Institute for Cancer Research and treats patients at the Freeman Hospital in Newcastle, said: "The North East is probably one of the areas where the increase in liver cancer has been most striking. For advanced disease – where survival is extremely poor, only several months for some patients – we don't have very effective treatments and it is soul destroying as a doctor to have nothing to offer to these patients."
She continued: "Immunotherapy treatments are starting to transform the way we treat cancers, but in liver cancer, early results suggest that these treatments only work in a small number of patients.
"Our team thinks there's great potential for immunotherapy to treat many more liver cancer patients, but first we need to deepen our understanding of the ways in which the cancer switches off the immune system – so we can develop a number of strategies to switch it back on.
"For the first time, there is the hope of offering treatments that for some add extra months or even years of life. Going forward, combinations of drugs including immunotherapies, may offer benefit and hope to patients that have had none before."
Newcastle, which is an internationally renowned centre of academic excellence for liver disease, will be the nerve centre for the multimillion pound project – sharing data with scientists across the UK and Europe.
With the close involvement of Professor Derek Mann, Dean of Research in the Faculty of Medical Sciences at Newcastle University and a world expert in liver disease, the project will lay the groundwork for a Europe and UK research pipeline to ensure basic biological research into liver cancer and the immune environment translates into finding new treatment combinations for preclinical testing.
Next generation of cancer researchers
As part of the grant, the next generation of early career scientists and clinicians will be trained, including scientists and young clinical academic trainees in Newcastle, creating a critical mass of experts to carry this research forward.
The £5 million project is being funded by Cancer Research UK and two of Europe's leading cancer research charities, Associazione Italiana per la Ricerca sul Cancro (AIRC) and Asociación Española Contra el Cáncer (FC AECC).
Dr Iain Foulkes, Cancer Research UK's executive director of research and innovation, said: "Over the last decade, liver cancer deaths have increased by over 50%. We haven't seen improvements in treatments that we have for other cancer types, so new, international research efforts like this provide hope that we can turn the tide against liver cancer.
"Cancer Research UK has made this investment to transform our understanding of the disease, in hope that it will lead to novel treatments for patients who currently have few options."
This award of around £5 million is one of six research projects to receive funding from Cancer Research UK's Accelerator Awards programme – a funding scheme designed to speed up progress in translational research through collaborations across the UK and in Europe.
Dr Victoria Steven, Cancer Research UK spokesperson for the North East, said: "This award is fantastic recognition of the world leading research that's taking place in Newcastle, which will help shape a better future for liver cancer patients.
"One in two of us will be diagnosed with cancer at some stage in our lives, but the good news is more people are surviving the disease now than ever before. Cancer survival in the UK has doubled since the early 1970s and Cancer Research UK's work has been at the heart of that progress."
---
Latest News