To trust or not to trust?
Published on: 5 November 2018
Leading experts are embarking on a major new project to explore how to re-gain the public's trust in digital technology.
Led by Newcastle University, UK, and supported by Atom bank, the UK's first bank built exclusively for smartphone or tablet, researchers are embarking on a three-year FinTrust project that will look at the role of machine learning in banking, particularly in the context of automated lending decisions and whether these lead to bias and financial exclusion.
Professor Aad Van Moorsel, Professor in Cyber Security at Newcastle University and project lead, explains:
"Modern-day financial services increasingly rely on 'robo-advice', in which smart algorithms will make automated decisions about mortgages and other financial matters in seconds.
"But no-one knows if computers rather than humans making decisions increases the risk of bias against certain groups of people and whether this could lead to new forms of financial distress and financial exclusion.
"This innovative project will explore how consumer trust in banks and financial services can be enhanced while retaining the benefits of mobile banking that we now take for granted."
Edward Twiddy, Chief Innovation Officer at Atom bank said:
"As more and more of us choose to use mobile banking and interact using bots driven by Artificial Intelligence, we need to know how to create relationships based on trust between companies and customers. There are massive benefits for customers from better use of personal data, but realising these benefits has to be done in a secure way, without bias and ultimately in a manner that builds and maintains trust.
"Atom will use the outputs from the research to inform and improve the design of future innovative products and services. One of the first applications of the research will be in the development of our blockchain to build better mortgages, a major innovation project drawing on blockchain expertise from Newcastle University's Computer Science department and crypto-statisticians at the University of Durham's maths department."
In his role as Strategic Board Advisor, Atom are also learning from will.i.am's expertise in the tech industry and his unique perspective on the ever-changing dimensions of a digital world. will.i.am commented: "People must have the absolute right to benefit from their own data, and they must also have confidence in the companies they choose to deal with. Banks like Atom, who are designing innovative digital financial products, need to be setting the standards regarding the safeguarding and use of personal and financial data. This joint research initiative will provide a deeper understanding into how people and technology need to evolve side by side and will help set these new standards of trust."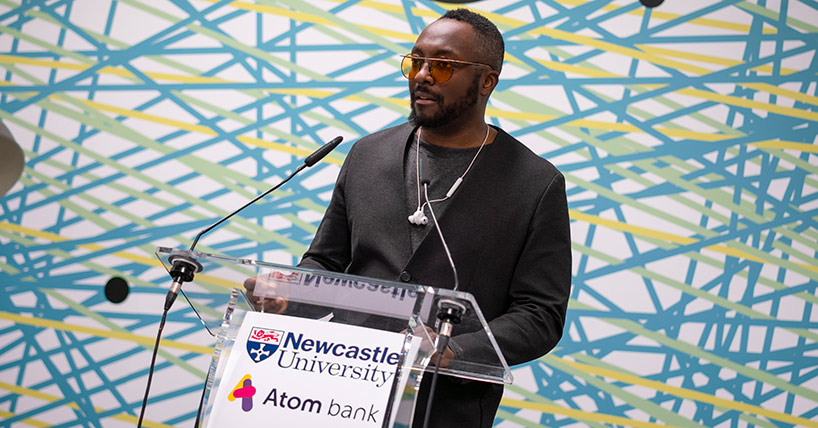 Building 'trustworthy' systems
Ten years after the 2008 banking crisis and following recent stories about data security, there are still poor levels of trust in the financial services sector.
The FinTrust project is funded by a £1.2m grant from the Digital Economy (DE) Theme, led by the Engineering and Physical Sciences Research Council (EPSRC), part of UK Research and Innovation. The Theme addresses socio-technical transformational effects presented by the rapid advances in digital technologies. A key priority is research challenges around the broad area of Trust, identity, privacy and security (TIPS).
Dr Karen Elliott, joint project lead based at Newcastle University Business School, explains:
"Recent media reports about the exploitation of personal data and high profile technology breaches have increased public awareness of potential drawbacks of the digital age. At the same time, the success of new challenger banks like Atom shows that consumers want the convenience that the technology offers.
"The challenge is finding a way to adopt technology in a secure but customer-focused way that doesn't differentiate between particular groups if we're to build trust in the services and companies with whom we share our personal data."
Professor Van Moorsel adds:
"The advances in the interconnectedness of devices, data and people present both opportunities and challenges.
"For example, in many financial systems there's a bias against women, based on years of data when women traditionally worked for less time and money.
"We can't create a completely fool-proof system but what we can do is give industry the tools to address bias in the system.
"And that is our ultimate goal – to work with Atom Bank to produce a 'trust toolkit' – the next disruptive technology that could prove to be a game changer in the market, building public trust in the financial technologies industry."
As well as reducing bias, the team are investigating what makes us more likely to trust a service and what constitutes 'trustworthiness' of the organisation and online transactions.
"One way to do this is to understand and create and test a prototype 'trustworthy' bot," explains Dr Elliott.
"We're increasingly blurring the social with the digital – on our phones and in our homes – but people remain sceptical of services facilitated by 'bot'."
"A bot can't advise but with an in-built trust metre it could be taught to respond to people in a more trustworthy manner."
Professor Tom Rodden, Deputy Executive Chair of EPSRC said:
"The potential exists for personal data about, for example, behaviour, lifestyles and consumption, to transform business models and underpin new public and private services in the digital economy. At the same time, the emerging application opportunities offered to individuals by new technologies, such as the Internet of Things, across healthcare, sustainable living and quality of life, rely increasingly on the capture and processing of personal data.
"A key element needed to make the most of the potential of personal data for change is an ecosystem that protects the interests of the individual and builds confidence that digital economy services will use personal information responsibly while enabling new commercial and societal opportunities for innovation.
"To enable technical innovations in this space that can scale to deliver meaningful economic and social impact and secure competitive advantage for the UK requires interdisciplinary and user-driven research."
---
Latest News