Community Impact Award for positive work in the community
Published on: 6 December 2018
The University and its Students' Union have been recognised with a Community Impact Award for their work in improving student-resident relationships in the city.
The UK Town and Gown Association (UKTGA) praised the collaboration between our University, Newcastle University Students' Union, Northumbria Police, Newcastle City Council, residents and other stakeholders, which has tackled some of the main issues associated with student-resident relationships: noise, litter and neighbourliness.
Marc Lintern, Director of Student Experience, said: "I am delighted that the University and Students' Union have won this award. It reflects hard work by our staff and sabbatical officers, as well as colleagues in Northumbria Police and Newcastle City Council, and residents in Jesmond who have worked with us to start bringing about positive change.
"Improving student-resident relationships can only be a good thing, for our students and the permanent residents they live alongside. The different lifestyles of students means that this will always be a challenge, but we are committed to doing as much as we can in order to create harmonious relationships."
Sophie McDermott, Activities Officer, Newcastle University Students' Union, collected the prize. She said: "It was an honour to represent Newcastle at the conference and to receive this award, recognising all the hard work that our community has put in to make this possible."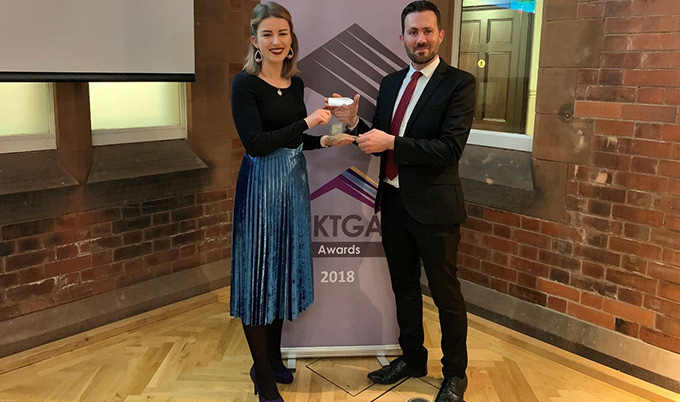 Making a real difference in the community
This award follows on from the decision to extend Operation Oak​ to cover the final weeks of term. Funded by Newcastle and Northumbria universities, Operation Oak is a £70,000 joint initiative which pays for extra police patrols on Wednesday, Friday and Saturday nights during term time as well as four week periods at the start and end of the academic year.
Cllr Joyce McCarty, deputy leader of Newcastle City Council​, said: "The project has made a real difference to our communities. Newcastle University have worked so hard with residents and partners to promote positive relations with students - this reward is well deserved recognition of the innovative work that has gone on."​
Focussing on four key areas of Jesmond, Sandyford, Heaton and Ouseburn, the extension to ​Operation Oak runs alongside Leave Newcastle Happy, a recycling and tidy up campaign led by Newcastle University's Students' Union. Now in its fifth year, this end of term campaign combines recycling on behalf of the British Heart Foundation with a two-week clean-up campaign focussed in and around Jesmond.
With the help of both staff and student volunteers, last year's campaign raised £250,000 for the British Heart Foundation from a total of 18,000 bags which were collected by students. The campaign helped divert 143 tonnes of waste from the landfill.
The improved relationships with residents can be seen in the community's positive embracing of a new competition called 'Best Neighbour On Campus' (BNOC). Launched in 2018, BNOC encourages permanent residents to nominate students or households who have had a positive impact on the area where they live, either through volunteering, supporting local residents or simply by being considerate, responsible neighbours. The winning households receive a cash prize of £1,000. This competition will be re-launched again in the New Year, and has been extended to include Northumbria University.
More information about the work we are doing to support and guide our students to stay safe, be good neighbours, and make a positive impact on the local community can be found on our Community Living pages.​
---
Latest News