Lindisfarne Christmas shows
Lindisfarne's Christmas gift to help children with cancer
Published on: 18 December 2018
Legendary North East folk rock band Lindisfarne are using their traditional Christmas Shows to raise vital funds and awareness for paediatric oncology research at Newcastle University.
The Lindisfarne Christmas Shows are back for another year, taking their traditional place as the calendar musical event heralding the fun of the festive season in Newcastle.
Fans will pack the City Hall on Friday and Saturday to hear their favourite tunes, and the band will give a donation to Newcastle University's Wolfson Childhood Cancer Research Centre and Future Fund.
Money will be raised through the sale of the Lindisfarne Chronicle - a glossy full-colour magazine produced periodically for sale at venues throughout the country, including Newcastle City Hall. Copies are available at £5 each.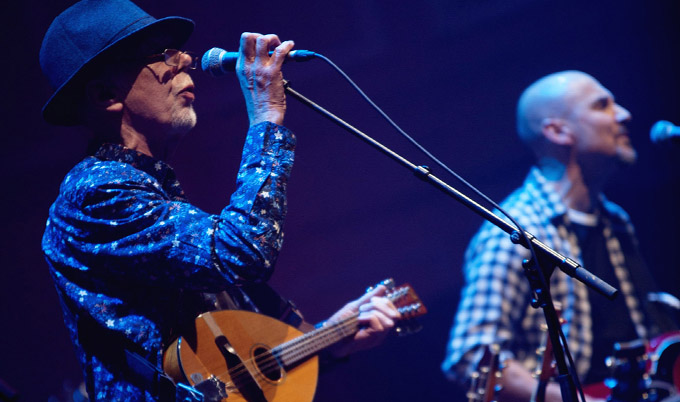 Vital research
Professor Steve Clifford, Director of the Northern Institute for Cancer Research, said: "We are delighted that Lindisfarne are kindly supporting our research at their annual Christmas shows.
"We are fortunate to have an internationally recognised team of specialists focused on research into childhood cancer here in Newcastle and we work hard on making breakthroughs that will improve the outcomes of children with cancer.
"The kind support of our donors and patrons help us to continue to develop targeted treatments which will save more lives, and reduce the long-term side effects for childhood cancer patients."
Lindisfarne's founding-member Rod Clements, along with long-term band members Steve Daggett, Paul Thompson, Ian Thomson and Dave Hull-Denholm, are supporters of the Wolfson Childhood Cancer Research Centre and Future Fund.
The band has been patrons and supporters for a number of years, and this year marks the fifth successive year the band has promoted and supported Newcastle University's campaigns through their Christmas Shows.
Proud supporters
Rod Clements said: "We're very much looking forward to making our annual Christmas appearances at Newcastle City Hall, and once again we're proud to be supporting the Future Fund and the Wolfson Childhood Cancer Research Centre.
"We first became aware of the great work that the experts at Newcastle University do a few years ago when a friend's young daughter was diagnosed with cancer.
"Through our involvement, we have met many people around the country whose lives have been touched by this disease, so we've become increasingly aware of the importance of this Newcastle-based project and we've come to feel a personal connection with the team."
Ticket information
Lindisfarne Christmas Shows.
Newcastle City Hall, Friday 21st December and Saturday 22nd December 2018
Doors open 6.45pm / show begins 7.30pm
Tickets £35 / £25 / £20 available from Theatre Royal / City Hall Box Office 08448 11 21 21
https://www.theatreroyal.co.uk/
---
Latest News