Newcastle expert in ageing named among Nation's Lifesavers
Published on: 16 May 2019
A leading academic from Newcastle University has today been recognised for her exceptional contribution to keeping the nation healthy.
Professor Dame Louise Robinson, Director of Newcastle University's Institute for Ageing, is one of the Nation's Lifesavers – the top 100 individuals or groups based in universities whose work is saving lives and making a life-changing difference to our health and wellbeing.
They have been named for the first time today as part of Universities UK's MadeAtUni campaign, which brings to life the impact of universities on everyday lives.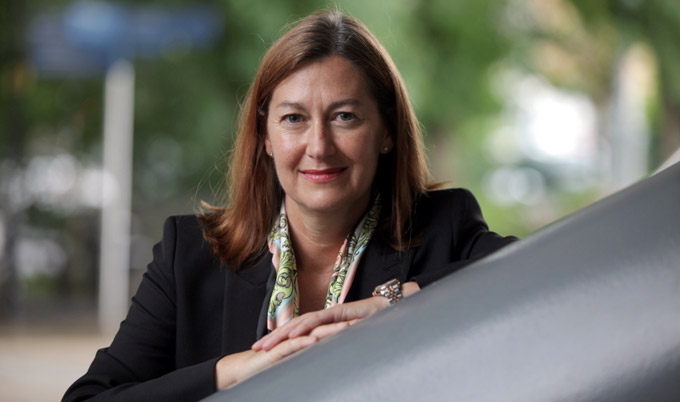 Leader in ageing
As Director of the Institute for Ageing, Dame Louise looks after more than 700 academics and she was key in the £40m Government bid for Newcastle University to host the National Innovation Centre for Ageing (NICA) - the first to bring together a collaboration of business, academia and the public to develop products and services to improve lives as we get older.
Her research, published in more than 120 academic papers, focuses on helping people remain independent in old age and facilitating healthy ageing across their lifetime.
By Royal appointment, she received the only Regius Professorship of Ageing and was recently made a Dame.
Her work to improve the care of those with dementia was recognised with the first NIHR professorship for her 'Living well with dementia' programme.
Dame Louise has twice been awarded the National Clinical Champion for Ageing by the Royal College of General Practitioners, she is currently leading a £2m Global Health Research programme.
Dame Louise said: "I have been passionate about improving care for people with dementia since I was a young GP.
"Joining Newcastle University as a Lecturer allowed me to develop a personal research programme in the area of dementia care and witness how my academic career has improved the quality of care for older people, not just at a local level but nationally and internationally."
The Alzheimer's Society funded £1.7m for Dame Louise to set up a 'Centre of Excellence' at Newcastle University for dementia care research.
Fiona Carragher, Chief Policy and Research Officer at Alzheimer's Society, said: "Professor Dame Louise Robinson is working on the frontline of dementia research, bringing real change to the people who need it the most.
"Her recognition as one of the Nation's Lifesavers reflects her commitment and passion to tackling dementia as a clinician and a researcher, improving the available support for people with dementia at every step, from diagnosis to end of life.
"We are delighted to be supporting her research through our ground-breaking Centre of Excellence PRI-dem, based at Newcastle University, which aims to end the postcode lottery of dementia care after diagnosis across the UK.
"It is dedicated researchers like Professor Dame Louise Robinson who will pave the way to breakthroughs that will ensure the 850,000 people living with dementia in the UK receive the care they need and can live well."
Nation's Lifesavers
The Nation's Lifesavers are fighting diseases, helping new parents and children enjoy the best start in life, supporting older people and improving our mental health and wellbeing. The selection reveals the amazing use of technology, such as drones to fight malaria, a smart glove for communicating sign language and robots helping older people.
Universities from across the country were invited to nominate an individual or group who has made a significant contribution to the nation's health and wellbeing. Over 100 universities from Plymouth to Dundee submitted a nomination.
Professor Chris Day, Vice-Chancellor and President of Newcastle University, said: "It is a fantastic honour that Professor Dame Louise Robinson is featured as one of the Nation's Lifesavers for her world-leading work in dementia research.
"The MadeAtUni campaign is a great chance to celebrate the many ways universities are having a significant impact on our everyday lives."
Research shows the public are proud of UK universities but have little understanding of the benefits they bring, with most not being aware that UK academics are behind many of the discoveries that save lives and keep us healthy.
The MadeAtUni campaign gives the public an insight into some of this work and celebrates those who made it happen.
Celebrating universities success
Professor Dame Janet Beer, President Universities UK, said: "When people think of lifesavers they tend to focus on the dedication and skill of our doctors, nurses, carers, and paramedics – many of whom are trained at universities.
"Every day, up and down the country, universities are also working on innovations to transform and save lives. Research taking place in universities is finding solutions to so many of the health and wellbeing issues we care about and the causes that matter.
"By proudly working in partnership with charities, the NHS and healthcare organisations, universities are responsible for some of our biggest health breakthroughs and in revolutionising the delivery of care.
"This campaign is a chance to bring to life the wonderful and often unexpected work going on every day in our universities and to celebrate some of the people working to make a life-changing difference to the nation."
More information about MadeAtUni the campaign can be found at www.madeatuni.org.uk
---
Latest News