Women's Entrepreneurship Week
Women entrepreneurs share the secret of their success
Published on: 21 October 2019
Up and coming businesswomen are sharing the secrets of their business success, as part of Women's Entrepreneurship Week.
Celebrating women entrepreneurs
Many of them are graduates of Newcastle University Business School and have taken part in a series of podcasts produced by the school especially for Women's Entrepreneurship Week. Each podcast focuses on the women's entrepreneurial experiences, inspiration and achievements.
The series of discussions cover topics as diverse as harnessing passion and creativity, adapting to different cultures, developing personal resilience and hints for retaining a healthy work-life balance.
In the podcasts, the women also talk about what inspires them, their biggest achievements and share the best piece of advice they have received.
The podcast series has been put together by the Leadership Development and Organisations Futures team at Newcastle University Business School to mark the sixth annual Women Entrepreneurship Week, an AACSB International global movement to celebrate and inspire women founders. Running from 19-26 October 2019, more than 200 institutions across 32 countries are participating.
Professor Sharon Mavin, Director, Newcastle University Business School said: "As part of this year's Women's Entrepreneurship Week, we wanted to celebrate the amazing women we collaborate with in an inclusive way to ignite the entrepreneurial spirit with others inside and outside the University.
"Each of these women have shown determination, purpose and creativity in setting up their business and we're very grateful to them for sharing their experiences with us."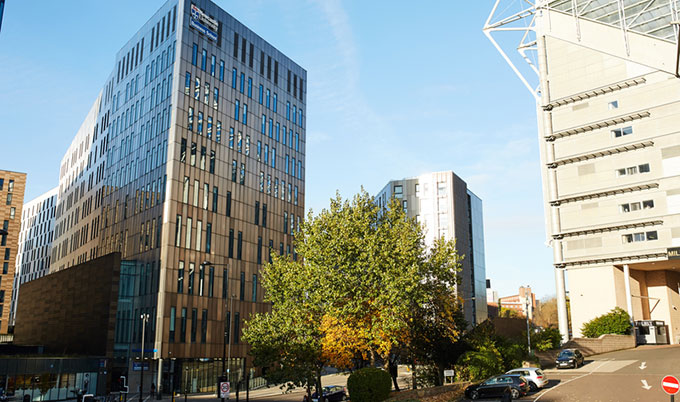 Sharing lessons learned
Among those taking part in the podcast series are Claire Rolston, owner of CLR Law, which specialises in employment and HR law. Clare talks about her experience of setting up a business during a recession and the lessons she has learned in the ten years it has been running.
Also taking part are Sarah Zong, founder of CatPawCino, and Melisa Martinez Cortes, founder of Mexicatessen – both Newcastle University Business School graduates. Sarah was inspired to bring the novel concept of the cat café to Newcastle after visiting a similar café while on holiday in China, while Melisa set up Mexicatessen to share the real taste of Mexico. From starting initially with supper clubs in friends' houses, Melisa has built the business to now offer pop up events and home experiences.
The other women sharing their experiences are Sheri-Leigh Miles, of NET Positive Futures, Louisa Rogers, Founder of Trendlistr, Weiting Huang and Shiyu Liu, co-founders of Busy Backpack and Gretel Ferat Dixon, a Start Up Advisor at Newcastle University.
Each of the seven free podcasts are available on Newcastle University Business School's You Tube channel.
Addressing grand challenges
The Leadership Development and Organisation Futures Team work in partnership with businesses of all types across sectors to enable leaders to foster an environment for innovation and sustained growth. They work with business leaders to understand how they can address grand challenges such as sustainability, big data, the increasing pace of technological change, and an ageing and diverse workforce. To find out more email external.engagement@ncl.ac.uk
---
Latest News