City students pull together to help their communities
Published on: 14 January 2021
Students from Newcastle and Northumbria Universities have been praised for going the extra mile, at a very challenging time, to support their communities and those in need during the pandemic.
Five student-led initiates have been named the latest Best Neighbour on Campus (BNOC) winners, awarded to students for making a positive difference to their local community. From offering online English classes to refugees and asylum seekers, to volunteering with the North East Ambulance Service, through to fundraising for local foodbanks, all of these winning projects have been recognised for the positive efforts of students to make a really positive difference across Newcastle and the region.
Running carrots help Newcastle West End Foodbank
Newcastle University Geography students Tash Finchett, Kate Abery and Eleni Haines started Carrots on the Run in October to run 5km every day until Christmas. The students run dressed as giant carrots to raise money for Newcastle West End Foodbank.
Tash said: "We are hugely grateful for even being considered for this award, it means so much to us to raise awareness for the importance of foodbanks. Particularly whilst COVID-19 sweeps across the country, the demand for food parcels carries on rising, so we are very thankful for any support. We have been overwhelmed with not only the amount of donations but by the support from the friendly people of Newcastle, cheering us along! We have almost doubled our target of £2000, and with just over two weeks to go, we'd be so grateful to raise even more."
"We really are beginning to feel the aches and pains of running every day, in our wetsuit like costumes. But we know that every day we run it is helping so many people around Newcastle."
Students' acts of kindness help struggling families during lockdown
When Molly Mathis-Hall found out families were going hungry over the school holidays, the third-year Northumbria University student felt compelled to help.
What started as a few donations to her local foodbank in South Tyneside, quickly snowballed into a mass student effort to ensure food parcels were delivered to struggling families the length and breadth of the North East.
Molly, who is a third-year Primary Education student, began her volunteering efforts when she found out that the Government would not be extending free school meals for children in England over the October half-term holiday.
"As not only a student teacher, but as a human being, this news really upset me," she said. "Families are struggling more than ever during this COVID-19 pandemic and the decision to stop providing free school meals to hungry children in the school holidays, made me realise I had to do something.
"I did a large food shop and took it to my nearest foodbank. I thought a few other students on my course might want to do the same, so I sent a message to our year group chat, and I couldn't believe how many people responded.
"The word quickly spread and around 100 students on my course, and lecturers, pledged to either donate money to buy groceries or deliver food parcels themselves to foodbanks across the region."
Molly set up a JustGiving fundraising page and used the hundreds of pounds raised to buy groceries for foodbanks at Hebburn Helps in South Tyneside, Wansbeck Valley in Northumberland, Pennyman Primary Academy in Middlesbrough, Cambois Primary School in Northumberland and Loaves and Fishes in Durham.
Offering frontline staff a helping hand
A team of fourth and final year Newcastle University students have set up the North East group of Medical Students Helping Hands – which is a national initiative, to help with childcare for NHS staff.
The purpose of the volunteer group is to give practical help with childcare, assist with shopping, and in some cases animal care, for health workers who need free, flexible assistance during this taxing period.
Sabina Wallace-King is a co-founder of the regional group, with a team of students who will help cover care for hospitals in Newcastle, Northumbria, Sunderland, Teesside and Durham.
She said: "It's a very uncertain time for people and the NHS will be put under significant strain as medical staff deal with the unprecedented pressures this public health crisis will sadly bring.
"As students, we have more time on our hands than NHS staff, but we still want to do all we can to help the health service run smoothly and support those who are working on the frontline to save lives.
Supporting local NHS emergency services
The Newcastle University First Responder initiative is among this month's winners. The initiative sees medical students provide a uniformed service dispatched by the NHS Trust. Pairs of students volunteer their time across shifts throughout the week.
The scheme launched in January, between North East Ambulance Service (NEAS), Newcastle University and Newcastle University Students' Union (NUSU), to provide lifesaving support to people in an emergency.
All students are training to be doctors and were inspired to develop their skills and put their training into practice at real emergencies.
Newcastle University student lead, Ollie Kirby, said: "We are thrilled that the service has been a recipient of this month's Best Neighbour On Campus award. Having the service operational and responding to 999 calls during the pandemic comes with extra challenges, and we're incredibly grateful to the Student's Union and Estates team who have both been so helpful with facilitating our operational activity.
"As a service we attend the most severe categories of 999 calls as a resource of North East Ambulance Service. These patients require urgent and emergency care regardless of the pandemic, so to be able to carry on our work is really important to us as a team. It's an honour to have been nominated for this award, especially alongside the amazing other initiatives which students have been running."
Helping the forced migration community
Another of BNOC winner this month is North East Solidarity and Teaching (N.E.S.T), a student run volunteer group at Newcastle University in the local area, has transitioned to online spaces to continue providing services and support to over 400 asylum seekers and refugees in the region.
The students at Newcastle University Students' Union were singled out for stepping up to help refugees with online teaching and support during the COVID-19 lockdown by live-stream lessons on YouTube, while student volunteers are making wellbeing calls to all registered learners, contacting them to ensure that they have everything they need and understand the restrictions.
Bridget Stratford, N.E.S.T Project Worker and Newcastle University graduate, said: "From the moment lockdown was announced, we stuck broadly to our normal schedule and had classes every day. We had over 800 views on our lessons in the first week and some positive feedback from other organisations who had promoted the lessons with their own client group.
"We have set up daily digital socials which are open to all of our volunteers. We will continue our existing support services of a wellbeing email and a Facebook helper profile."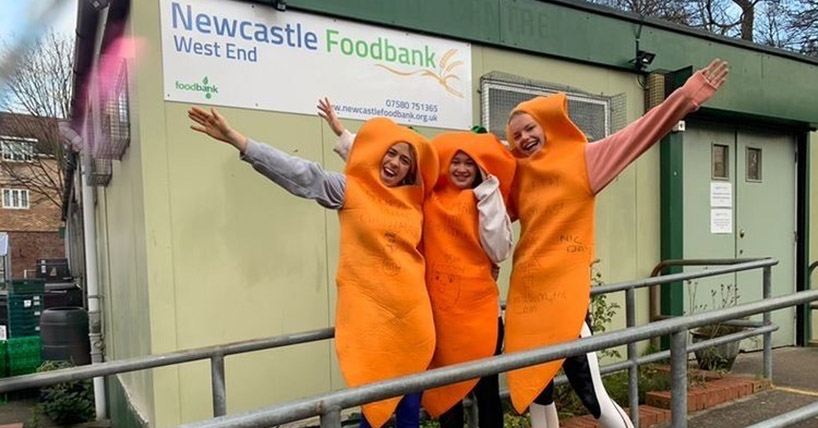 A positive impact
Marc Lintern, Director of Student Experience, Newcastle University, said: "It has been a difficult year for everyone, and our students are no exception. It is great to see some of the positive things our students are doing to help their neighbours, the city and the region. Their efforts show that supporting each other and working together goes a long way towards making a lasting contribution to our community."
Carly Foster, Interim Assistant Director for Student Engagement, Northumbria University added: "We know that our students are continuing to do brilliant things, so I am thrilled that we can continue to recognise the wonderful ways that they help our communities right across the City - particularly during these difficult times.
Kay Hattam, Campaigns & Democracy Coordinator, Newcastle University Students' Union, said: "In what has been a difficult start for many students arriving in Newcastle for the first time or returning to study, it is heart-warming to see how they are putting others before themselves. Students living in Newcastle are an incredible asset to the city and NUSU are proud to support BNOC in highlighting and celebrating this."
Best Neighbour on Campus
BNOC, established in 2018 by Newcastle University and its Students' Union, celebrates the great work students do within their communities, either through volunteering, supporting local residents or being considerate, responsible neighbours.
Last year, Newcastle joined forces with Northumbria University and its Students' Union.
More information and details of how to nominate and the terms and conditions of the competition can be found on the awards website.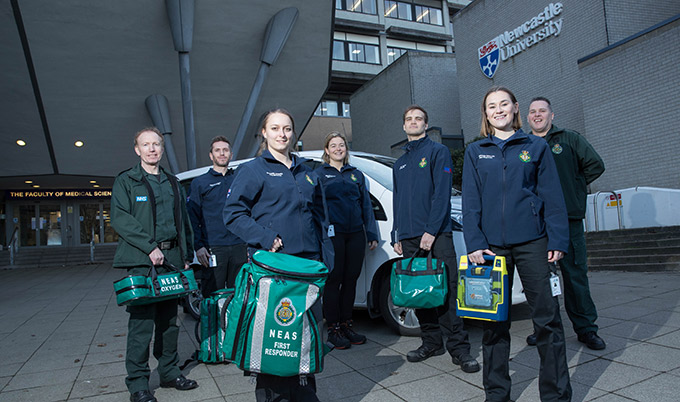 ---
Latest News