Work on Farrell Centre set to start this summer
Published on: 7 June 2021
Newcastle University is delighted to announce the launch of the Farrell Centre – a new public centre for architecture and cities.
Renovate and transform
The project has been instigated by renowned architect-planner Sir Terry Farrell who donated £1 million to help create the Farrell Centre in 2018.
Since then, the University has been working on plans to renovate and transform a former late-19th century department store on the edge of campus into the Centre's new home: The Sir Terry Farrell Building. The £4.6 million building project is designed by local architects SPACE and Elliott Architects who have worked in close collaboration with Farrell Centre Director, Owen Hopkins, who was appointed in 2019.

The building project is due to start on site in Summer 2021 and will complete in time for the centre's opening at the end of 2022.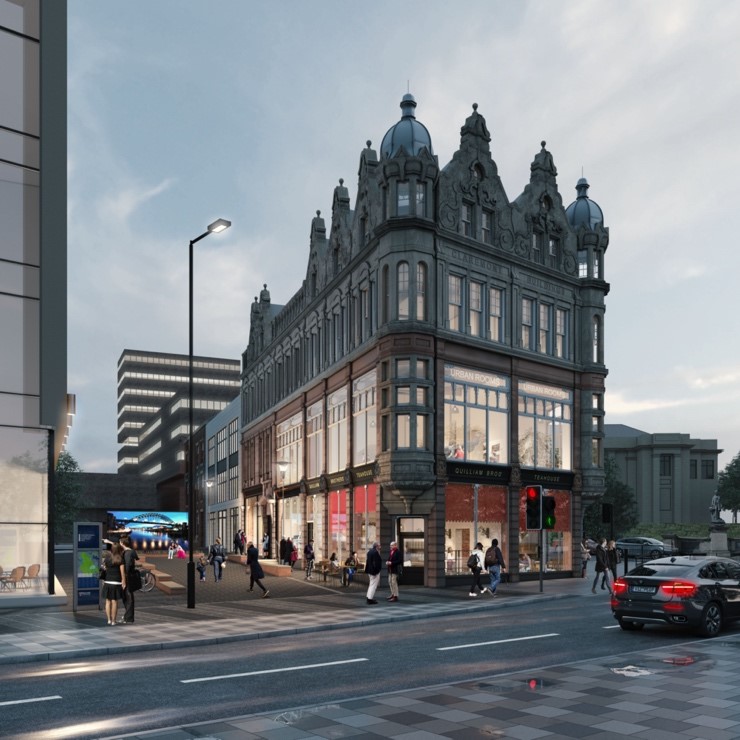 Present and future cities
In the meantime, the Centre will begin rolling out a number of programmes, projects and initiatives taking place online or on location around the city and region. More details of these will be announced in coming months.

The Farrell Centre emerges from the belief that the forces shaping the present and future of cities – whether architectural, in the context of planning and public policy, technological and digital, economic and environmental, social and cultural – should be of vital public concern.
It takes inspiration from Sir Terry Farrell's recommendation that every city should have an 'urban room' where citizens can actively engage with their city's past, present and future, while connecting with and contributing to broader national and international debates around architecture and cities.
The Farrell Centre will be a new type of public institution: part research hub, part civic space, part gallery and museum. It will run exhibition programmes, public talks and debates, organise workshops for schools, young people and community groups, make publications and commission projects.
On its top floor, the Centre will also offer subsidised studio spaces for start-up companies working in the built environment, thus also helping nurture the next generation of architects, planners, artists, designers, filmmakers and other creative professionals.
The Farrell Centre will work in close collaboration with the Farrell Archive, which Sir Terry Farrell generously gave to Newcastle University in 2018 as a resource for research and public engagement. The Farrell Archive is the founding collection in a new programme of architectural archive acquisition at Newcastle University.
A vibrant hub

Sir Terry Farrell said: "The Farrell Centre will realise my combined visions for an urban room for Newcastle alongside a vibrant and multi-dimensional hub in which architecture/planning professionals can grow new businesses and interact with the public in a dedicated space that champions conversation and the exchange of ideas and creativity. I can think of no greater honour than to have this building in my name."

Owen Hopkins, Director of the Farrell Centre, said: "From the shift to remote working and the decline of city centre retail, to the design of public health systems and the pressing need to transition to zero-carbon infrastructure – architecture and planning are central to answering so many of the big questions facing us as a society over the next few decades. It has never been more important, therefore, that there are places where everyone can have a voice in the conversation about their future. This is what we're creating with the Farrell Centre."
Professor Adam Sharr, Head of the School of Architecture, Planning and Landscape at Newcastle University, said: "Newcastle University has one of the most successful and longest-established schools of Architecture and Planning in the UK. The new Farrell Centre will give us an amazing opportunity to engage the latest research, community-driven ideas, and student work with international, national and local agendas to influence the future of architecture and cities."
---
Latest News