Climate-Emergency-Change exhibition
New exhibition showcases climate-related projects
Published on: 5 October 2021
In the build-up to and during COP26, a new exhibition at Newcastle University highlights pioneering work addressing climate change.
On display at the University's Herschel Building since early October, Climate-Emergency-Change features 12 research projects and videos from a range of disciplines, including Arts and Humanities, Science and Engineering to showcase the work of Newcastle University colleagues who are engaging locally and globally on climate action-related research.
The exhibition is curated by Matthew Jarratt, visiting Professor of Practice, whose career has spanned 30 years working with the public and private sectors, and helping to curate arts and culture projects.
Matthew has developed a reusable, locally made oak exhibition system including video screens and light boxes to showcase the projects. During COP26 in November, the exhibition will include an interactive element where student comments and statements about the issues being debated at the summit in Glasgow are gathered through social media and added to the exhibition.
The exhibition brings together a diverse range of projects, from artist and Newcastle University Professor of Practice, Uta Kögelsberger, whose exhibition shows tragic images of burnt Giant Sequoia trees on billboards across the USA, through to the Net Zero GeoRDIE Project which looks at how geothermal energy under Tyneside can provide a renewable source of heat.
Climate-Emergency-Change features a UKRI-supported project led by colleagues in the School of Architecture, Planning & Landscape, who are working with a documentary photographer in the Indian Sundarban landscape where traditional communities care for bees in an area which is incredibly vulnerable to flooding and climate change. The exhibition also highlights BEWISe, which is research led by scientists in the School of Engineering who are working in Birtley in Gateshead to explore how bacteria can treat waste water.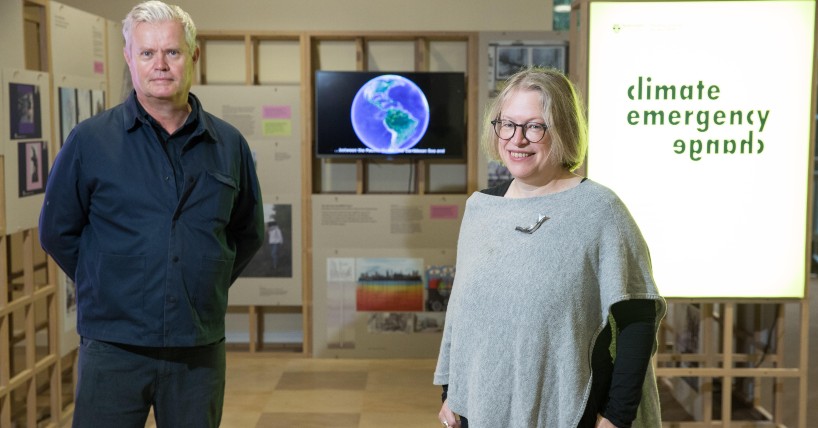 Positive contribution
Matthew said: "My aim for this exhibition was to curate a mix of projects which arts and science colleagues are delivering across Newcastle University. I think the combination of arts and science is so important as the arts are often a fantastic way to explore new thinking, raise issues and communicate with people, and our colleagues in technology, engineering, science are then researching new solutions and ways to address the impacts of climate change.
"The exhibition showcases 12 climate related projects which are both local and international- there are many more which we could have included from Newcastle University, and my hope is that this demonstrates the positive contribution which the University's research makes against the challenges of the Climate Emergency as the UK hosts COP26."
Professor Julie Sanders, Deputy Vice-Chancellor and Provost, Newcastle University, added: "The hugely impressive depth and breadth of subject areas, methods and approaches represented in this brilliant exhibition are an indicator of the fact that work on climate action research and research-based education is a whole university effort at Newcastle. Our students inspire us every day to live our core value of social and environmental justice and the research and engagement collaborations represented here are an indication of that commitment in action. This work is embedded in equitable partnership working, locally and globally. It is for me the very best of what a University can be and do working together to respond to urgent global challenges."
Climate-Emergency-Change will run until the end of November 2021 at the Herschel Building, Newcastle University campus, Monday to Friday, 9am to 5pm.
COP26 provides a focal point for collective action on climate change. Find out more about some of the many projects related to climate change going on in the University and the wider community https://www.ncl.ac.uk/who-we-are/cop26/
---
Latest News