Honorary degrees Sirkka-Liisa, Matrix
Acclaimed photographer and architects given honorary degrees
Published on: 14 July 2022
Sirkka-Liisa Konttinen, Fran Bradshaw and Anne Thorne, were honoured during ceremonies in Newcastle University's historic King's Hall.
Sirkka-Liisa Konttinen
Sirkka-Liisa Konttinen, who is best known for her photographs of Byker, was made an Honorary Doctor of Letters.
She said: "I thank Newcastle University for bestowing me with this honour. There cannot be a more meaningful recognition of my life and work than the one given to me by my own adopted home city."
As a founding member of the Amber Film and Photography Collective, Sirkka-Liisa moved to Byker in 1969 and the industrial working-class area proved to be an inspiration to her. Over a 12 year period her photographs captured a community and a way of life that was on the brink of massive change. In the 1970s most of the area was demolished and replaced with new housing. Sirkka-Liisa's photographs stand as an enduring record of old Byker. In 1989 she published her book Byker and an exhibition of her photographs toured the world.
She returned to the area in 2003. It had been transformed since her time living there and over the next six years her new project, Byker Revisited, captured the new residents living on the Byker Wall Estate.
Sirkka-Liisa's relationship with the North-East extends beyond Newcastle. Step by Step engages with the community of mothers and daughters at a dancing school in North Shields, Writing in the Sand celebrates the north eastern beaches; The Coal Coast explores the legacy of coalmining on the East Durham coast.
Julie Sanders, Deputy Vice-Chancellor and Provost of Newcastle University said: "An exhibition of the amazing work of the Amber Collective including Sirkka-Liisa's astonishing photographs was one of my finest introductions to the deep culture of creative practice in Newcastle and the North-East when I joined the University and came to live in this fantastic city a few years ago.
"To celebrate her commitment to her work but also to the communities she works with and alongside through this honorary degree is an absolute privilege for this University."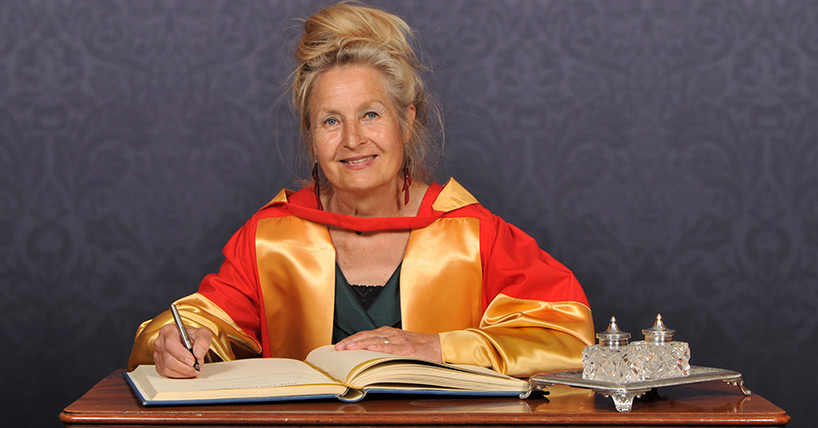 Frances Bradshaw and Anne Thorne
Frances Bradshaw and Anne Thorne met as architecture undergraduates at Newcastle University and are partners at Anne Thorne Architects. They were made Doctors of Civil Law.
They were founding partners of Matrix, a radical feminist architecture co-operative, which in the 1980s and 90s was one of only a handful of practices internationally to directly engage with feminism and architecture.
"It is wonderful to receive an Honorary Degree from Newcastle University, since my time at the University in the 1970's I have always loved this vibrant and unique city," said Anne Thorne. "To be recognised for my work as an architect at Matrix Feminist Design Co-operative and my subsequent practice at Anne Thorne Architects LLP, is a great honour and a privilege."
Fran Bradshaw said: "I'm so touched to be receiving this honour. For me it's a wonderful recognition of the work feminist and ecological thought and practice are contributing to architecture and architectural education, and I hope it can inspire young people's work.''
Matrix took a revolutionary approach to design that aimed to empower groups often excluded in the design of buildings, including Black and Asian women's organisations, community and childcare groups and lesbian and gay housing co-operatives, to explore more inclusive ways of designing, building and occupying spaces.

Today, Bradshaw and Thorne are recognised as leading innovators in Passivhaus design, community architecture and, with their latest scheme, planning and building one of the most innovative examples of co-housing in the UK.

How We Live Now: Making Spaces in the North East with Matrix Feminist Design Co-operative, an exhibition about Matrix, presented by the Farrell Centre and Newcastle University's School of Architecture, Planning and Landscape, is currently on show at Newcastle Contemporary Art, 39 High Bridge, Newcastle, until 27 July.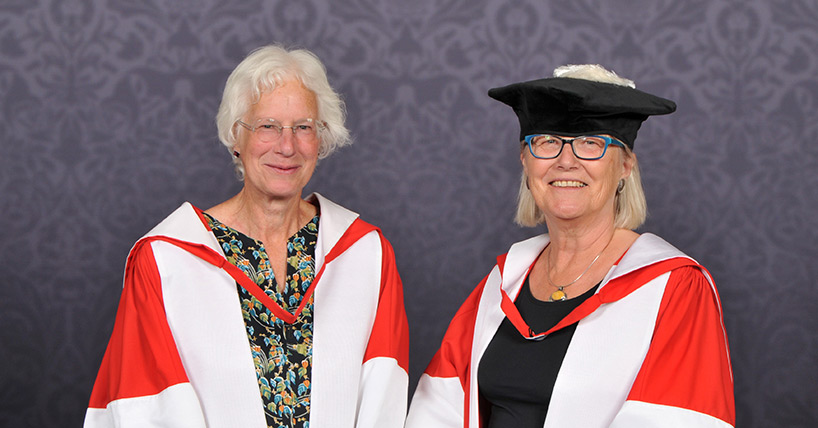 University Chancellor inaugurated and leading figures honoured
Today's ceremonies follow on from the start of the Summer 2020 congregation, which started with the inauguration of Newcastle University's Chancellor Imtiaz Dharker. Imtiaz was joined at the ceremony, in the University's historic King's Hall, by leading figures chosen to be awarded honorary degrees alongside her at the ceremony:
Former poet laureate Dame Carol Ann Duffy (Doctor of Letters)
Physicist and broadcaster Professor Jim Al-Khalili (Doctor of Science)
Rachel Dwyer, Professor Emerita of Indian Cultures and Cinema (Doctor of Letters)
On Wednesday 13 July, two honorary degrees were awarded. They were given to:
Former footballer, anti-racist educator and broadcaster, Shaka Hislop (Doctor of Cvil Law)
World-renowned novelist, library and literacy advocate, Ann Cleeves (Doctor of Letters)
---
Latest News