Lonnie Bunch Honorary Degree
Leading museum professional honoured by Newcastle University
Published on: 25 July 2022
American educator and historian, Lonnie G. Bunch III, Secretary of the Smithsonian Institution, has been awarded an honorary Doctorate in Civil Law (DCL) by Newcastle University.
Guiding light
A visionary museum professional whose work consistently promotes social justice and equality, Lonnie G. Bunch III is the 14th Secretary of the Smithsonian Institution, the world's largest museum, education and research complex. He is the first African American and first historian to serve as head of the Smithsonian in its 173-year history.
As Secretary, he oversees 21 museums, plus two new museums in development - the National Museum of the American Latino and the Smithsonian American Women's History Museum, as well as more than 20 libraries and numerous research centres and education units.
Prior to this he was the founding director of the Smithsonian's National Museum of African American History and Culture - America's largest and most comprehensive cultural destination devoted to the African American story and its impact on American and world history.
Lonnie G. Bunch III was awarded his honorary doctorate at a special ceremony in Newcastle University's historic King's Hall. He said: "I'm humbled to receive this honour from an institution so deeply rooted in social justice. From the role the city played in helping Frederick Douglass obtain his freedom to the University's support of Dr Martin Luther King, Jr., Newcastle has been a steadfast champion for equality and the inalienable rights we all share."
Professor Julie Sanders, Deputy Vice-Chancellor and Provost, Newcastle University, said: "It is a very special day in the history of Newcastle University to be recognising the outstanding achievements and contributions of Lonnie G. Bunch III in this way. Lonnie has been a true friend and guiding light to us in our work on global social justice and an inspiration to all those students and colleagues working in subjects and areas related to museums and archives. We are lucky to now count him as part of the Newcastle University global community."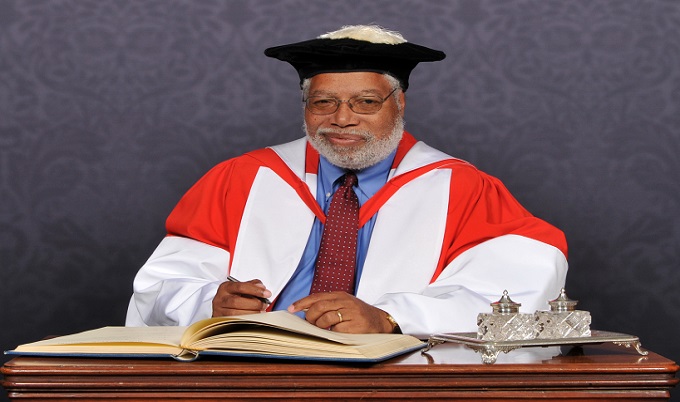 Influential historian and storyteller
Born in Belleville, New Jersey, Lonnie's family was the only African American family in the neighbourhood, and the lessons he had to learn here helped make him a great communicator, able to straddle different worlds and bring people together to discuss difficult and challenging histories.
He has previously held roles as the President of the Chicago Historical Society, one of the oldest museums in the US, where his work included initiating an unprecedented outreach initiative to diverse communities. Earlier in his career, he was the first curator at the California African American Museum (1983-89) as well as holding several positions at the Smithsonian's National Museum of American History.
In 2005, he was named by the American Association of Museums as one of the 100 most influential museum professionals of the twentieth century.
A prolific author, in 2019, Lonnie published his memoir 'A Fool's Errand: Creating the National Museum of African American History and Culture in the Age of Bush, Obama, and Trump', recounting how he met the challenge of creating an institution that embodies the story of black life in America. Since it opened in September 2016, the museum has amassed a collection of 40,000 objects and hosted more than 7 million visitors, making it one of the most popular visitor attractions in Washington D.C.
He has also written books on diversity in museum management and the impact of funding and politics on American museums.
Among his many awards, in 2021 he received France's highest order of merit, the National Order of the Legion of Honour. In 2019, he was awarded the Freedom Medal, one of the Four Freedom Awards from the Roosevelt Institute, for his contribution to American culture as a historian and storyteller.
Through its UNESCO Chair in Cultural Property Protection and Peace, Newcastle University is already working at a practical level with the Smithsonian's Cultural Rescue Initiative to protect all heritage in the event of armed conflict and following disasters. Professor Peter Stone, UNESCO Chair in Cultural Property Protection and Peace, said: "I am delighted that Lonnie G. Bunch III has been awarded an honorary degree by Newcastle University. His vision and drive to ensure that the world's heritage is saved and made accessible for all is truly inspiring, and I look forward to building closer ties between our two institutions."
Highest honour
An honorary degree is the highest honour Newcastle University can bestow and recognises those who have distinguished themselves in their chosen field and whose achievements have made a significant contribution to their area of expertise and to society as a whole.
The celebrations from July 12th to July 25th mark the return of in-person honorary degrees since the Covid-19 pandemic and started with the official inauguration of Newcastle University's Chancellor Imtiaz Dharker. Imtiaz was joined by leading figures chosen to be awarded honorary degrees alongside her at the ceremony:
Former poet laureate Dame Carol Ann Duffy (Doctor of Letters)
Physicist and broadcaster Professor Jim Al-Khalili (Doctor of Science)
Rachel Dwyer, Professor Emerita of Indian Cultures and Cinema (Doctor of Letters)
Other leading figures also awarded honorary degrees this year are:
Footballer, anti-racist educator and broadcaster Shaka Hislop (Doctor of Civil Law)
International bestselling detective novelist, library and literacy advocate Ann Cleeves (Doctor of Letters)
Iconic documentary photographer Sirkka-Liisa Konttinen (Doctor of Letters)
Pioneering architects Frances Bradshaw and Anne Thorne (Doctors of Civil Law)
Leading engineering, biochemistry and female STEM role model Hayaatun Sillem (Doctor of Engineering)
---
Latest News